Swimming to skating, camping to coding, dancing to drawing, kids engage in a gamut of activities during their summer vacation. Annanmay Daga of La Martinere for Boys, however, chose to do something different. An avid reader, the Class VII boy took up a voluntary internship at Bahrisons Booksellers, Kolkata.
The 12 year old spoke to My Kolkata about his experience, his reading habits, and a lot more.
My Kolkata: Congratulations on working as a summer volunteer with a favourite that is Bahrisons! How did you learn about this summer internship?
Annanmay Daga: A cricket tournament took me to Delhi some time back. I went there with my friends. My mother and my best friend's mother were looking for a good bookstore there and they came across Bahrisons Booksellers. Knowing my love for books, they bought me around 60 books from the shop. I was delighted to be surrounded by so many new books. When Bahrisons opened in Kolkata, I made sure to visit it as soon as my exams got over. I picked up around 30 books.
When my summer vacations began, I found my brothers and sisters engaging in different activities and my mother suggested I too should do something. That's when the thought of working with Bahrisons crossed my mind. I approached them and got a chance to do an internship at the bookstore on Park Street from May 14 to June 6.
You lived the dream of any bookworm. Did you find a cosy nook to leaf through the pages of new books? How was the experience?
This summer internship introduced me to things I had never done before. My work involved rearranging the books on the shelves in a particular order and according to certain categories. When new books came in, I had to tick them off the list and put labels on them. I thoroughly enjoyed the experience. I got to learn about so many new books in the process. I consider myself thankful to have got this opportunity. The bonus was getting to work in an air-conditioned space during the heatwave.
Walk us through your reading journey — at what age did you start reading? How have your reading habits evolved?
I have been a bookworm for as long as I can remember. I think I was around two years of age when I began reading, and finished all of Enid Blyton by the time I was five. I started reading the Harry Potter series when I was six, and that was when I began binge-reading. I completed the series in one-and-a-half months — I am that fast a reader!
Every corner of my room will greet you with books. So much so that I do not have space for new books anymore. So, my parents got me a Kindle. Earlier, I used to read only physical copies of books, but now I read e-books. That is a significant change I have experienced in my reading journey. I read even faster on Kindle these days — I finish around 500 pages in a couple of days. I lose myself entirely the moment I open a book. It is akin to the experience of entering a new universe.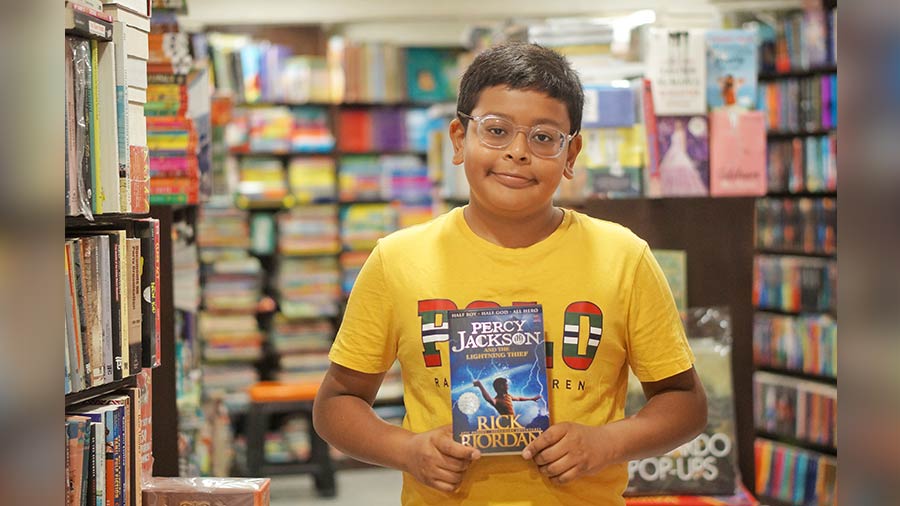 'Without a second thought, my favourite author now is Rick Riordan, and his Percy Jackson books have my heart,' said Annanmay
Which genre of books do you like the most? If you were to pick a favourite book and author each, what would those be?
My reading interests are diverse. I love fantasy fiction like Harry Potter, Percy Jackson and Keeper of the Lost Cities. I am a big Potterhead and started watching the movies lately so that it does not interfere with my experience of reading the books. I also take an interest in animal documentaries because I am a lover of animals. Sometimes, I also browse through my mother's history books. Any book about cars also grabs my attention because cars are another favourite of mine.
Without a second thought, my favourite author now is Rick Riordan, and his Percy Jackson books have my heart.
You identify as a book lover, but do you find a similar interest in books among your friends?
Not all my friends like to read books as much as I do. My best friend's brother remains engrossed in books, and that is a person I relate with very much. We share similar reading interests and often, we buy different book series in parts and share the books. A couple of my friends enjoy reading Geronimo Stilton (the Italian children's book series), but most are into playing video games.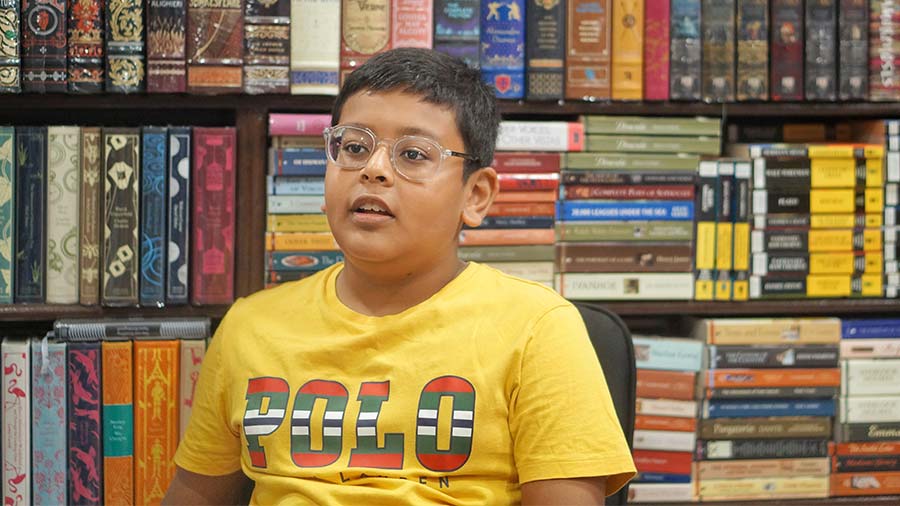 Annanmay articulated how the world outside ceases to be when he begins reading something interesting
Considering the plethora of gadgets and distractions surrounding us, how do you keep up your reading habits?
I have a nicely compartmentalised schedule that I try to stick to. Keeping aside some time for the PlayStation and outdoor sports, I am forever reading. Whenever I get a good read, I get totally immersed in it. Digital media cannot distract me at such moments because I devote all my attention to what I am doing. This also helps me to remain focused. Books get me initiated into knowledge that is hard to find outside.
What have you learnt from the internship?
Ever since childhood, my grandmother always used to ask me to keep my belongings arranged and clean. I never understood why she was such a stickler for neatness until I began this internship with Bahrisons. Leaving things cluttered gives a bad look to everything. Apart from getting acquainted with new books of different genres, this internship taught me the virtue of tidiness. I got great happiness from organising the books on the shelf. When a fellow bookworm walks into the store, browses through some books and leaves them in the wrong place, I understand the importance of keeping things in order. Now, I go home every day only to ask my sister to arrange her books and tidy up her belongings. Alongside this, here, I chanced upon Horrible Histories which offers an entertaining way to learn about British history.