Most people in Kolkata know Mohanish Lama as the man who started Decible, an event management company behind possibly the first 'formal' party for folks from the northeast in Kolkata. This was in 2009, when the nightclubs that dominated the party scene were Roxy, Shisha, Underground and Tantra. 
"At the time, restrictions made it difficult to get entry into a Kolkata nightclub. I knew a local so I would slip in, but I'd see my friends from the hills stand in queue and I felt really bad. We thought of doing a party exclusively for people from the northeast and that's how Decible came about," says Mohanish.
The party offered beer for a nominal cover charge. A sound box was hired and a friend turned DJ for the night. Held on the rooftop of Magma House (ironically, where LMNOQ, one of the city's most popular sky bars in today's party era, now stands), it was a success. 
Fast forward to 2022. An enterprising Mohanish, 36, has experimented with several brands and formats. Concert tours at Mandala Music Festival, which launched homegrown techno talent like 8-Bit Culprit and DJs Xavier and Rizzzz. A free market with local brands from in and around Darjeeling at Gundri Bazaar, a byproduct of the pandemic. Showcasing Kurseong's art and music scene at The Pine Tree Festival. And even a restaurant in Salt Lake's Gorkha Bhawan, Mandala - The Oriental Kitchen. 
But the spiciest of them all is Dalli's Dalle, the little hot chilli from the hills. 
Of spice and all things nice
Dalli's Dalle are locally grown in organic farms in small batches. "Each plant receives the optimum care and attention to produce some of the region's most flavourful and healthy dalles," says Mohanish at his little factory in Darjeeling's Uday Chand Road. He divides his time between his home here and his flat in Rajarhat, Kolkata.
On a tour of the ground-floor factory, My Kolkata met the all-woman team from Alubari Basty in Darjeeling, who prepare the various mixes and then pack the blazing red balls into bottles.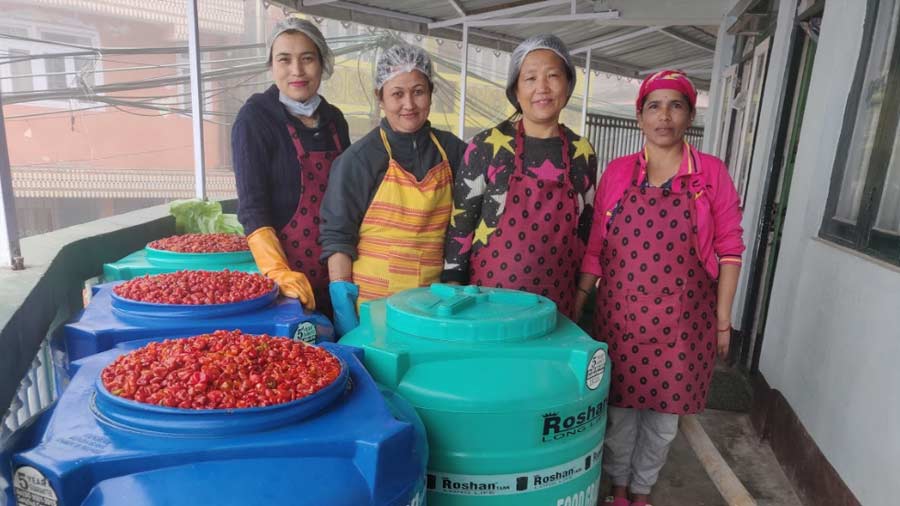 The all-woman team from Alubari Basty in Darjeeling, who prepare and pack the various mixes
Each bottle from the family-run enterprise has sprung from an idea by a mother and daughter-in-law duo, Brinda Lama Pradhan and Salina Lama. "We started with a small team of two, first sampling the tastes from home grown dalles in kitchen gardens, adding a spice here, an ingredient there and incorporating the traditional Newari Achar mixes that has remained in the family for generations," says Brinda Pradhan, as she goes about overseeing the daily business.
Locally sourced and produced by the local women of the society, it sows the seeds of sustainability and empowerment in the small hill region.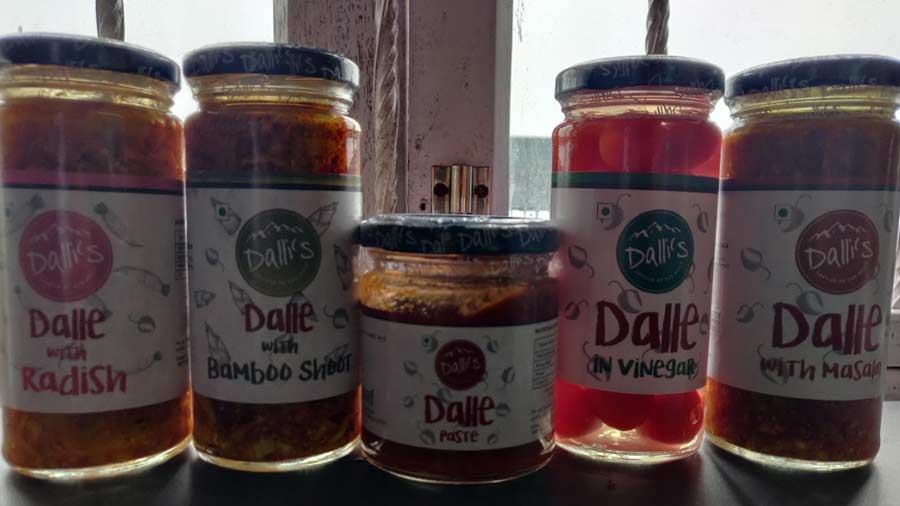 There are five varieties available at present from Dalli's – Dalle Vinegar, Dalle Paste, Dalle Masala, Dalle with Bamboo Shoot and Dalle with Radish
Dalle and its GI tag
Among the hottest varieties in the world, the red cherry chilli pepper earned a geographical indication (GI) tag from Sikkim from the Union department of industry promotion and internal trade in September, 2021.
However, as the chilli is grown in Darjeeling and Kalimpong as well, the GI tag was extended to cover these two Bengal districts.
"Dalles have a distinct flavour, with a hint of sweetness that slowly heats up, tingles your taste buds and sets them on fire. The heat gradually fades away, leaving you wanting another bite!" explains Mohanish.
Dalli's Dalle was recently showcased at the four-day Aahar food and hospitality fair at the West Bengal store.
Dalle is an integral part of every Nepali household, served with homemade food like rice and chicken. The paste is used for momos, thukpas and in curries.
Plans for the little chilli factory run by the Lama family include increasing the line of products to jams, meat pickle with dalle and sauces, with some passionfruit and orange squash thrown in as well.
"During the pandemic, many of us returned to our hometowns, as did I. We started with around 2,000kg and it got sold out. This year, our production increased to 10,000 kg, and we even started exporting to Bhutan," says Mohanish.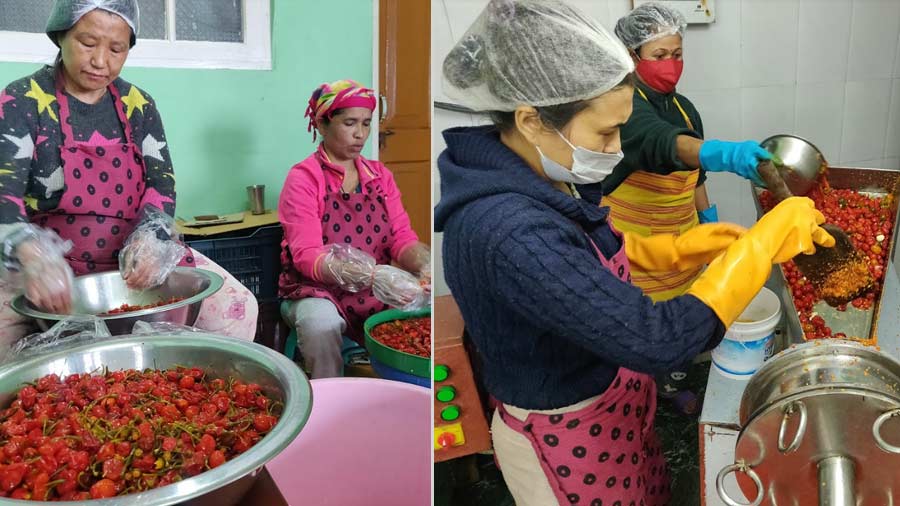 The pips and stems are removed from the dalle and (right) Dalle is put into the machine to be made into paste, used for momos, thukpas and in curries
Who are the buyers? "From our online store, around 80 per cent of the buyers are non-Nepalis. When we did a survey, we found out that they were people whose Northeast roommates and colleagues initially introduced them to dalle and the craving lingered on".
In Darjeeling, tourists and locals alike pick up bottles from the shelves of Keventers and Unique Sweets and shops in Chowk Bazar. In Kolkata, it is stocked at Mandala - The Oriental Kitchen and The Blue Poppy.
A bottle of Dalli's packs the same fire and feistiness as seen in the team of women working behind it. "We've pickled our heirloom and passed it on, hope you'll pass it around your tables as well," signs off the man with a fiery mission.