Sometimes a glance through someone's resume or even a quick chit-chat with them is enough to convince you that they could have been any number of things in life. Azmul Haque is one such person. From a public speaker to a journalist to an administrator, Haque gives you the impression that he could have excelled in any of these roles. It was, however, the field of law that Haque singled out, a field that has taken him to multiple cities and jurisdictions en route to being recognised as one of the top lawyers in Singapore.
Currently acting as the managing director of Collyer Law in the Lion City, an organisation he founded, Haque spoke to My Kolkata about his time in Kolkata, how he got into law and its challenges, the role of AI in his domain, his tips for aspiring litigators and more.
Edited excerpts from the conversation follow.
13 years in St James': Debates, dramatics and rugby practice at 6am
My Kolkata: Let's start with Kolkata. You went to St. James'; what are your best memories from your time there? 
Azmul Haque: I spent 13 years in St James', from kindergarten to Standard 12. While I was fairly decent at academics, I was very involved with extracurricular activities, participating in everything from elocution, debates and quizzes to creative writing, dramatics and dance. My fondest memories are the many hours spent practising and perfecting our "art and craft" with these activities, both for inter-house and inter-school competitions. The fact that St James' produced some very talented students, both in academics and extracurricular, was a source of great pride for me. In my graduating year, our school was adjudged The Telegraph School of the Year.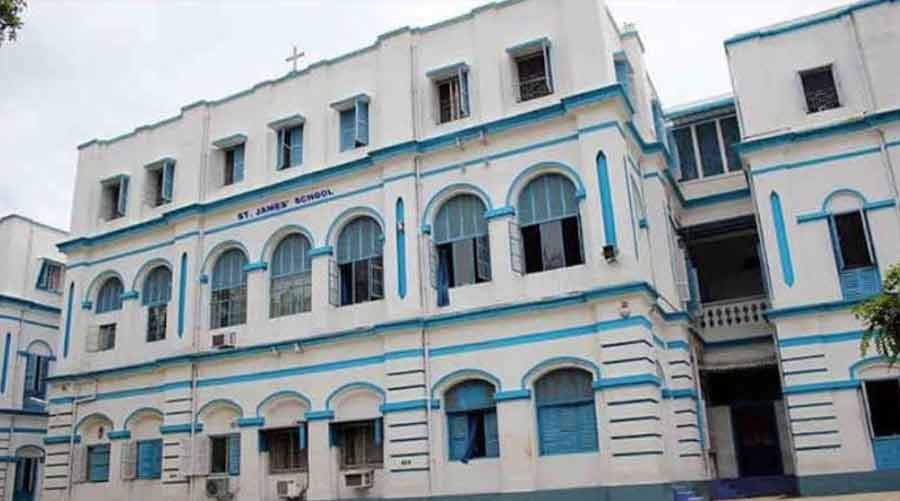 Most of Haque's fondest memories come from his experiences in school at St. James'
Courtesy: St. James School
Another fond memory from school was attending rugby practice at 6am during the monsoon season. There's something unusually satisfying about going into a scrimmage, sweat dripping from your brow, your limbs caked in mud, while trying to wrest control of an ellipsoidal ball!
Kolkata shaped my attitude, personality and perspective
How much time did you spend in Kolkata during your formative years? 
I spent the first 18 years of my life in Kolkata.  These were vital in shaping my attitude, personality and perspective in many ways.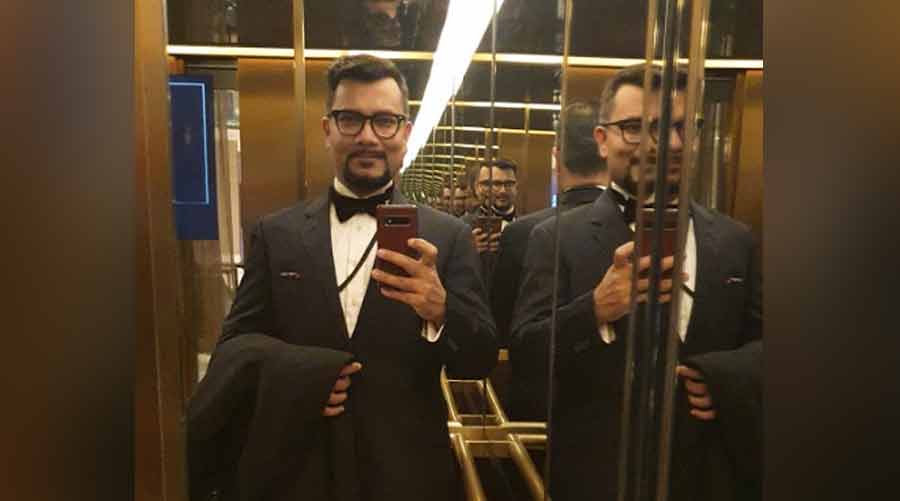 Haque spent the first 18 years of his life in Kolkata before moving to Bengaluru for his law degree
Courtesy: Azmul Haque
How often do you come down to Kolkata and what are the must do/must visit/must eat… you have when here?
My parents still live in Kolkata, and so do a smattering of friends from school. While most have moved to other cities in India or overseas, some childhood mates come back to visit family and friends in winter. That is when Kolkata is at its resplendent best, when the temperature dips (usually to a pleasant 10-15 degrees), the city is enveloped in a light fog and Park Street is decked with decorations for the festive Christmas season.  I have fond memories of wearing mufflers (the scarfs, not the automobile exhaust devices to reduce noise!) and stuffing myself with piping hot shingara and cha.
I was fascinated by Prannoy Roy's 'The World This Week'
How did your passion for law come about? Were there other professions you considered?
To be honest, my first-choice profession was journalism – broadcast journalism! I was fascinated by Prannoy Roy's The World This Week and watched it regularly with my family.  I had even obtained admission at Emerson College in Boston for their top-ranked journalism degree. But then I found out that I had made it to the National Law School, Bengaluru, with a rank of 31 in their All-India Bar exams. It was a tough choice!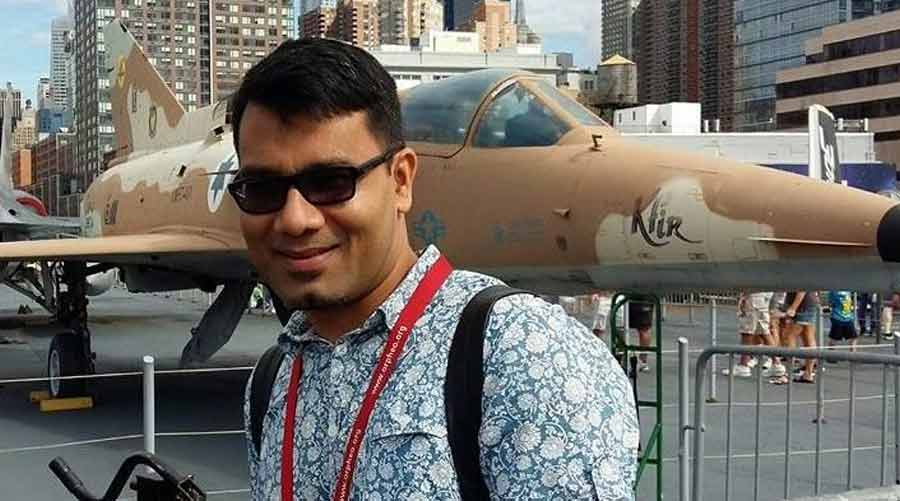 Haque had got admitted into Boston's Emerson College for journalism but chose to pursue law instead
Courtesy: Azmul Haque
Collyer Law helps entrepreneurs and tech start-ups identify and mitigate legal risk
You are the managing director of Collyer Law LLC in Singapore, a law firm which you founded in 2015. What was your vision in setting up this firm and what are the legal services your firm specialises in?
By 2015, I had spent 14 years in Big Law (large, established law-firms that had a certain business model). I felt I needed a new challenge for the next phase of my career. There was also a gap in the market – in 2015, the nascent world of start-ups domiciled in Singapore didn't have many experienced lawyers serving them. Founders of promising companies didn't understand much about corporate law and neither did they understand why they should pay for advice when they could "borrow" a contract from some friend (or from a random Google search!). The reality is that it takes years to understand the nuances in legal agreements relating to complex businesses (that most technology start-ups are) and "context is everything".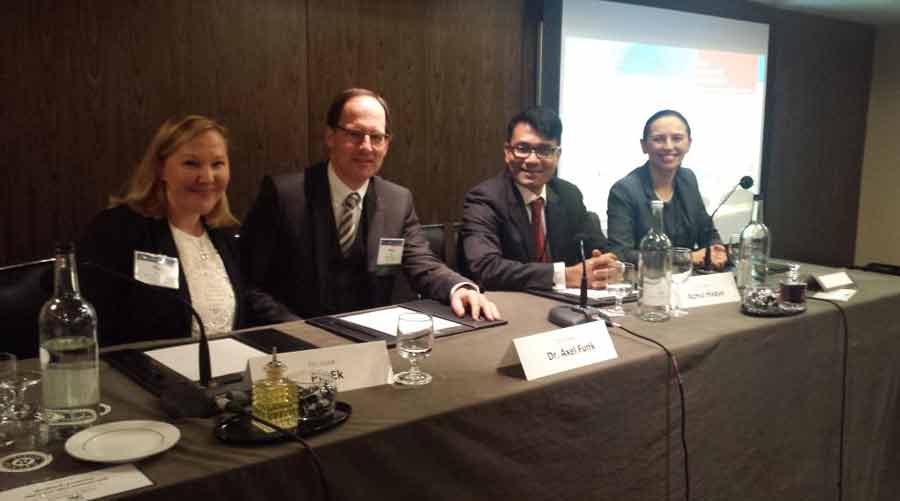 Haque as part of a panel on legal issues with mobile payments in London in 2015
@Azmul Haque/Twitter
I founded Collyer Law with the mission of being a trusted advisor on all things legal for founders of technology companies from what I like to call "Idea to Exit".
At Collyer Law, we help entrepreneurs and tech start-ups identify and mitigate legal risk by providing them with a comprehensive range of legal services that includes but is not limited to: Seed, angel and venture capital financing transactions, Intellectual Property, licensing and technology transactions, commercial contracts and regulatory advice, mergers and acquisitions, and disputes and international arbitration.
Singapore has a very competitive legal market
You are qualified to and have practised law in three jurisdictions – England, India and Singapore. Which one has been the most challenging or the most exciting and why?
Singapore is definitely the most challenging! It's not just a leading financial centre, it's also a very competitive legal market, so I guess the bar is set high!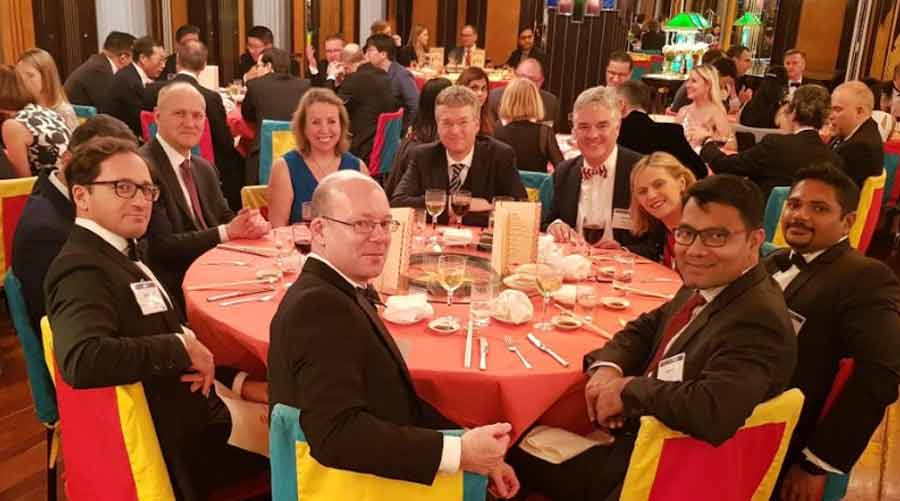 Haque with some of his friends in Hong Kong in 2018
@Azmul Haque/Twitter
You have worked and lived in three of the world's leading financial hubs – Mumbai, London and Singapore. Which is your favourite out of the three and why?
I have enjoyed living and working in all three cities – they all hold a special place in my heart for different reasons!
Machine learning isn't yet advanced enough to replace humans
Where do you stand on the great Artificial Intelligence (AI) debate pertaining to law and technology? Will AI eventually make a lot of lawyers and legal systems redundant? Or will AI automate the mechanical aspects and become a great asset for lawyers?
In 2016, I founded a Legal Tech company called FirstCOUNSEL, which provides a self-serve platform for automating basic contractual documentation to enable efficiency in service-delivery.  Through my experience with running both a law-firm and a Legal Tech company (we've served more than 300 clients who have used both), I am of the view that machine learning isn't yet advanced enough to replace humans for something as nuanced as providing business-critical legal advice that relies on legal expertise, industry know-how and the innate pragmatism that all good lawyers have. Automation will eliminate very few occupations entirely in the next decade, but, of course, it will affect sections of almost all sectors to a greater or lesser degree, depending on the type of work they entail.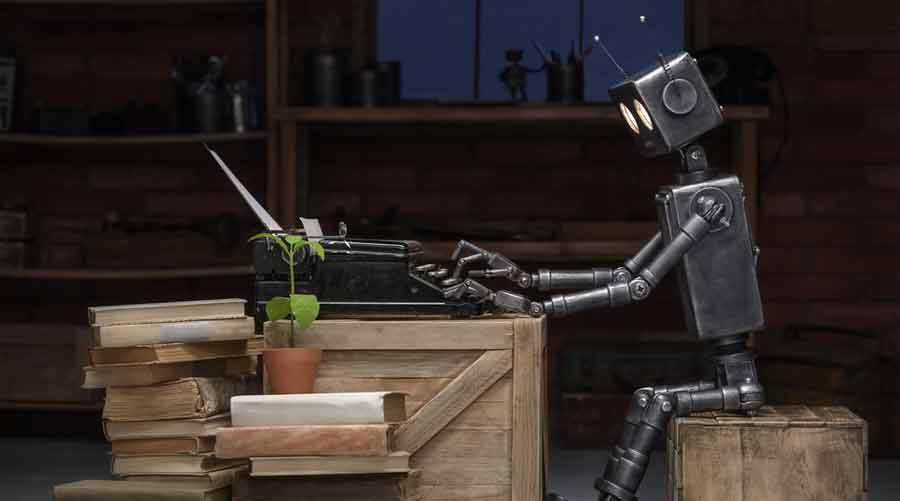 AI cannot quite fill in for the innate pragmatism of lawyers, feels Haque
TT Archives
The most valuable skill to hone is the ability to learn
A lot of students in law school are encouraged to debate and moot. How much do debating and mooting help you as a professional lawyer? Are they valuable enough for students to engage in or should they use that time for more academic learning?
I believe my deep and broad involvement in extracurricular activities in high school has been fundamental in honing my skills in writing effectively, speaking confidently, and thinking creatively – all very important life-skills for the profession of law, but also any workplace.  I would say that the most valuable skill to hone is the ability to learn – in a knowledge economy, you can never stop learning. 
Don't study law or practice law simply because it looks good and respectable
What professional advice would you have for aspiring or young lawyers? 
I would say all students need to assess what they have a talent for and what they're passionate about. If both are somewhat useful or related to legal practice, then by all means study law. Don't study law or practice law simply because it looks good and respectable. There are many people leaving the legal profession entirely after spending five to 10 years in assessing if it works.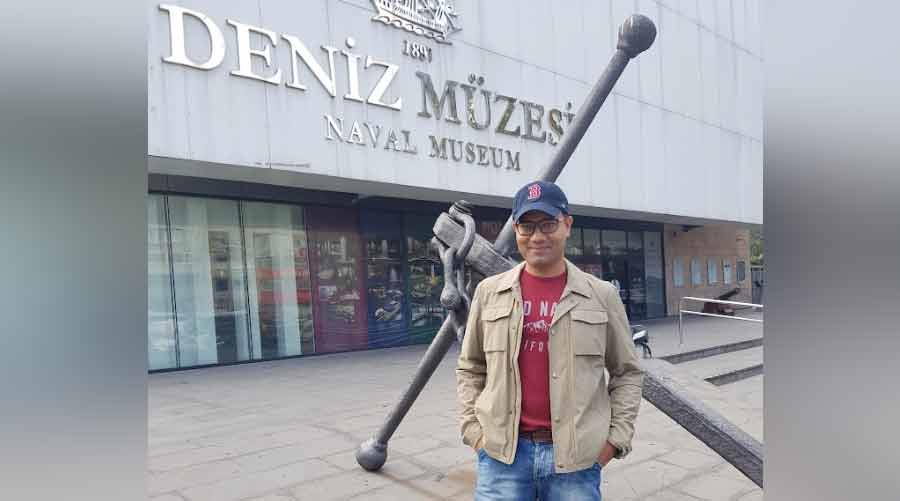 Haque, seen here in front of the Deniz Muzesi Naval Museum in Turkey, feels that talent and passion are equally important to be a good lawyer
Courtesy: Azmul Haque
What are your hobbies and interests? What do you do to zone out?
I like staying current with what's happening in the world of business and technology, especially where it has an impact on the way we live, work or play. I also enjoy travelling, classic Hollywood movies and trivia.

Where do you see yourself in five years' time? 
I completed 20 years in legal practice last year. I feel like I'm just getting started!