Last November, we told you how Cycle Network Grow (CNG), with more than 1,500 members, has become the go-to place for cycle lovers across Kolkata, with daily rides and monthly competitions becoming a hallmark of the community's growth. This time around, we dig deeper to uncover how CNG came into being, its greatest accomplishments and its blueprint for the future.
"Cycling in Kolkata had started to become more about group politics and ego tussles than riding. It was a frustrating environment for all of us who just wanted to cycle," said Ashish Bajaj, an investment banker and president of CNG. Ashish was talking about a phase in 2015-16 when multiple cycling groups, including Right to Breathe (which Ashish used to be a part of but is no longer active) and Discover on Wheels, were pitted in a battle to dominate the cycling culture in the city. Neil Law, co-founder of CNG along with Ashish, and an avid rider himself, had told Ashish: "Why not create something of our own, away from all the politics?" In due course, the answer to Neil's question led to the formation of CNG, which, unlike other such groups, allowed members to join other groups as well and ride with them.
We don't want to tell riders where and with whom they should cycle
"Neilda and I met one day while cycling through the East Kolkata Wetlands. With time, we became friends and started CNG together. Our idea was simple — we don't want to tell riders where and with whom they should cycle. In these times, it takes a few seconds to create a WhatsApp group and a few minutes to set up a page on Facebook and form a new community of cycling enthusiasts. Who are we to stop people from joining others or starting something new? As long as cyclists respect our values and don't create a nuisance, they can cycle with us," explained Ashish. To join CNG, all someone needs to do is to fill up a Google Form and confirm that they possess a cycle. Helmets should be brought by the riders, which must be worn at all times along with proper cycling gear.
Having started out in May 2016, CNG initially became closely associated with Eco Park, where riders would meet for weekend adda sessions at the Yule Tea Lounge followed by some intensive riding. Gradually, almost out of a need to break through the routine and its consequent ennui, CNG decided to become more ambitious. Rides started becoming more frequent, longer and more diverse. "Before us, the cycling culture in Kolkata was largely restricted to weekends. People didn't cycle for leisure or exercise on weekdays. We played our role in changing that," said Ashish, while also lamenting the lack of female riders in the city, something that cannot be solved by CNG alone. "If you go to Delhi, you'll see a fair amount of female cyclists. But in Kolkata, which does have a lot of working women, cycling isn't as common. Only about 10 per cent of riders are women, something that's also reflected in our groups and events. It's perhaps because the traffic and the roads in the city aren't as encouraging for female riders to take up cycling," speculated Ashish.
'We managed to get ample people for our events to secure an AIR affiliation'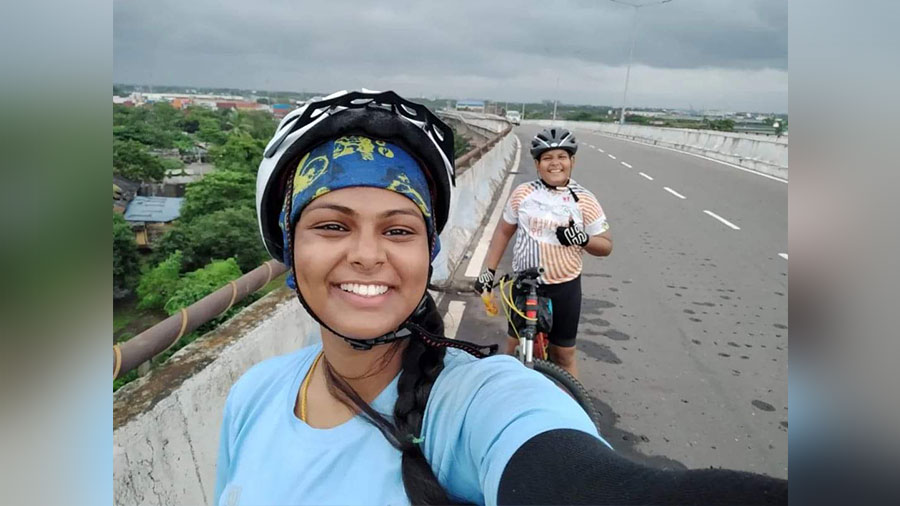 CNG is the only cycling group from Kolkata to be recognised by Audax India Randonneurs
A defining moment for CNG came soon after its formation, when Audax India Randonneurs (AIR), responsible for conducting and supervising all Brevets de Randonneurs Mondiaux (BRMs, which are long-distance cycling events ranging between 200km and 1000km) in the country, provided an affiliation to CNG, which was previously held by Discover on Wheels. "We managed to prove our organisational skills and get ample people to turn up for our events. That established our credibility in the eyes of AIR and made us one of 88 groups in India, including the only one in Kolkata, to be affiliated to AIR," narrated Prateek Jain, the secretary of CNG.
During the pandemic, with just about all sports and outdoor events entering a freeze, cycling took off in Kolkata, with CNG at the helm. "Since schools and offices were closed, people had time to spare in the mornings. And cycling was one of the few outdoor activities that was allowed. The amount of cycling we saw in 2020 and the first half of 2021 was truly unprecedented. It became a great outlet for people across ages to zone out, albeit in strict adherence to all Covid-19 protocols," said Prateek.
'The circumference of the earth is 40,075km, which is also the total distance each of the teams at the competition had to cover'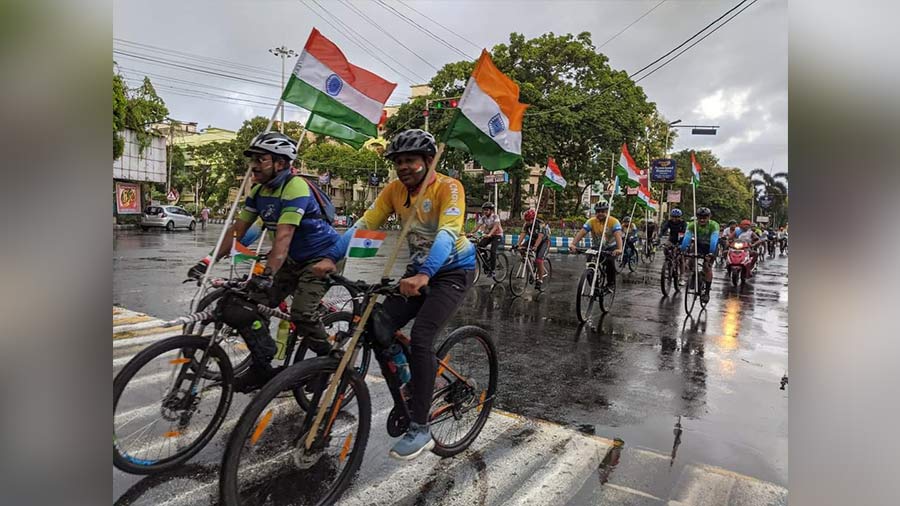 Apart from regular rides for relaxation and refreshment, CNG frequently comes up with signature events that prove to be extremely popular
In January 2021, CNG launched CycloVaganza, or as Ashish and Prateek call it, "the IPL of cycling". Following a franchise model with teams and owners and an auction (but not with real money!), CycloVaganza turned out to be a resounding success. Six different types of races were on the itinerary, with each of the 11 teams having one female rider, one junior rider and one each from the elite and masters categories. 
Between April and May this year, CNG came up with another signature event, Around the World in 80 Days. "The circumference of the earth is 40,075km, which is also the total distance each of the teams at the competition had to cover, tracked and confirmed by our GPS," said Ashish. Three hundred people turned up for this innovative tournament, including riders from outside Kolkata and India.
'The first cycling group in India to have a building and an office space dedicated to our passion'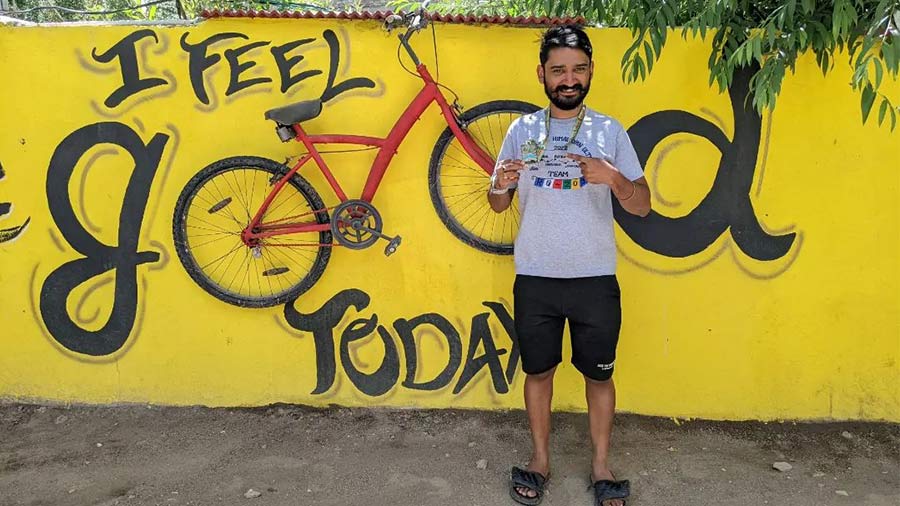 Rahul Paul after completing his mighty cycling expedition
Besides taking riders across the length and breadth of Kolkata, be it to hunt new places for tea and biscuits or get their competitive juices flowing through longer races, CNG also supports individual riders and their cycling dreams. Among the recent exploits of riders who are part of the CNG family are Debanjan De's marathon feat of cycling 1500km from London to Edinburgh and back inside 128 hours as well as Rahul Paul's high-altitude ride of almost 600km from Leh to Dras and back in under 40 hours.
Going forward, the goal is to make CNG (which became a trust in 2017-18) into a full-fledged NGO. "We also want to be the first cycling group of its kind in India to have a building and an office space dedicated to our passion. More importantly, we want to continue doing what we're doing right now at a bigger scale. We want to keep celebrating the spirit of cycling and spread this wonderful activity among more and more people," added Ashish.