"I think I'd be more scared of a harmful human being than a ghost," said Anita Krishan as she discussed her book, Ghosts in the Dark Silence, at the latest session of An Author's Afternoon, organised by Prabha Khaitan Foundation at Taj Bengal, in association with Shree Cement Limited, with My Kolkata as digital partner.
A prolific author, who has penned national bestsellers such as Ghosts of the Silent Hills, Despite Stolen Dreams, Tears of Jhelum, and Fluffy and Me, Krishan discussed her journey as a writer and shared some spine-chilling stories with the audience while she was in conversation with Nazia Yusuf Izuddin, Ehsaas Woman of Kochi.
'Destiny keeps leading you through the twists and turns of life'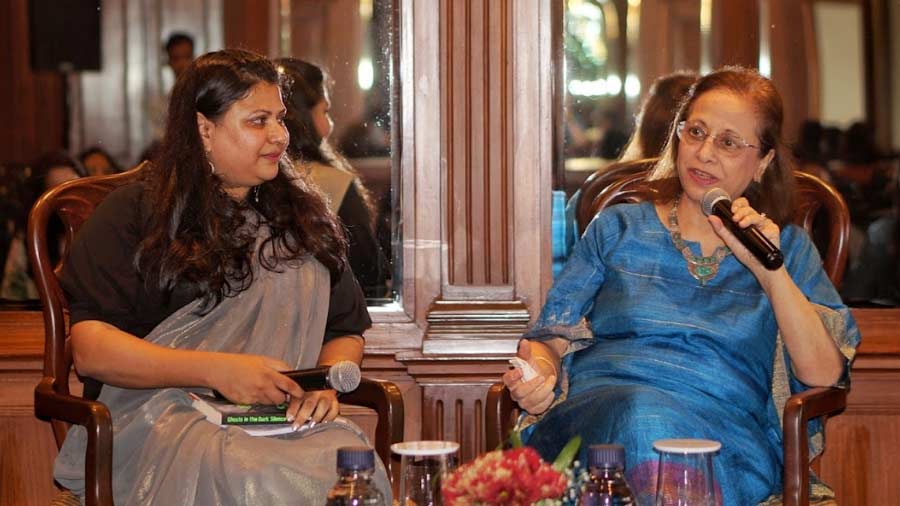 Nazia Yusuf Izuddin (left) in conversation with Krishan
Life is seldom predictable, and for Krishan, it was a series of unpredictable events that led to her choosing writing as a profession after 25 years of working as a teacher. Tracing her life, Krishan pointed out that growing up in Shimla had a profound impact on her, which laid the foundation for her career as a writer. "I grew up in the mountains of Shimla. But after I got married, I had to settle down in the plains. In my excitement, I never realised that I was never to return to the mountains again. I came to visit from time to time but I never stayed. The nostalgia for the mountains lingered with me, but I was too busy as a wife and mother to pay any attention to it," remarked Krishan.
But after her children had grown up, the longing for the mountains that she had suppressed for so long "came back with an assault" and her first book, Fluffy and Me, emerged out of her deep love for the mountains. This was also the time when she recognised that writing was her calling. However, it was witnessing the 2005 Delhi bombing that reaffirmed her belief that being a writer was truly her destiny. "In 2005 on October 29 (two days before Diwali), my husband and I were in Delhi's Sarojini Nagar shopping for Diwali when a bomb exploded just 10 metres away from us. We were lucky that we had been saved, but later we got to know that 37 people had died in that one bomb blast. I had escaped that day because so many people were before us. I've seen that nothing is in your hands and destiny keeps leading you through the twists and turns of life," she said.
'The spirit is immortal'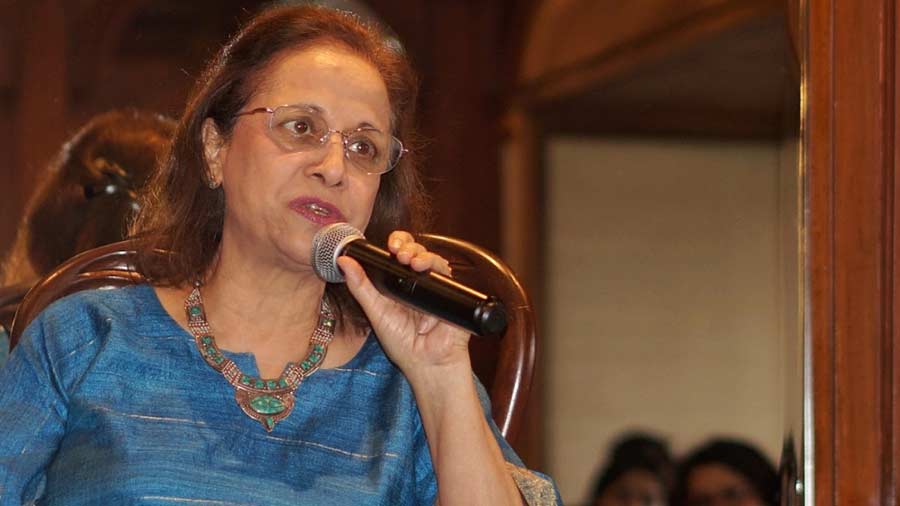 Krishan believes that the human spirit is indestructible
What led to Krishan writing ghost stories? "In my childhood, Shimla had a lot of snowfall and that would also cause the overhead electricity wires to snap and the pipes bringing water to freeze. We used to live without water and electricity for days together. But my mother made sure that we always had wood, kerosene and lanterns for those days. During those evenings, we used to sit around the fireplace and exchange ghost stories. I remembered the excitement that I felt during those evenings for a really long time. Later, my son gave me the idea of writing ghost stories because I had passed down those horror stories to my children," she added.
Izuddin pointed out that the book does not necessarily portray the ghosts as malevolent but sends across a more important message about the existence of the spirit. Elaborating on it, Krishan pointed out that the book primarily talks about the importance of the spirit in human beings. "The spirit is immortal and most religions believe in the indestructible spirit. The body keeps changing. We don't die with this life. As long as we are in this life, we have to do our best so that we are rewarded in the next life. My books are based on true experiences that people have had and though the existence of the spirit is unknown, I believe that it's a possibility," shared Krishan.
Black magic, tantra and a lot more…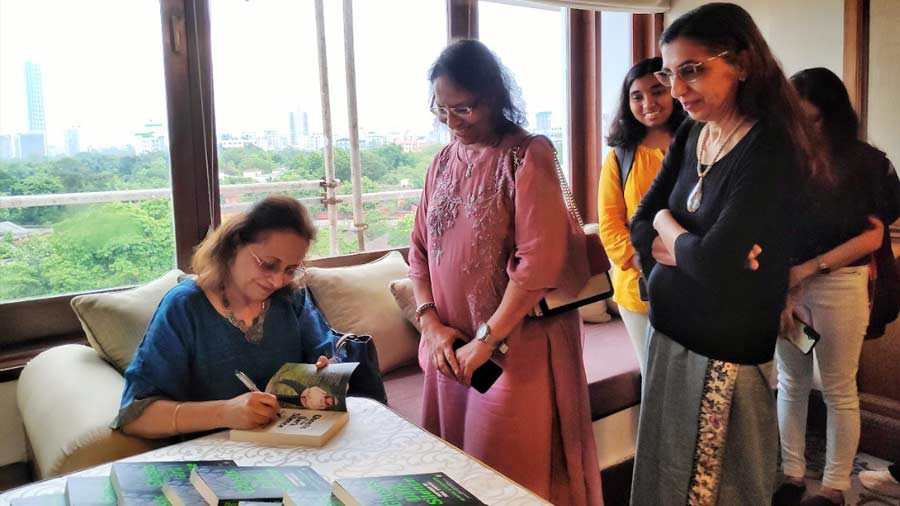 Krishan signing copies of her book, 'Ghosts in the Dark Silence'
Kishan had the audience sitting on the edge of their seats as she recounted her aunt's encounter with the supernatural. "When my aunt was living in Delhi with her husband, she started seeing the apparition of a woman in the middle of the night at the door of her bedroom. It started with a few visits and then it happened every day. My uncle also started falling sick regularly. My father, who was in Shimla, helped them to relocate there. For a few months, they didn't experience anything, but soon the woman started appearing again. When they sought help, they were informed that somebody had done black magic on them, which I later found out is called Kalia Masan – a ritual performed by tantriks. The ritual involves making the victim have ash from the funeral pyre of a deceased person so as to attach the spirit to the victim. This ghost had also told my aunt that she was very hungry and wanted to have meat. So, my aunt had to go into the forest alone to offer it to her," recounted the author.
The session came to a close with an intriguing question and answer session where several members of the audience shared their own supernatural experiences.
Audience speak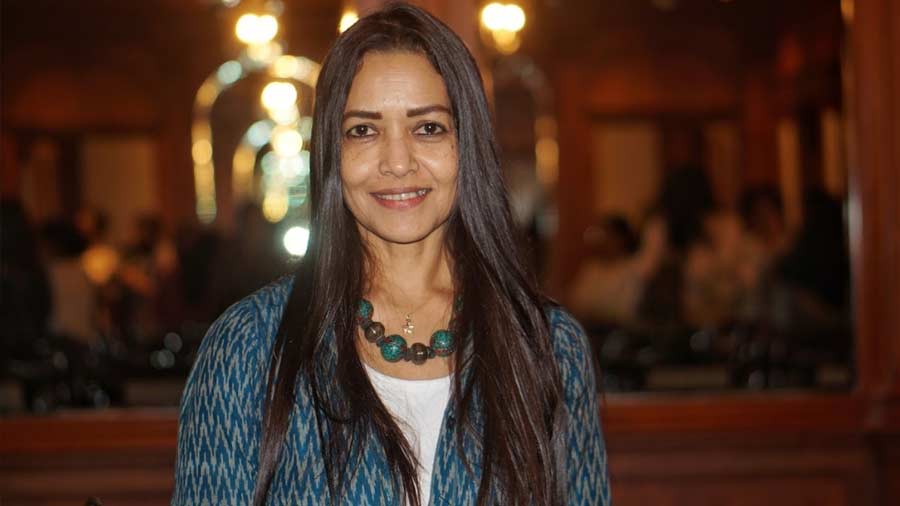 Esha Dutta
"This is one of the genres that we hadn't explored till now for Author's Afternoon. It has actually promoted a discussion among us, the Ehsaas Women, if we should create an entire literature fest with horror as the genre. This is a favourite genre of mine and I'm looking forward to reading this book."
Esha Dutta, Ehsaas Woman of Kolkata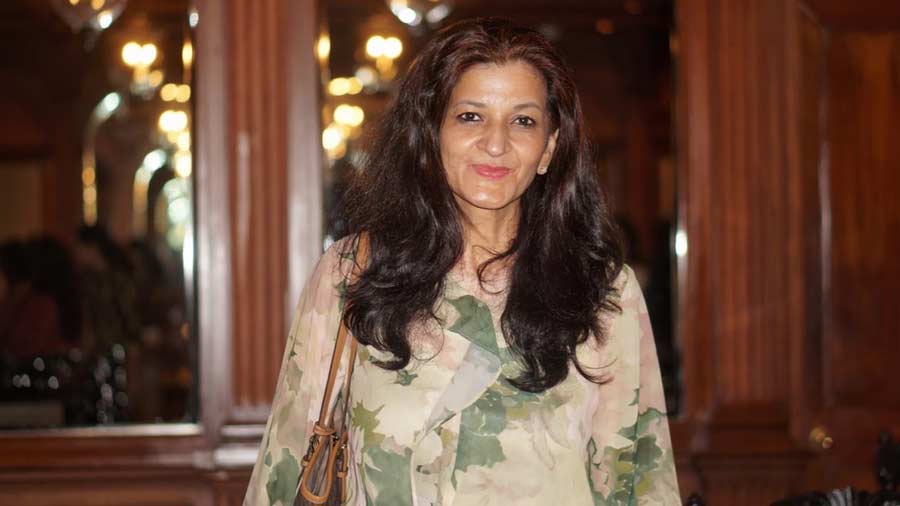 Simalisha Baruah
"The session was brilliant and I'm looking forward to reading the book now. I believe in ghosts because I have lived in the tea gardens for a really long time and those bungalows have a lot of history. This session reminded me of some of the supernatural experiences that my husband had while we were living there."
Simalisha Baruah, a guest of Prabha Khaitan Foundation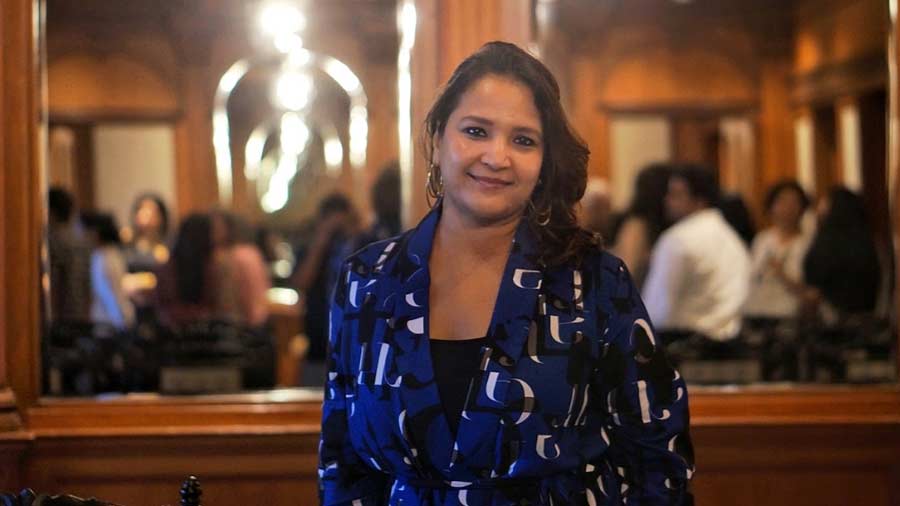 Shraddha Sarada
"The purpose of the session wasn't to scare us but to make us aware that something co-exists with us. If we don't harm them, they won't harm us either."
Shraddha Sarada, a guest of Prabha Khaitan Foundation