For more than a decade, Ashwini Ponnappa has been the gold standard when it comes to women's doubles in Indian badminton. Whether as one half of a record-breaking pair with Jwala Gutta or later on with N. Sikki Reddy, Ashwini has endured as a beacon of consistency in a format that often gets overshadowed by the superstar culture around singles players.
In the midst of the fourth edition of Red Bull Shuttle Up, India's first-ever exclusive women's doubles badminton competition, Ashwini, who is also the face of the tournament, spoke to My Kolkata about her career, the disparity between men's and women's badminton in India, how Red Bull's initiative is making a difference in women's doubles and more. Edited excerpts from the conversation follow.
My Kolkata: When did you realise that you wanted to take up badminton professionally and what made you opt for doubles?
Ashwini Ponnappa: I got into badminton because of my parents. I was too young to make a decision myself, so my parents were the ones who helped me get into the sport. Ever since I started playing badminton as a kid, I haven't played any other sport seriously. Growing up, I had a coach who was very strict and firm about the basics of the game. When I won my first national title in the sub-junior girls' doubles category, I realised that I really want to take up badminton professionally. Once again, my parents' support was crucial in making that decision. As for why doubles over singles, I've always done better in doubles and won more titles there. So, it was quite a simple choice for me.
Doubles is much faster and requires more smashing and forearm strength as well as better reflexes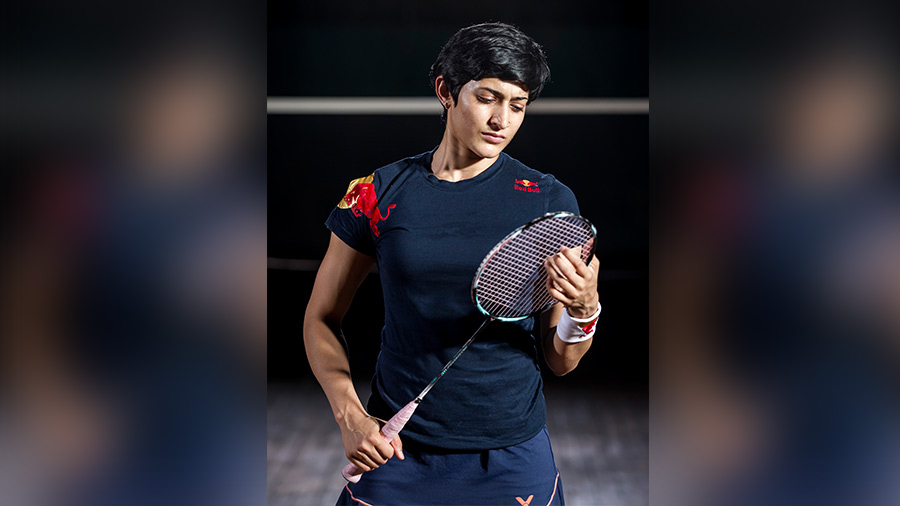 Ashwini initially trained as a singles player for several years before switching to doubles
Red Bull Shuttle Up
What are the most challenging aspects of playing doubles and how should one prepare separately for those challenges?
When I started playing doubles, most of us, especially the women, were singles players. We hardly had a specialised focus on doubles in India. Even when I trained at the Prakash Padukone Badminton Academy in Bengaluru, all the kids wanted to be singles players. Apart from Jwala (Gutta) and Shruti (Kurien), there were no other established female doubles players to look up to either. It was only in the junior category competitions that I was first part of doubles camps. Switching from singles training to doubles was quite difficult, as doubles is much faster and requires a lot more smashing and forearm strength as well as better reflexes. When you have two people on court on the same side, it's not just about yourself. There's a lot of coordination that goes into it, which is the most challenging aspect. You could be a great player by yourself, but if you can't coordinate, you won't succeed in doubles.
Jwala and I had a natural understanding of what the other person would do on court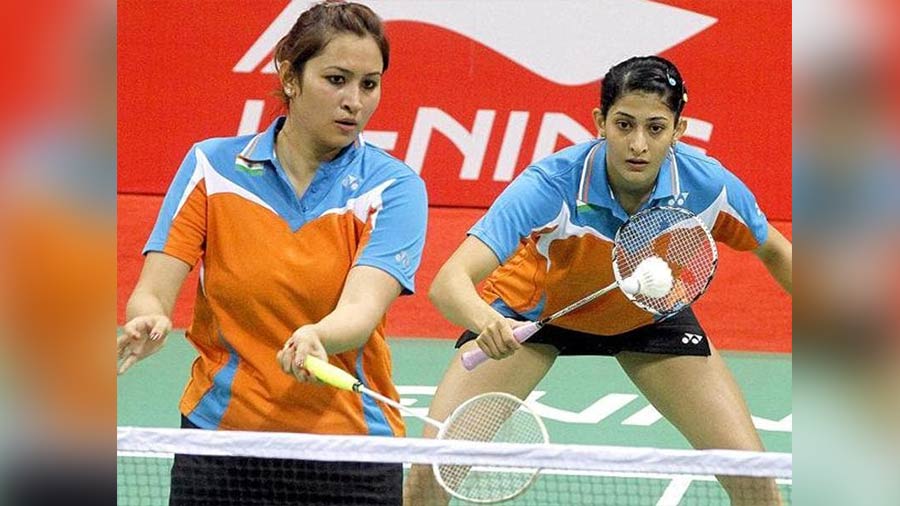 Ashwini and Jwala Gutta are widely regarded as the best women's doubles pair in Indian badminton history
BAI
What did you enjoy most about teaming up with Jwala Gutta for so many tournaments? What do you think set the two of you apart?
When I started playing with Jwala, I was a junior with little to no experience and she was already an established senior. She took a chance by deciding to play with me and I managed to rise to the occasion. Being able to match up to her standards was important and I'm glad I could do that. What made our partnership special and successful was the fact that our styles matched a lot, so we had a natural understanding of what the other person would do on court. We didn't communicate a lot when we were playing, but managed to sync quite easily. At that point, we were also quite close off the court and she was extremely supportive, which made our team even more formidable.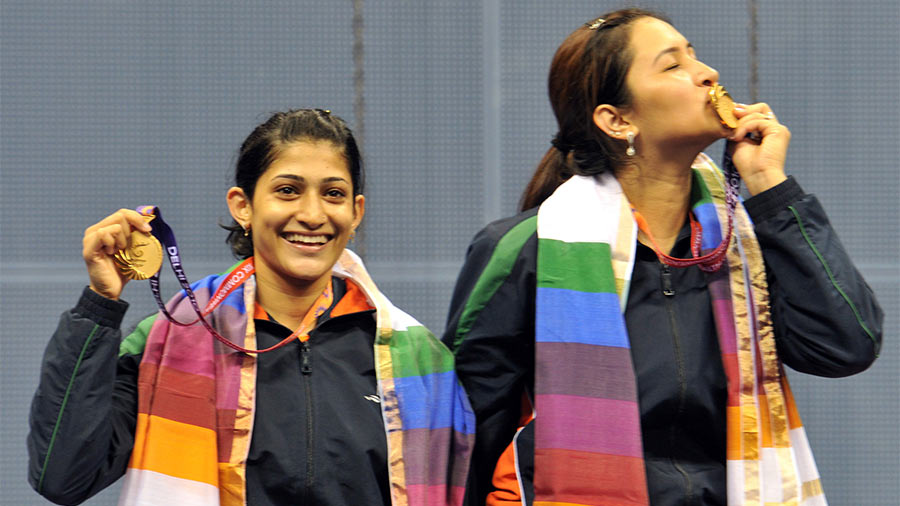 Ashwini and Jwala with their gold medals at the 2010 Commonwealth Games
BAI
Was winning the gold medal at home in the 2010 Commonwealth Games (with Jwala) the proudest moment of your career or would you prefer your bronze medal at the BWF World Championships (also with Jwala) in 2011? Or something else altogether?
I'll have to go with both, the Commonwealth medal as well as the World Championships one. Nobody had achieved either feat before. But more than anything else, what makes these two achievements among my favourites is that I had a great time while I played those tournaments. Often people go through a lot and sacrifice a lot to win, but don't enjoy the process. I was lucky in that I had a blast while having my proudest moments on court.
The system at the 2012 Olympics was flawed
Do you have any regrets from your career so far, especially in relation to the Olympic Games?
The 2012 Olympics would definitely remain a regret. Given what happened (Japan had shockingly lost to Chinese Taipei in what was seen by many to be a deliberate defeat or an instance of "throwing a match" to secure an easier opponent in the next round, which, incidentally, also led to India's elimination), it was disheartening, because we had played very well. Looking back, I think the system was flawed, they shouldn't have let players know who was going to play whom in the next rounds. A month before the next Olympics in 2016, I had had a horrible bout of dengue. As a result, I wasn't able to smash as hard and that had an impact on the result, which was also quite disappointing.
Red Bull Shuttle Up is trying to make badminton more inclusive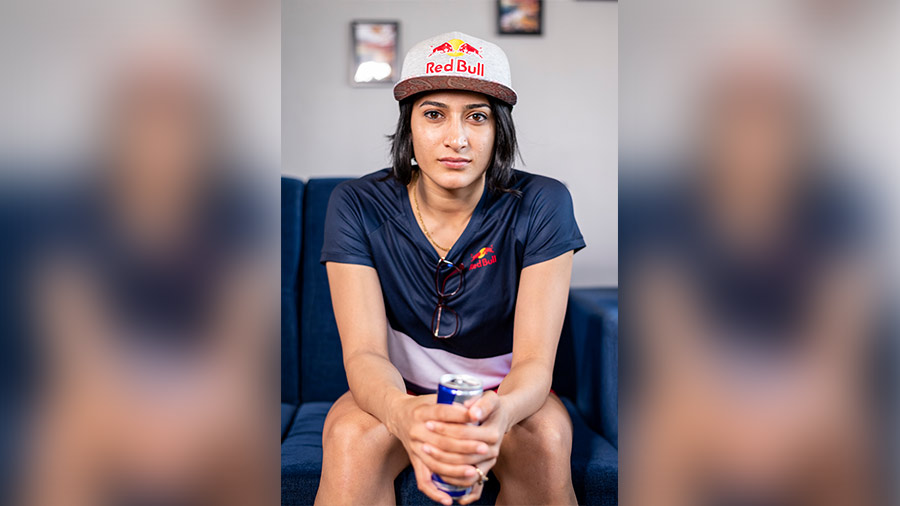 Ashwini has been pushing for greater focus on women's doubles as the face of Red Bull Shuttle Up
Red Bull Shuttle Up
Coming to Red Bull Shuttle Up, Simran Sanghi (a previous winner of the tournament) said that it's "the perfect example of empowered brands empowering women… proving that women are the real matadors of society". What do you make of Red Bull Shuttle Up and how it has been making a difference to women's doubles?
The most important thing about Red Bull Shuttle Up is that it gives women's doubles players an opportunity and a platform that belongs solely to them. This is really important because in India we have leagues that don't even have the women's doubles format, which seems unbelievable to me. That's where Red Bull Shuttle Up is trying to make badminton more inclusive. The second aspect is about having fun. I've always believed that you play sport because you want to have fun and that's something that Red Bull Shuttle Up manages to provide in ample doses.
We don't see the sheer number of quality players in women's badminton as we do in the men's game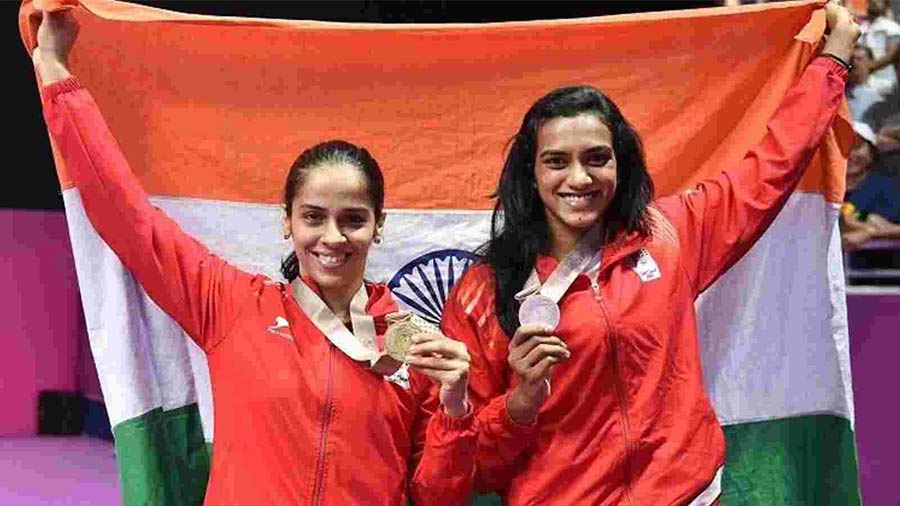 Ashwini believes that there is a big gap between Saina Nehwal and P.V. Sindhu and the rest of the field in women's badminton
BAI
Looking at the larger picture, where does India stand as a force in badminton today? Are we a global power or are we still in the process of getting there?
The fact that we won the Thomas Cup in May speaks volumes about the strength in depth when it comes to men's badminton. Beating powerhouses in international badminton like we did in the Thomas Cup is no joke. In that sense, we're definitely a global power among the men. On the other hand, the women's game still has a long way to go. We don't see the sheer number of quality players in women's badminton as we do in the men's game, especially when it comes to doubles. Even if you take singles, there's quite a bit of a gap between P.V. Sindhu and Saina Nehwal at the top and the rest of the field. There are a fair few young singles players who are doing well, but it'll take them years to get to the levels of Sindhu or Saina. Coming back to the doubles, it's the same problem I stated earlier. How can you expect doubles players to give you points in big tournaments when you don't include women's doubles as part of your domestic leagues? When it comes to women's badminton, it's not that we don't have talent, but the talent that's there isn't being nurtured the right way.
Switching tracks, how do you relax and zone out? What are your hobbies and interests outside badminton?
Of late, I've enjoyed just chilling and watching dramas. I watch any and every kind, including Anime. I also watch a lot of YouTube content, especially motivational talks and conversations that pique my interest in general.
My most important goal is working on myself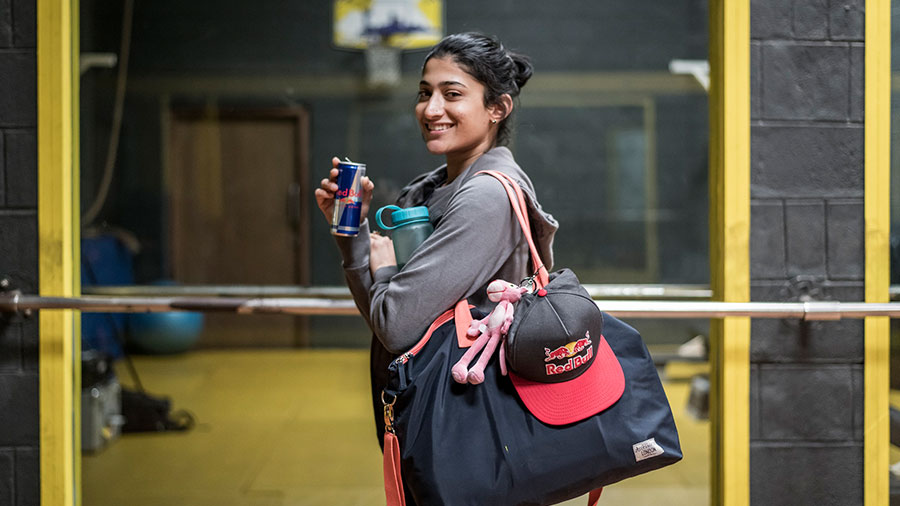 Ashwini feels that she still has a lot of goals and dreams left to realise
Red Bull Shuttle Up
What are the dreams and goals you are still chasing as an athlete?
I've still got a lot of dreams and goals, which is why I'm still playing! I feel like I've spoken a lot about them in the past and at the moment, I'd rather talk about my most important goal, which is working on myself. I'm trying to take a different approach with my holistic development on and off the court, and if that goes fine, the rest of the goals should fall into place.