Life is not a sprint, but a marathon. Or so goes the cliche. For Hima Das, however, life has always been a sprint and sprinting has always been her life. Overcoming hurdles at breakneck pace without losing her head, Hima has scripted one of India's most remarkable sporting success stories in recent times. 
The first Indian athlete to win a gold medal in a track event at a world championship, Hima burst onto the Indian athletics scene at just 18, impressing many with her speed and inspiring them with her inner steel. Coming from a joint family in Assam's Nagaon district, a world away from the glory and glamour of international tournaments, Hima has not only infused hope in those who follow Indian athletics but also done so with the grace and humility that often eludes young achievers.
As part of the latest edition of Levi's 'I Shape My World' campaign, which celebrates the journey of fearless women, Hima's story is receiving the limelight it deserves. In an interaction organised by Levi's, Hima spoke to My Kolkata about her background, her proudest moments, her role as an UNICEF ambassador, the dreams she is still chasing and more.
Edited excerpts from the conversation follow.
'My PE teacher told me to try athletics'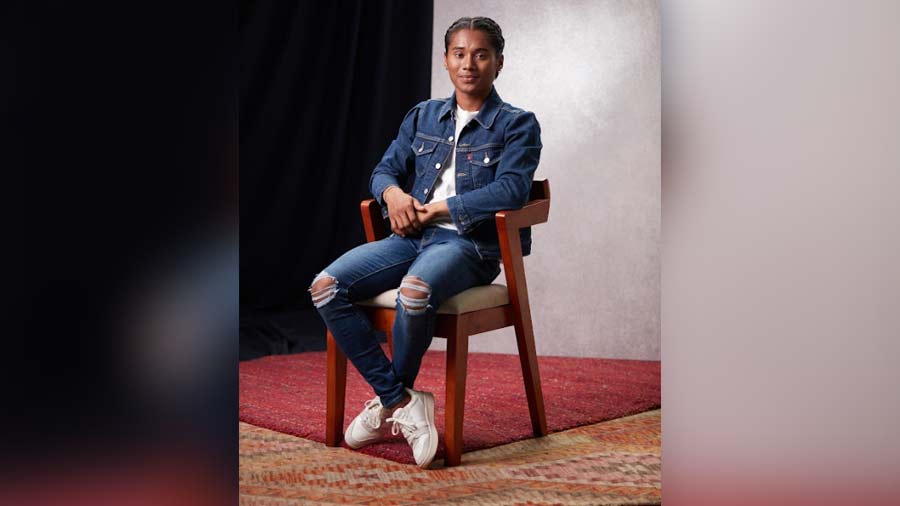 Hima has been selected as one of Levi's fearless women for the latest edition of the 'I Shape My World' campaign
Levi's India
My Kolkata: Is it true that your first love was football and not sprinting? Why and how did you decide to become a sprinter?
Hima Das: Growing up, I was always a sports enthusiast. Football is very popular in Assam and we all grew up playing it. There's a lot of running involved in football and I had pretty decent speed even as a kid. I used to have sprint races with my friends in school and the adrenaline rush kept growing as I grew. Eventually, I heeded the advice of my PE teacher, Shamshul Houqe sir, to try out for athletics and here I am!
Did you really burn down a beehive near your house when you were younger because a bee had stung your uncle? Tell us about that.
Yes, I did. It's one of those memorable stories of my childhood. As my uncle entered the house after being stung, seeing him in pain made me get up immediately and rush out and burn down the beehive outside without even taking a moment to think. Thankfully, the bees escaped the attack and flew away, never to return.
'My parents' trust and belief in me made me realise my potential'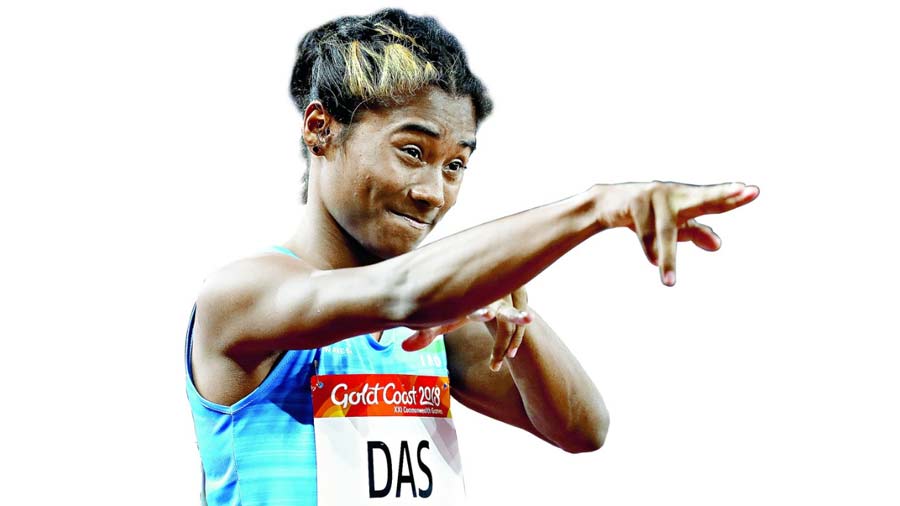 'It's because of them that I am where I am today', Hima says of her parents
TT Archives
From a joint family in the Assamese town of Dhing to one of India's most consistent athletes, what were the biggest challenges you had to face as a result of your background?
My parents are farmers, and more than me, I believe it was a challenge for them to meet the requirements for me to grow as an athlete. It's because of them that I am where I am today. It was difficult for me to move to Guwahati, as I had never been away from my family before. But their trust and belief in me made me realise my potential and that helped me overcome any and every challenge that came my way.
'I could feel the love and support from my people in Finland'
You became an overnight sensation in India after you won gold at the 2018 IAAF World U20 Championships in Tampere, Finland. Did it take time for that victory to sink in and what was your response to getting so much recognition so quickly?
To be honest, it brings back tears of joy everytime I think about that day. I couldn't believe that I was the champion after my run. It felt more like a happy dream that you don't want to wake up from. I could feel the love and support from my people even in Finland. I was overwhelmed by the response. It was a huge achievement not only for me, but also for my country. And I'm working harder each day to have many more such moments.
'The Asian Games made me realise that dreams do come true'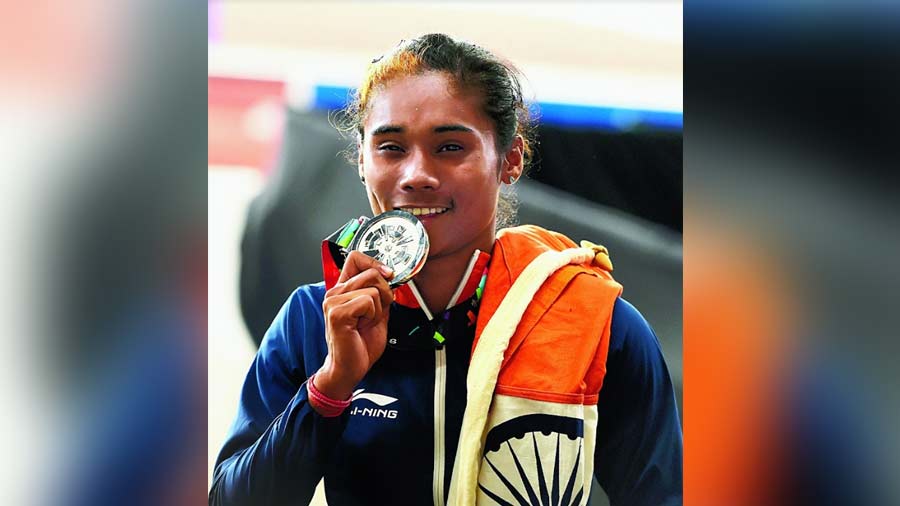 Hima credits her success in the mixed sprint race at the 2018 Asian Games to 'amazing chemistry' with her teammates
TT Archives
Tell us about your time at the Asian Games 2018, where you won silver in the women's 4x400m and gold in the mixed 4x400m sprints. Did you expect to secure podium places in both categories and what were your feelings when you did?
It was like living another dream. I was blessed to have really amazing teammates who were as passionate about the sport as I was. We created amazing chemistry between ourselves and I think that helped us cross the finish line in the gold position. Winning a medal at the Asian Games for your country itself holds huge importance and managing to secure those medals just made me realise that dreams do come true.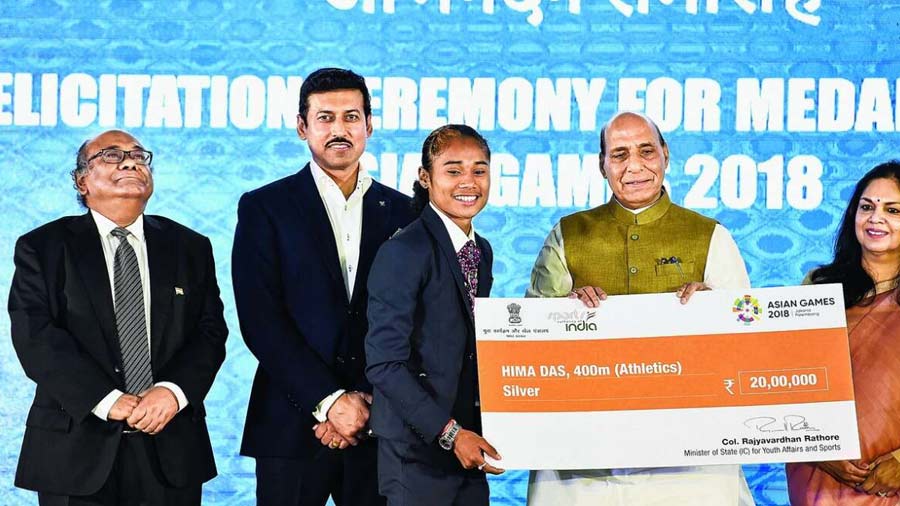 Hima says that she tries to approach every new race without thinking much about past results
TT Archives
July 2019 was a special month, when you made history by winning three gold medals. Which one of those wins do you cherish the most? How did you manage to keep up the momentum and your motivation to win across three sprints within such a short time?
Every win and every medal holds a special place for me. Because each of those wins feels like a reward for the hard work that my team and I have put in. I always try to go into races without thinking much about past results. The key for me is to remain focussed in each tournament I'm part of and give my best and let the results speak for themselves.
'When running, my mind is only on getting past the finish line'
When you are running at full tilt, what are the thoughts that go through your head? Or is it just pure adrenaline and you get little to no time to process your thoughts?
There's just one thing that goes on in my mind and that is to get past the finish line. Once I'm in the zone, I try to keep my focus solely on my running. I use the adrenaline to my advantage, do my best and hope to get a good result in the end.
What does an average day of training look like for you? Guide us through your usual training routine.
My training mainly includes running. It begins with a round of warm-ups and then I try to bring the pace out. Along with training physically, I try to train the mind as well. I try to eat healthy and take a little break every now and then to keep my mind focused on my runs.
'I enrolled in the police force to be able to give back to my country'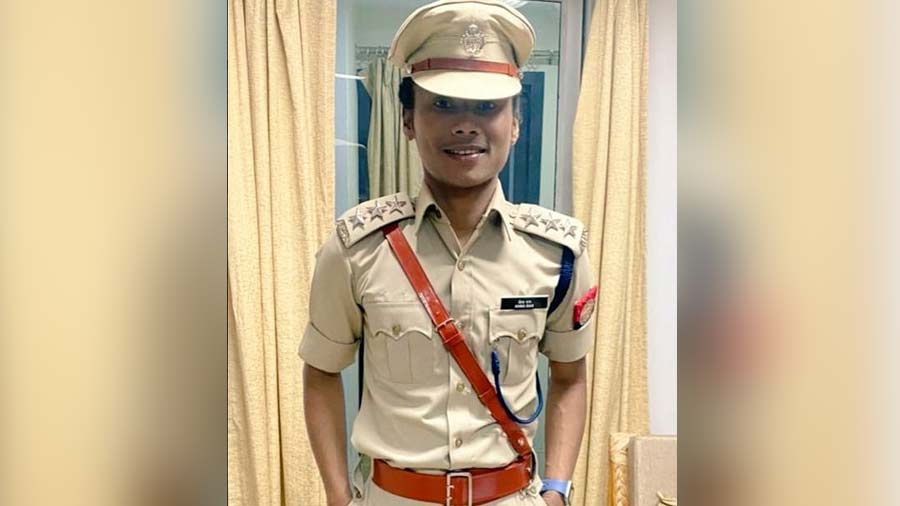 The fact that the police force is always at the frontline during emergencies inspires Hima
Twitter
You hold the rank of a deputy superintendent of police under the Assam service since February 2021. Is the police force something you always aspired to be a part of? 
I've always been inspired by the national security forces of our country. They work day in and day out to protect every one by putting their lives on the line, and they put their own needs second to that of others. I joined the police force in particular because they're on the frontline every time something untoward happens. Also, I felt this way I'd be able to give back to my country anytime it needs me to.
'I want to break as many archaic taboos as possible'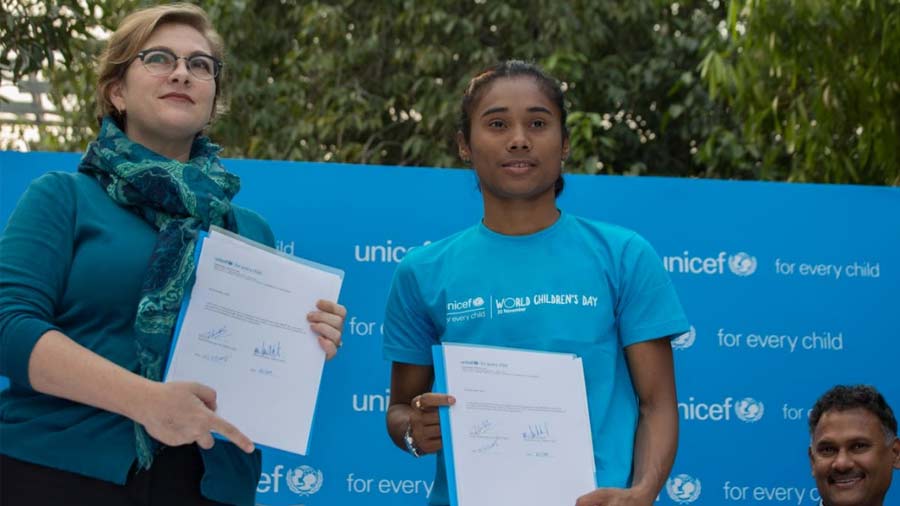 Hima is working closely with UNICEF to help create a better world for future generations
TT Archives
You have been appointed as India's first Youth Ambassador by UNICEF. How do you see this role of yours and what are some of the measures you plan to take to inspire Indian youth and improve their lives?
It's a huge honour to have been appointed to that role. UNICEF has always worked passionately to create a better world for the future generations and now I get to be a part of it as well. My motto is to use my platform for good causes and try to break as many archaic taboos as possible. I'd also like to create a better understanding about women empowerment, in particular about girl-child development.
If you could change three things to improve the condition of female athletes in India, what would they be and why?
I think that there's always scope for improvement for athletes across every field. It depends on what your approach is and how keen you're to make things work for yourself. The government is improving a lot of things that will help us grow as athletes and I'm hopeful that with the way things are panning out, we'll have many more decorated athletes in the future.
'Ashwini Akkunji inspires me'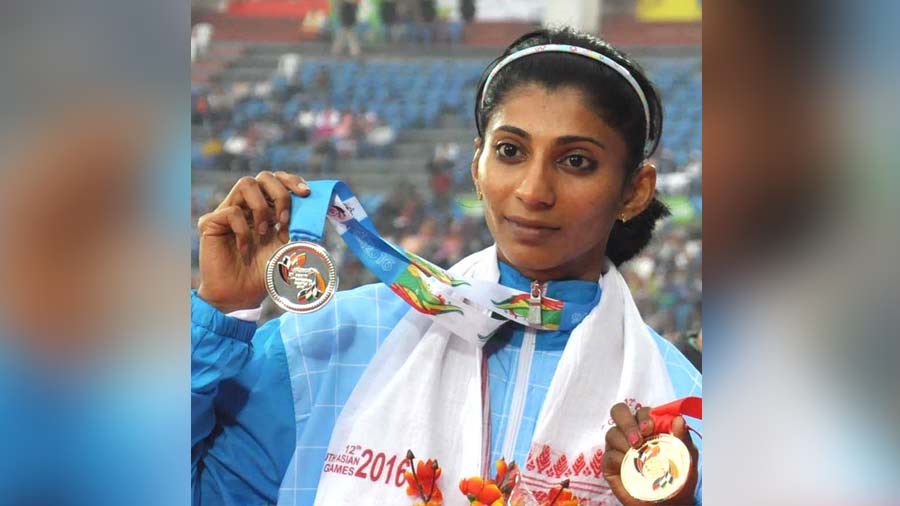 Hima regards senior sprinter Ashwini Akkunji as one of her role models
TT Archives
Who have been the people you have looked up to or considered your role models growing up?
My father has been one of the most inspirational people to me. He himself was a fast runner and he knew that one day I too would be. I've also been inspired by many athletics legends, like Ashwini Akkunji, who've been defying odds regularly at the international level for the country.
'Build a world for yourself that you'd never want to leave'
What do the words 'I Shape My World' mean to you? How do they resonate with your personal slogan of Mon Jai ('I feel like')?
Those words define me. I have believed that every individual is the master of their own world. When you feel like something is going to create a difference for you, then you should go ahead and do it. Build a world for yourself that you'd never want to leave and that'll just help you push yourself further each day.
We know that you love to play carrom, but when not sprinting or practising, what else do you do to zone out and relax? What are your hobbies and passions?
Well, those moments are pretty rare as I try to train as much as possible. But during my free time, I like to sleep. I also paint and cook whenever I have a good amount of time on my hands. Other than that, I just try to have some good family time and catch up with my friends, and maybe watch movies on my off days.
'It's not enough to just dream big'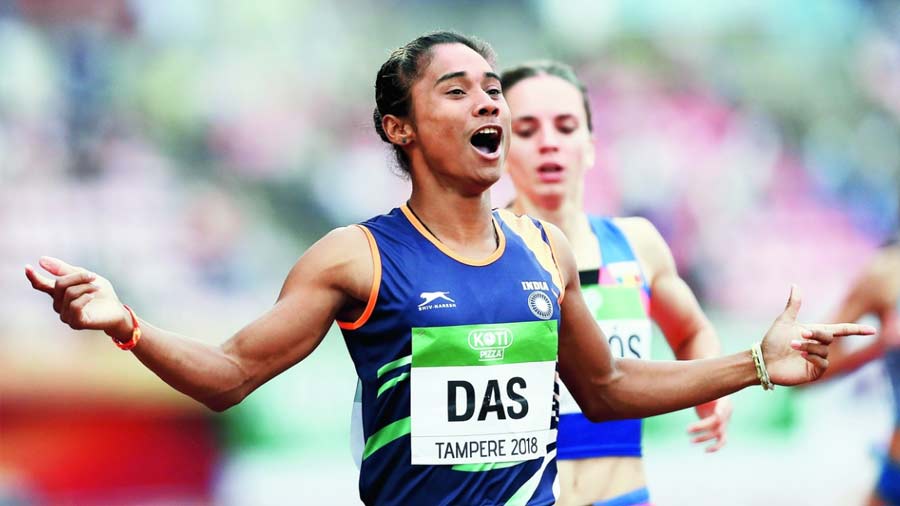 The upcoming generation of Indian athletes has a lot of potential, feels Hima
TT Archives
What advice would you have for young athletes across India who want to emulate your success?
The one piece of advice that I'd like to give to my younger peers is that it's not enough to just dream big, you've got to give your 100 per cent in achieving that dream. Our world is filled with great opportunities and the upcoming generation has so much potential. Just try to be the best version of yourself everyday and see great things unfold in your life.
You have achieved so much as a professional sprinter and you are just 22. What are the dreams you are still chasing? Is it winning gold for India at the Olympic Games or something else?
Every athlete's dream is to win an Olympic gold for their country. And that's my dream, too. But I know it's a long journey, so my main focus remains on doing my best while representing my country in every tournament I enter. And, hopefully, one day I can see the Indian flag soaring high at the Olympics because of me.