A clear sky and a hint of chill have started to bring thousands of people of their homes. But many of them are letting their Covid guard down. 
From Eco Park in the New Town to Alipore zoo in the south, popular attractions in and around Kolkata have been reporting a gradual rise in footfall.
The pandemic protocol is, however, being flouted at these places, a Sunday tour suggested. For every masked visitor, there was one without a mask. Most of them were carrying one but chose not to wear it.
The only exception was at the ticket counter and the entry points, manned by guards who denied entry to people without a face cover. But once inside, people threw caution to the wind.
Authorities pleaded helplessness, with officials saying individual monitoring was not possible.
The stock answers for not wearing a mask ranged between "suffocation", "about to eat" and "fully vaccinated".
At Alipore zoo, the footfall was around 19,000 on Sunday, compared to 16,000 a week ago, said officials.
Around 2.30pm, scores of people stood outside a tiger enclosure at the eastern corner of the park, savouring the big cat. A mask was hard to spot.
"We just opened our masks. We are looking for a place to sit down and eat," said a middle-aged man, part of a large group of visitors at the zoo.
A zoo official said: "We are not allowing anybody inside without a mask. Even inside. Our guards are trying their best to make people wear a mask. But it is not possible to check upon everybody".
Two hours earlier, dozens of people sat outside the "Roman Colosseum", part of the Seven Wonders zone in Eco Park. Only a handful wore a mask. Some others had their masks hanging below the chin.
The trend was similar across the sprawling park. The only place where people wore a mask was at the ticket counters and the gates.
"Wearing a mask continuously is very suffocating," a young woman said, when The Telegraph asked her why wasn't she wearing one.
Eco Park recorded a little over 18,000 visitors on Sunday.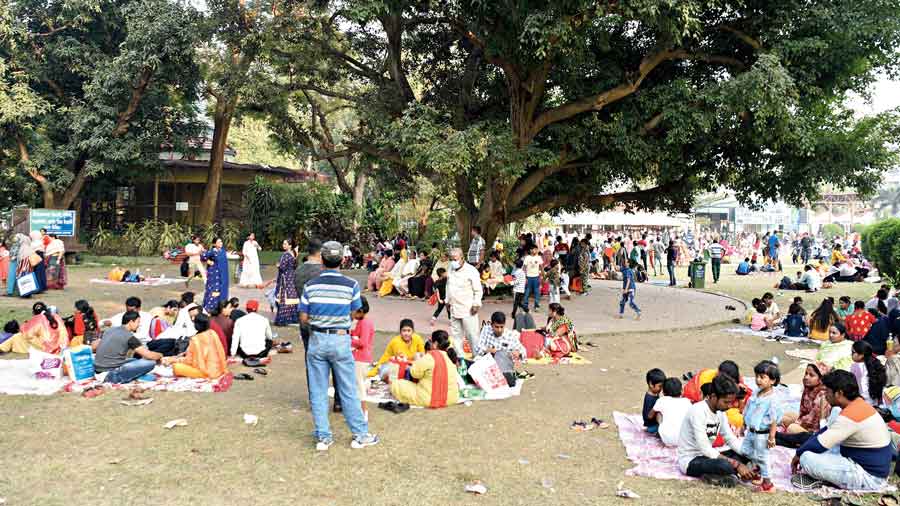 A crowded Alipore zoo on Sunday.
Gautam Bose
"We can enforce the mask mandate at the gates. But we cannot monitor the entire park. People have to be responsible on their own," said an official.
The walkway between Prinsep Ghat and Babughat, along the circular railway tracks, was also brimming with people on Sunday afternoon. From a young man with a child to a group of women outside a paw bhaji stall, people chose to give ignore masks.
Ditto in and outside Victoria Memorial Hall. At one corner, a group of friends, most without a mask, kept posing for pictures.
"We have just opened the masks for taking pictures," said one of them.