Wires wrapped around roadside poles pose a risk to commuters across Salt Lake.
On Sunday, The Telegraph spotted open junction boxes at several places in Sectors I, II and III that had cables sticking out of them.
On Broadway, one of the main arterial roads that connects Salt Lake with EM Bypass, nearly all lamp posts had open junction boxes and wires were seen jutting out from most of them.
Besides, bundles of cables were wrapped around the poles and on some stretches they extended into the pavements and roads.
In EE Block, however, there were a few poles that had junction boxes covered flimsily with plastic bags and tapes.
Bidhannagar Municipal Corporation (BMC) is in charge of maintaining all street lights and other road furniture.
The electricity supply is provided by the West Bengal State Electricity Distribution Company Limited (WBSEDCL).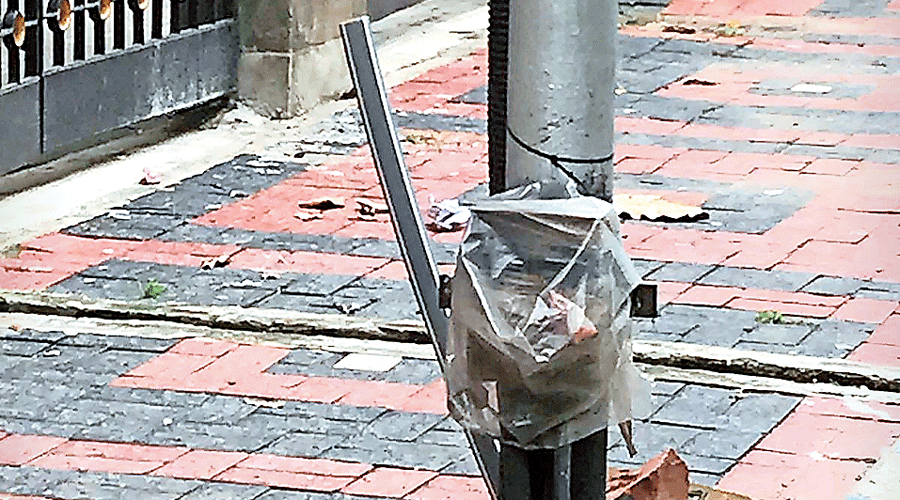 The junction box of an electric pole covered with a plastic bag in Salt Lake's Sector I.
The Telegraph
A spokesperson for the power utility said their job was to maintain the supply lines and ensure electricity reached the posts.
"The BMC is in charge of maintaining the lights, posts and the junction boxes. We have sent them a request to cover the boxes as the monsoon has arrived," said the official of the power utility.
The chairperson of the civic body, Sabyasachi Dutta, said he had initiated a process to check all lights and create an underground conduit system for broadband and cable TV wires in 2015.
"We had completed a stretch in AA Block, where all street lights were secured with nuts and bolts and an underground conduit system was put in place. However, nothing moved beyond the pilot project," Dutta said.
Mayor Krishna Chakraborty said she had directed engineers to check and conceal exposed wires.
"I will run a recheck to find out what happened," Chakraborty said, when asked about the exposed wires jutting out of lamp posts.