A 15-year-old had saved Rs 100 over six months for Durga Puja. A week before the festival, she gave it away without asking her mother, who is a bidi worker.
   A 16-year-old took out Rs 50 from the little that her father, a daily wage earner in Tamil Nadu, sent her to spend during the Puja. 
Students of a school in the Sunderbans contributed Rs 8,000 to buy clothes for a group of people who had nobody to buy gifts for them this Puja. The students are from families for whom daily living itself is an unequal battle against odds. The students of Kanaknagar SD Institution in Hingalganj, in North 24-Parganas, handed over new clothes to 20 individuals on Thursday. 
They wanted to give more but their budget permitted only that many, said the headmaster of the school. The children approached their headmaster about a fortnight ago expressing their wish to do something for those affected by the pandemic or by their circumstances."They said that just as they would enjoy Puja, they wanted to spread some cheer amongst people in their neighbourhoods. My only condition to them was that they would not ask their parents for money," said headmaster Pulak Roychowdhury. The parents of a significant number of students in the school are labourers, some of them migrants.
Most of them found it difficult to make ends meet during the pandemic and the children saw extreme financial distress for a large part of the past two years. Class IX student Disha Mondal had saved Rs 100 over a period of six months from the Rs 5 or 10, when she is very lucky, allotted for her tiffin. For Disha's mother, a bidi worker who earns Rs 3,000 a month, it is not possible to give more. "I know I couldn't ask my mother for money but I wanted to give to people who cannot buy anything new. I would have used the money to buy hairclips and make-up but even if I do not buy, I can borrow them from my cousins," said Disha. 
Disha, who lives in a joint family, has got two new dresses this Puja. "At least they should have one," she said.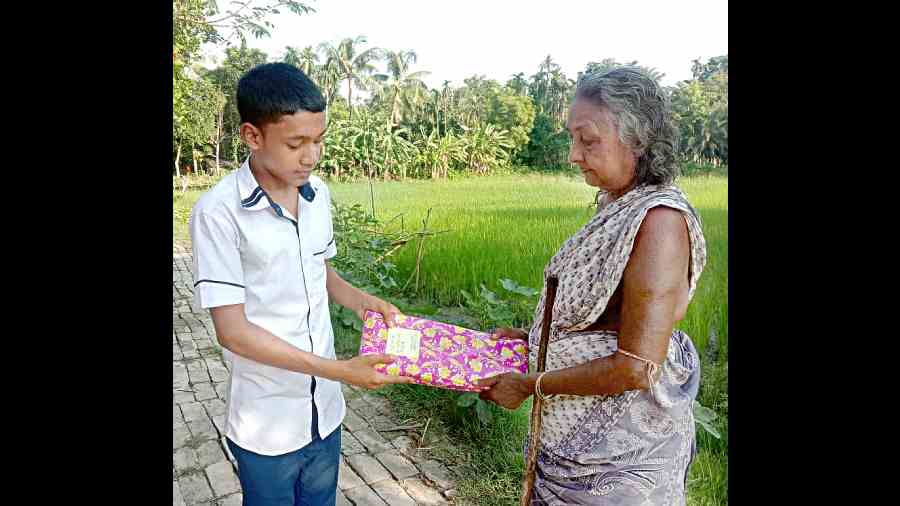 The thought of reaching out to people came from what they saw in the aftermath of Cyclone Amphan in May 2020 and for a large part of the pandemic. The children saw how NGOs and individuals came to help people in the Sunderbans. Their teachers in the classroom have always told them how important it was to stand by each other, especially during crises.The children did a survey and accordingly bought shirts, kurtis or saris for the people. In the true spirit of Durga Puja, the little help was not restricted to Hindus. The beneficiaries included people from diverse groups.
"We wanted to reach out to everyone and spread the cheer," said a boy who did not wish to be named."They have seen deprivation and understand what it means to not have enough. Perhaps that is what prompted them to do their part," said a teacher. None of them can afford to give a lot. "They only have a little and they are giving from that," said the teacher.