Hundreds of students from remote corners of the state took part in an online session that dwelled on opportunities for higher education outside India.
France and Germany were the countries of focus at the session organised by the West Bengal Minorities Development and Finance Corporation on Friday.
Many of the participants were the first in their families to have a college degree.
Johirul Amin, who lives Binderpur, a village near Kandi in Murshidabad, was one of the participants. 
Amin has done MSc in chemistry from Bankura University. He teaches at Al Alam Mission school in Ramnagar, a five-hour drive from Behrampore. He is also pursuing a BEd degree.
"My dream is to do a PhD abroad. But the expenses are huge. I have to bear my own expenses. So, I was interested in scholarship programmes at the session," said Amin.
His father used to sell clothes on a cycle and now has a small shop. He could not finish school but always encouraged Johirul to do his best in academics.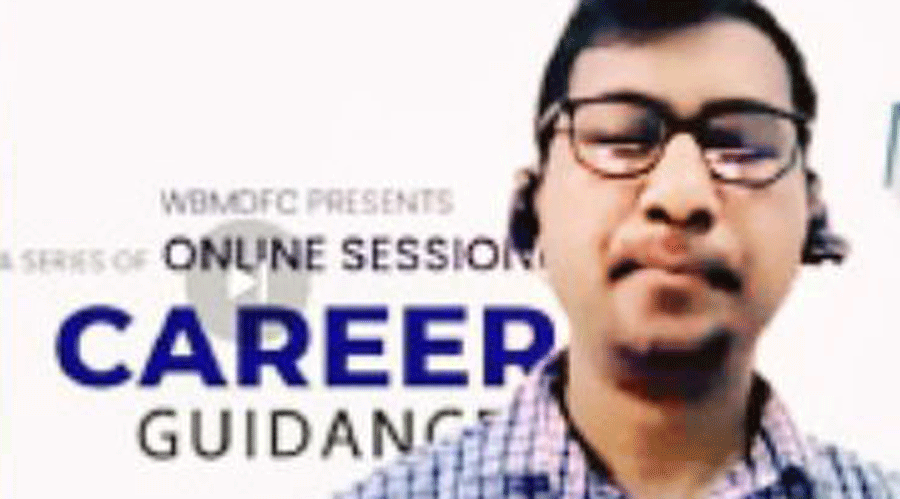 Sabir Ahamed, the moderator, at the online session on Friday.
The Telegraph
Amin earned money from a young age through private tuition. While a doctoral degree is his dream, a steady income is also a priority. He has taken the CSIR-NET exam recently. When The Telegraph called him on Monday, he was headed to Ranchi for a Railway recruitment test for Group D employees.
"I was particularly interested in the doctoral programmes in France. I learnt that the researchers are entitled to a salary that should comfortably cover the living expenses and still leave expenses. If I get a chance, I will have to send some money home," said Johirul.
Friday's session was the 75th in a series of online career counselling sessions. Some of the past sessions have focused on higher education opportunities in countries like the US, UK and Canada.
"In the past two years, thousands of young people have participated in the sessions. Some of the past sessions have covered preparations for competitive exams," said Sabir Ahamed, the moderator of Friday's session.
For the past four weeks, the sessions have been dwelling on the scope of higher education outside India. 
"New disciplines like cyber security and digital marketing have gained prominence in the wake of the pandemic. Many young people can make a career in these domains. Merit is not a challenge. But the lack of proper guidance is. We want to plug that gap," said Ahamed.
Sourav Bhowmik, who represented Campus France, was one of the guest speakers at Friday's session.
Campus France is the student mobility office of the French embassy in India. It serves as a one-stop information point for higher education in France.
"There are around 8,000 Indian students in France now. The target is to have 20,000 in the next two years. Scholarship programmes are going to be one of the main instruments for us to achieve that growth," said Bhowmik, who is in charge of east and Northeast India for Campus France.
Nasir Ahammad, 27, was another participant in the session.
Ahammad is in the first year of a PhD programme at the Central University of Tamil Nadu in Thiruvarur, some 300km from Chennai. His subject is geography.
He hails from Purba Mallikpur village in Hooghly's Haripal block. He completed secondary and higher-secondary education from two different madarsas before bachelor's and master's degrees from Aliah University.
Most young men in his village seek a job after completing school. "But I was hellbent on continuing studies. My family also supported me," said Ahammad, whose father is a retired madarsa teacher.
"I am looking for a good PhD programme in Europe or the US," he said.
A senior official of the WBMDFC said the series of online classes was the beginning of a long process.
"The education system was almost crippled by the pandemic since 2020. Many students aspiring to sit in competitive exams or higher education were confined to their homes. They were mentally fatigued. To support them the WBMDFC started this series of virtual sessions. It is a step in the right direction but fruition will take time," the official said.