The West Bengal Joint Entrance Examinations for admission to engineering, technology, pharmacy and architecture courses will be held on April 30.
Submission of online forms for BTech entry test is likely to start from the third week of December, said a JEE board official.
The examination for Paper-I (mathematics) and Paper- II (physics and chemistry) will be held on the same day.
This year, officials have ensured that the date of the West Bengal JEE does not clash with that of the National JEE-Main Examination.
"In 2022, the change in the Higher Secondary examinations dates had necessitated a change in the West Bengal JEE date.  The dates of the HS exams were tweaked twice — first because the schedule clashed with that of the JEE Main and again because of the bypolls to the Asansol parliamentary and Ballygunge Assembly constituencies," said a JEE board official.
A state higher education department official said that candidates can expect the JEE Main 2023 Session 1 to be conducted in the fourth week of April.
"The HS exams will be held from March 14 to 27 next year. Considering all these, the JEE exams have been scheduled on April 30," the official said.
The examination will be held through Optical Mark Recognition (OMR) sheets in offline mode in different examination centres across West Bengal.
"For further details, the prospective candidates are being requested to check the board's website from time to time," said Malayendu Saha, the chairman of the JEE board. The candidates must provide their valid email addresses and phone numbers to get notifications.  The candidates will be given a window for correcting their application forms.
EXHIBITION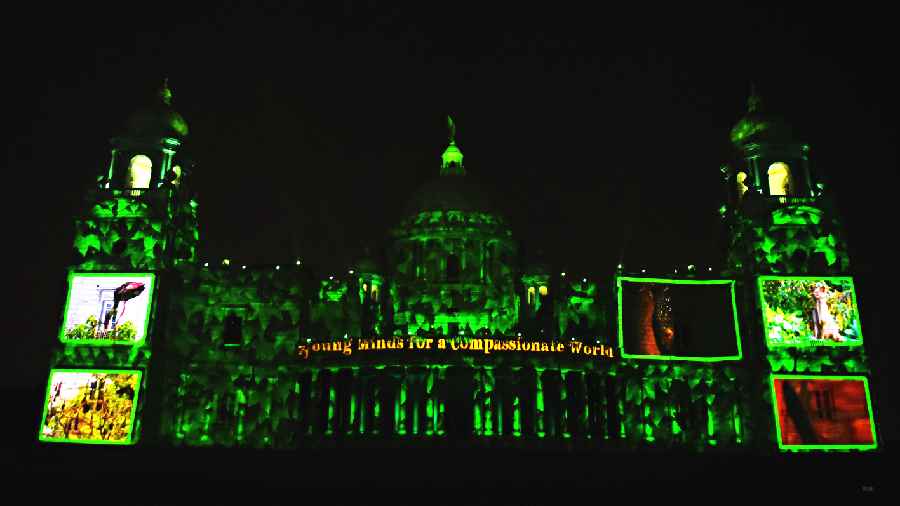 Picture by Gautam Bose
For a few minutes on Thursday evening, the Victoria Memorial changed colours from pristine white to vibrant green. Pictures of birds and animals adorned its majestic facade. The words "Young Minds for a Compassionate World" glowed in the middle.
The words are from the title of a wildlife photography exhibition — featuring works of 33 students from schools and colleges in Kolkata — that opened in the central hall of the Victoria Memorial on Thursday. A four-minute projection-mapping film, made of the images that are part of the exhibition, was the highlight of the inauguration. The colours of the marble monument changed during the film.
The exhibition is part of an ongoing programme named India/UK Together, a Season of Culture. The Natural History Museum (NHM) of London and the Victoria Memorial Hall, aided by the British Council, came together to engage and mentor the students, aged between 15 and 22. The exhibits will be on display for two months.