The weathercock atop St Andrew's Church at Dalhousie is back again after a hiatus of a year or so.
The slender cock perched on a copper ball now has a bright copper patina, as it crows over the nearby St John's Church.
The cock had been missing since it was felled by Cyclone Amphan in May last year. Since then, its broken pieces have been retrieved, put back and assembled, repaired and painted before being hauled up 120ft atop the slender steeple of the church.
The restoration work was carried out by Intach Kolkata. "This is our gift to the city," said G.M. Kapur, convenor of the Kolkata chapter of Intach, which sourced the original drawings of the weathercock from London.
The weathercock had needed no repairs since its installation in 1818. "I do not recall any instance of the weather vane needing repairs as long as I have been with the church," said Michael Pook, Sessions Clerk of the church.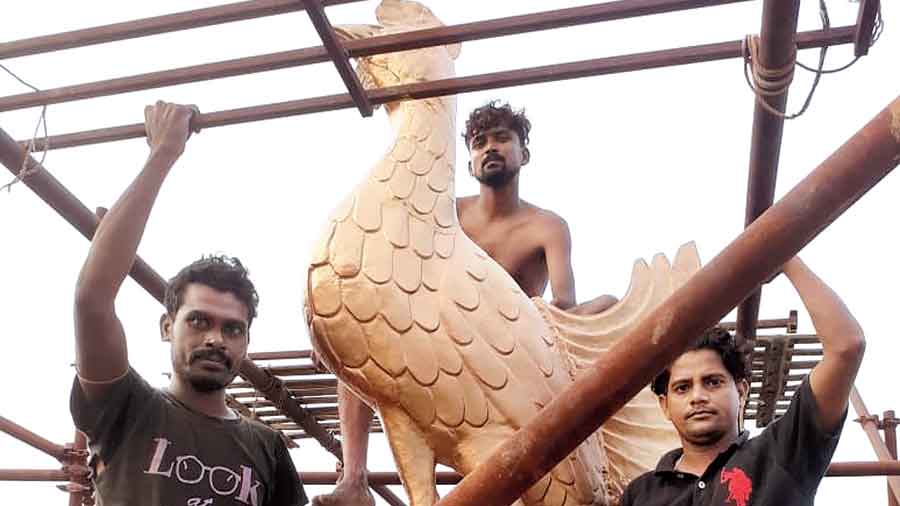 The weathercock being installed atop St Andrew's Church at Dalhousie
Telegraph picture
It was made of brass and copper sheets brazed together, mounted on a steel frame with a shaft at the bottom and a bronze bearing on which it turned when the wind blew. The whole thing was mounted on the spire.
The weather vane also included a lightning arrester, which will be installed on Friday, said Kapur.
"First we had thought we would install a new lightning arrester. But the metal strips of the new arrester were so flimsy that we decided to reclaim the original copper arrester," said Kapur.
The weather vane was repaired by Subrata Sen, senior conservator, Intach Delhi, and it was installed by architect Anjan Mitra.
The installation was challenging as it involved hauling up a 60kg bird atop a heritage building and placing it on a slender spire.
The cock stands on a rotating copper sleeve that runs through the middle of two copper spheres and a base.
The task was further made precarious by the narrow steeple of the church.
Workers stood on a 4sq ft-space handling a 60kg installation on a heritage structure.
St Andrew's Church was the first Scottish Church of Calcutta built in 1818.