Residents of Durga Pituri Lane and its adjoining areas in central Kolkata's Bowbazar held Kolkata Metro Rail Corporation (KMRC), the implementing agency of the East-West Metro project, responsible for the rerun of the disaster within three years and said they did not trust the agency any more.
On Wednesday, excavation of soil to grout a "blind spot" under the Howrah-bound tunnel of East-West Metro led to water seepage, which in turn, caused subsidence and cracks in at least nine buildings in Durga Pituri Lane, according to KMRC.
Kolkata Municipal Corporation (KMC) officials have said 13 buildings have suffered cracks and 154 people have been shifted from their houses.
At a meeting on Sunday morning, residents poured out their grievances to KMRC officials in the presence of MP Sudip Bandopadhayay, MLA Nayana Bandopadhayay and councillor Biswarup Dey.
Lack of communication
Residents alleged that KMRC was not communicating with them clearly at every step. They said they were in the dark on when they would have to shift after cracks surfaced on walls of their houses on Wednesday night.
There was also allegedly no proper information till Sunday on the number of crack-ridden buildings in Durga Pituri Lane to be pulled down. The residents have also not been informed about how long they should wait to return home.
"When cracks started surfacing in our houses on Wednesday night, all of us were clueless about what to do. Should we move out immediately or stay put and wait for the cracks to grow bigger? There was no one from KMRC to answer our queries. Cops and fire service officials came and asked us to leave immediately. Why should that be?" Abhijit Motilal, a 72-year-old resident of Durga Pituri Lane, told KMRC officials on Sunday.
He said his family has been living in the building for seven generations and he wants to die in peace at home. "You need to understand the sentimental value of the property. Please put in place a team for technical evaluation of the buildings and communicate its findings clearly to us. Don't just ask us to leave home all of a sudden. Give us some time to gather our thoughts."
Some residents of the two buildings that will be partly demolished — 16 and 16/1 Durga Pituri Lane — said they were still clueless about whether they would continue staying in hotels till their houses were ready again or would have to shift to rented accommodations.
"We have not been told how long we will have to stay in the hotel. Construction of houses that were pulled down earlier has not yet begun. We don't know what lies ahead," said Manasi Bhuniya, a resident of 16 Durga Pituri Lane.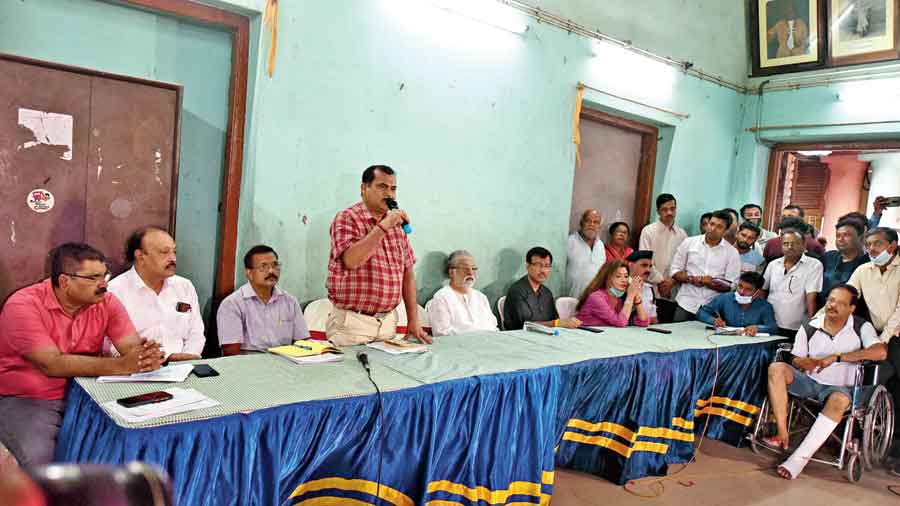 KMRC officials at the meeting that was attended by MP Sudip Bandopadhayay, MLA Nayana Bandopadhayay and councillor Biswarup Dey
Lack of documents
Several others said they would like to get copies of survey reports clearly stating the extent of damage of each building, the type of repairs being proposed and whether some structures need to be pulled down.
"Let there be clear communication from your end so that we get to know the exact extent of damage our buildings have suffered," Pradip Laha, a doctor, told KMRC officials.
"We still don't know, for instance, why you have decided to (partially) pull down two buildings without waiting for the report of the committee of Jadavpur University experts."
Residents of the 25 houses that were pulled down following the subsidence and collapse in 2019 said they did not have any paper on their status as tenants in the alternative accommodations.
"The agreement is between the landlord and the KMRC for 11 months, which is being renewed. But what is our status? We have no paper defining that," said a resident.    
Lack of empathy
Several residents alleged that representatives of KMRC or the contractor often misbehave with them.
"When we had asked KMRC officials about the extent of damage, they replied it was beyond our understanding and that engineers and KMC officials were assessing the situation," said a resident.
"Why should we be subjected to such behaviour for no fault of ours," asked a citizen.
KMRC had opened a grievance cell in 2019. Several residents said the agency had not bothered to reply to any of the letters they had sent to the cell.
Lack of coordination 
A number of residents said that after the 2019 disaster, KMRC had said there would be a team around the clock to address their questions. But they still don't know when work on rebuilding their houses will begin.
"There is no one at the site to answer our queries," a resident told KMRC officials.
One of the residents stood up and said, to a round of applause from others, he was far from convinced that KMRC would keep its promises.
KMRC speak
C.N. Jha, managing director of KMRC, apologised to the residents for the latest disaster and said it was not intended. KMRC had taken all necessary precautions and work on a small patch was left when the disaster struck.   
"We understand the amount of pain this recent disaster has caused to all of you. We are really sorry for all the inconveniences," Jha said.