Dealers at Mudra Utsav, an exhibition of coins and other collectibles underway at Haldiram Banquet in south Kolkata's Ballygunge, are facing a new headache — visitors coming to sell commonplace commemorative coins and expecting astronomical prices.
This, they said, is the result of a fraud that is gaining currency through YouTube videos that promise such prices.
"These videos show coins in circulation like the Rs 5 Indira Gandhi or Mata Vaishno Devi Shrine Board commemorative and claim they would fetch a lakh or more each. People are getting so lured that when the tricksters seek Rs 2,000 or so as registration fee along with their Aadhaar and PAN numbers, they promptly oblige. The money, the videos promise, would reach their bank account directly. Once they pay the fee, the buyer's phone number cannot be reached anymore. This is harming our trade," said Ravi Shankar Sharma, secretary, Numismatic Society of Calcutta, which is organising the exhibition.
The dealers' association has tried tracing the numbers. "We found them registered in the names of people who have no clue that such a phone number exists in their name. It seems the Aadhaar numbers of the targets are being used to register SIM cards," he said.
The fraud has become so rampant that the society has issued a notice alerting people. But that is not stopping the flow of hopefuls.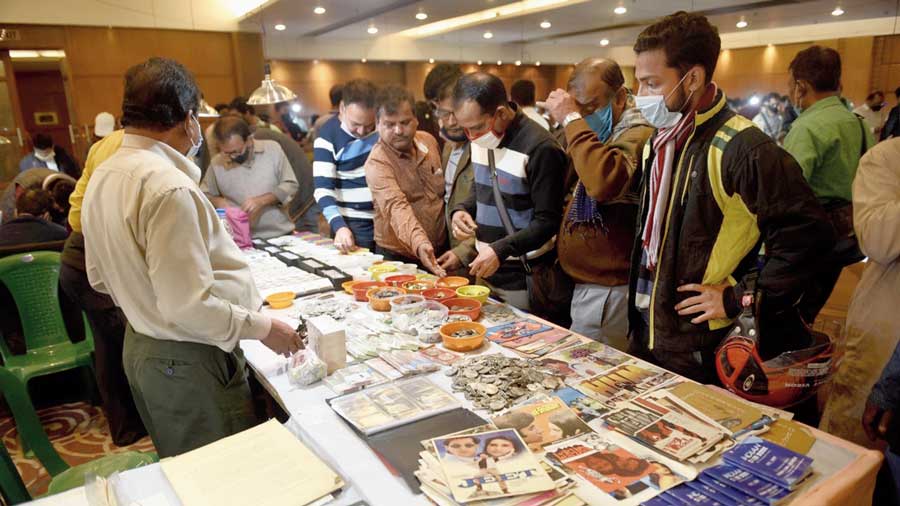 Visitors at Mudra Utsav, the annual conference and exhibition organised by the Numismatic Society of Calcutta, at Haldiram Banquet Hall on Friday.
Bishwarup Dutta
Basant Kumar Rethi, a prominent dealer, turned away "at least 30 such people" on the first day of the show.
"One said he had already paid the registration fee but was unable to contact the 'buyer' now. I told him not to keep his hopes up," he said.
Worse is the harassment faced by Sharma, whose mobile number was posted in the event announcement in social media.
"My WhatsApp chatbox is flooded with messages of pictures of ordinary coins, asking how many lakhs we'd pay if they visit the fair. I am getting over 200 calls daily," Sharma said. One such call came from Nepal while he was speaking to Metro.
A family of 15 from Assam had turned up at the venue in the morning with bags full of coins. "They must have thought they'd make enough from the sale to make the journey worthwhile. Imagine their distress when we told them it's a scam," Sharma said.
To prevent any disruption, the organisers have hired six bouncers.
The exhibition will be on till Sunday and is open from 11am to 6pm. While lots of interesting collectibles, from foreign currency notes to old Indian coins to stamps made of unusual materials, are on sale, there is a special show on coins, tokens, medals and banknotes put up by individual collectors to commemorate 75 years of India's independence.