Kendriya Vidyalaya 1
Despite the pandemic, Kendriya Vidyalaya 1 celebrated Republic Day with patriotism and zeal.
The occasion commenced with the flag hoisting ceremony and the singing of the National Anthem and National Song. The flag was hoisted by chief guest Avijit Dasgupta, who is commanding officer of the Indian Coast Guard and also the nominee chairman of the school's managing committee members.
A brief cultural programme followed, comprising speeches, recitations and dance performances on patriotic themes. These were organised by students of the senior secondary sections. A patriotic group song was performed by the primary school choir and staff members put up patriotic songs.
Principal S. Karan blessed the students and appreciated their performances and hard work despite the prevailing pandemic. He focused on the importance of developing social responsibility among students.
The most awaited event of the day was the prize distribution ceremony. Students were felicitated for their achievements in various fields for the session 2021-22 and prizes were distributed by the chief guest and the principal. "One must remember the sacrifice made by the martyrs, abide by the Constitution and fulfil all duties as responsible citizens," Dasgupta told the students.
The event concluded with a rendition of the national anthem.
A staff reporter
Sri Aurobindo Institute of Education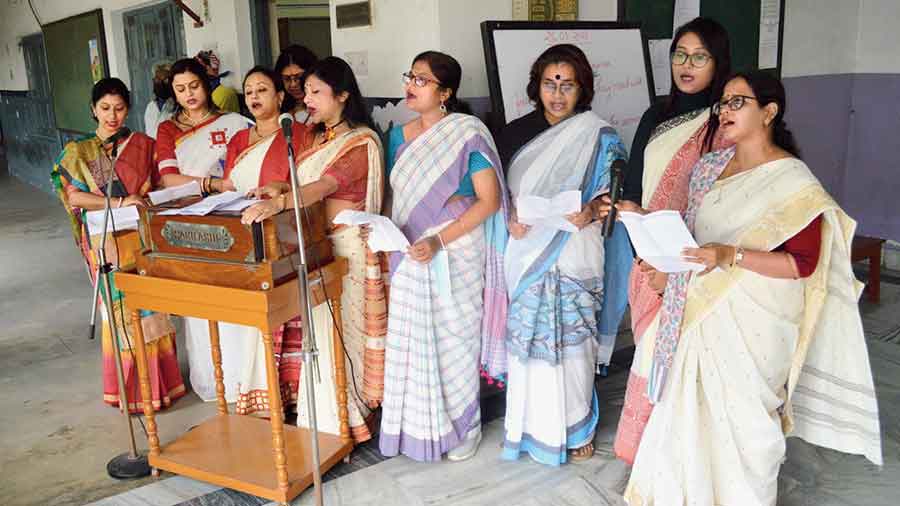 Teachers of Sri Aurobindo Institute of Education present patriotic songs.
Picture by Aranyak Mojumder
Sri Aurobindo Institute of Education celebrated Republic Day offline this year but without students. Since this was before the government allowed students to return to school, it was mainly teaching and non-teaching staff who took centrestage.
Last year the school could not organise the event due to the pandemic but this time they decided to go ahead with it with limited attendance and while maintaining Covid safety protocols. The teachers had even rehearsed virtually to give their best and entertain the audience.
The event was inaugurated by principal Debleena Bhattacharya, who hoisted the Indian flag. This was followed by the national anthem sung by a group of teachers. Sangeeta Chakraborty and Joyeeta Mitra, also teachers, delivered speeches on the history of Republic Day and achievements of Netaji Subhas Chandra Bose respectively.
Olivia Barman fired up the spirit of patriotism by reciting the poem  The Gift of India by Sarojini Naidu and teachers sang Sare jahaan se achha and Dhono dhanyo pushpe bhora in chorus.
"We couldn't allow students to come due to safety concerns," said Bhattacharya. "When the school had reopened in November the response from students was marvellous and there was almost 100 per cent attendance, except for the one or two that had fallen sick."
Aranyak Mojumder