An app cab hit another on the Parama flyover after the driver allegedly got distracted by the passengers, who were on a video call with friends sharing their experience of a night ride, around 11.30pm on Sunday.
As the two drivers were talking after the accident, a third app cab hit the second car from behind. The two accidents in close succession stalled traffic on the Bypass-bound flank of the flyover for some time.   
The collisions, which took place on the stretch between the Viswakarma building and Milan Mela, left the rear of a Swift Dzire and a Tata Zest damaged. The rear of the third car, another Swift Dzire, was partly broken.
The severity of the damage suggests the cars were moving at a high speed, police said.
"All three vehicles involved in the two accidents were app cabs. There weren't too many vehicles at that time on the flyover and all three were speeding. We are trying to ascertain the speed of the vehicles from the footage of roadside cameras," said an officer.
"The injured were taken to the Calcutta National Medical College and Hospital and were discharged after treatment."
The vehicles were later towed away to Pragati Maidan police station nearby.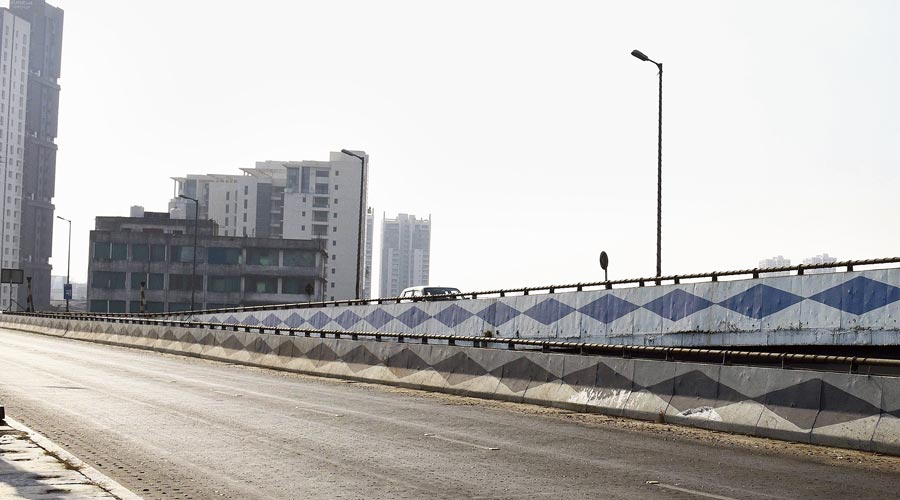 The stretch where the collisions took place
The police said the first vehicle to be hit from behind was a Swift Dzire. The rear end of the car below the boot almost came off in the impact.
After the driver stepped out and started talking to the man who was at the wheel of the Tata Zest, the third car came up and hit the Swift Dzire from behind.
"Three friends were enjoying a night ride in the Tata Zest. They asked the driver to accelerate because the night curfew would be kicking in soon. The driver said that while they were on the flyover, the three passengers were busy making a video call narrating their experience of the night ride to the person on the other end. That, the driver said, distracted him, leading to the accident," the officer said.
A section of senior officers said many drivers and motorists had a tendency to speed down certain stretches of the city — such as the Parama flyover, parts of EM Bypass, Red Road and the AJC Bose Road flyover — at night.
"We have had a trial run of a new set of cameras, which will send signals to the control room if a vehicle stops on the Parama flyover for a few minutes," said an officer at Lalbazar.
"This technology will reduce the time of intervention by officers. After the rollout on the Parama flyover, we will replicate the system on other stretches as well."