Police on Friday submitted a chargesheet on the murders of the 61-year-old managing director of Kilburn Engineering Limited, Subir Chaki, and his driver Rabin Mondal, holding six persons, including 26-year-old Vicky Halder and his mother Mithu, responsible. 
Chaki, al alumnus of IIT Kharagpur and IIM Calcutta, was found murdered along with Mondal on the night of October 17, 2021, at his ancestral house on Kankulia Road in south Kolkata's Golpark-Gariahat area. While Chaki's body was found on the second floor, Mondal's body was found lying in a pool of blood on the floor above.
The 500-page chargesheet, which was submitted at Alipore court within 87 days of the detection of the crime, mentions examination of over 80 witnesses. Vicky had assumed Chaki would be carrying a lot of cash on him and felt the best way to lay his hands on the amount was by murdering him, the police said.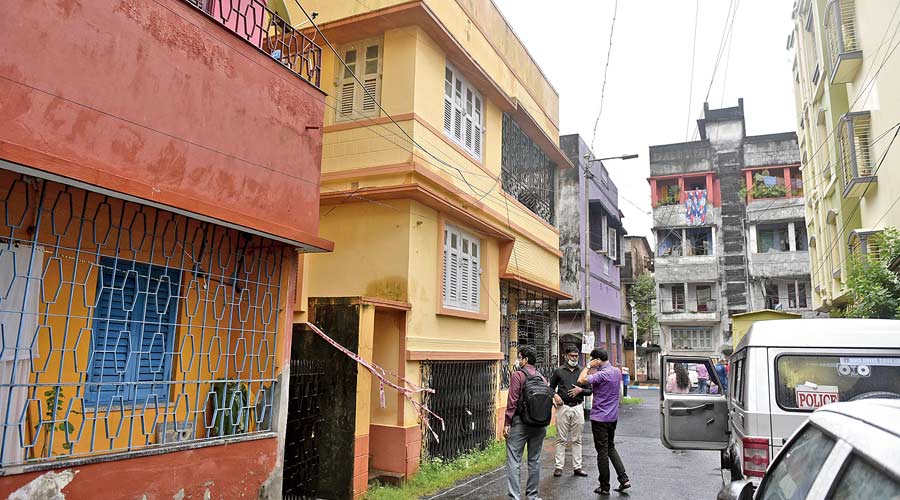 Subir Chaki's house on Kankulia Road.
File photograph
Rabin, Subir's driver, was murdered to eliminate any witness to the crime, investigators have said in the chargesheet.
The chargesheet holds six persons, including Vicky's mother Mithu, responsible for conspiring and murdering Chaki and Mondal. All of the accused have been charged under different sections of the Indian Penal Code, including 302 (murder) and 120B (criminal conspiracy).
"Subir was murdered for gain. The assassins had assumed he would be carrying lot of cash with him," Murlidhar Sharma, city detective chief told The Telegraph. Investigators said Subir had been trying to sell off his Kankulia Road house for the last year-and-a-half after shifting to an apartment in New Town on the northeastern fringes of Kolkata.
On the afternoon of October 17 he had turned up at the house to meet a prospective buyer. Twenty-six-year-old Vicky had met Chaki earlier but had dropped the idea of buying the property after realising that a price of Rs 1.5 crore was beyond him, the chargesheet mentions.
When Vicky turned up for the second time on the day of the murder, both Chaki and Mondal had identified him before they were murdered. The police said they had concluded from available evidence that Vicky's mother Mithu had waited at a spot, some 500 metres away from the Kankulia Road house, till the time the twin murders were committed.
She then led three of the accused to Ballygunge railway station for their onward journey to Diamond Harbour on a suburban train. Vicky and one of his associates, Subhankar Mondal, allegedly returned to a construction site on Fern Road near Gariahat, where both were employed. Later, they fled to Mumbai by train. On November 1, the duo were arrested from the ground floor parking lot of a 48-storey under-construction building on St Xavier's Street in Parel East, Mumbai.
"Both the mother and the son were desperate to make a lot of fast money to turn their fortunes and had found a target in Chaki," said a senior officer of the detective department. "Mithu had promised cash to those whom she had hired for the task on the assumption that her son would find a lot of cash on Chaki."