After a replica of Burj Khalifa last year, that brought airport-bound traffic to a halt and forced a clampdown on visitor entry from Ashtami, Sreebhumi Sporting Club's choice of theme for its golden jubilee edition has been the topic of intense speculation among pandal hoppers.
The day of Rathyatra, when Sreebhumi hosted its khuti puja, was the occasion when club president and minister Sujit Bose chose to reveal the theme. "Our pandal will be modelled on St Peter's Basilica in Vatican City. Our decorator will soon visit Italy," said Bose, calling the decorator Romeo Hazra on stage.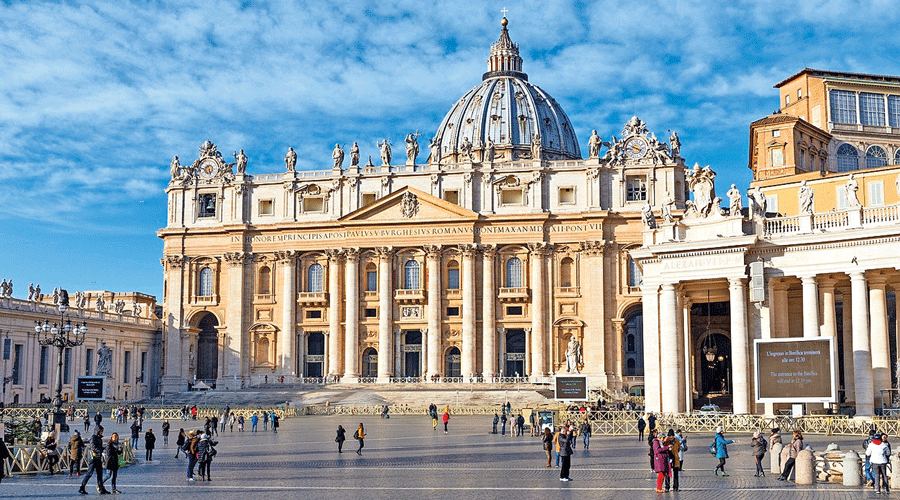 St Peter's Basilica in Vatican City.
The Telegraph
In place of daaker or sholar saaj, the goddess will be decked in sonar saaj this year, befitting the golden jubilee year, he added. The decor will be done, like the last few years, by Senco Gold and Diamonds. "The amount of gold on display will be double that of last year," chief co-ordinator of the puja Dibyendu Kishore Goswami told The Telegraph.
In keeping with the club' tradition, the idol will be crafted by Pradip Rudra Pal, while Babu Pal of Chandernagore will be in charge of the lights.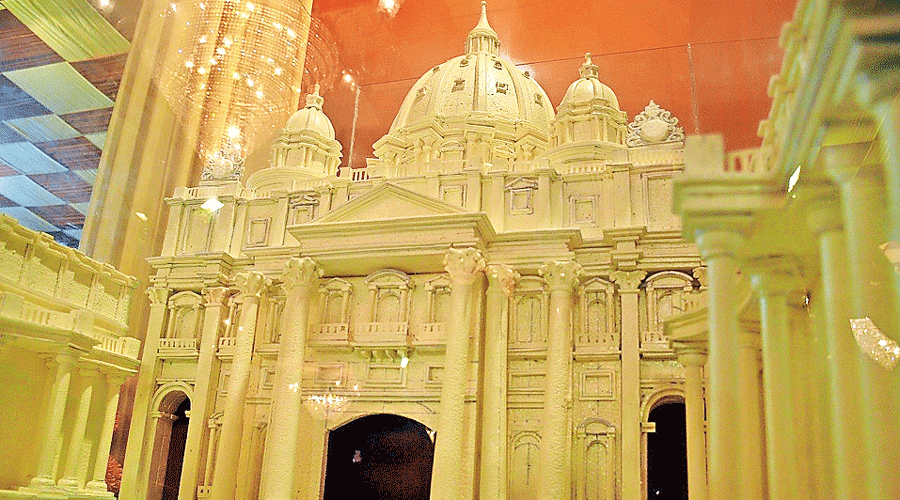 The replica that was unveiled on the day.
The Telegraph
The khuti puja was a grand affair with over 50 dhakis, including women, drumming up a beat. There were khol and mridanga players too while one performer did a balancing act with multiple earthen jars placed one over another on his head. Large idols of Lord Jagannath, Balabhadra and Subhadra had been installed at a side of the khuti puja spot.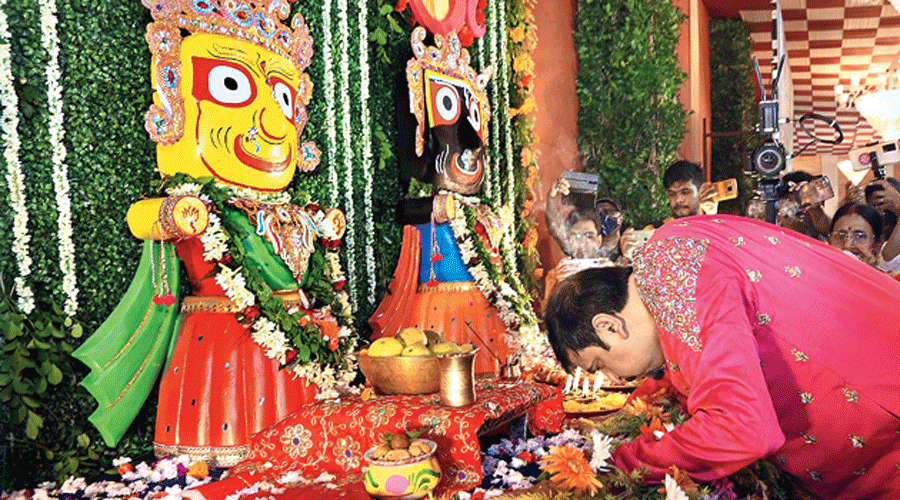 Sujit Bose pays obeisance to an idol of Lord Jagannath.
The Telegraph
Priest Somesh Shastri did a series of pujas from 10am to 1pm. There was a break in between when actor-MP Dev, cricketer-MLA Manoj Tiwari and footballer Shilton Paul arrived. Srikumar Chattopadhyay sang in praise of the Mother Goddess.
Do you plan to visit the Sreebhumi puja this year? Write to The Telegraph Salt Lake, 6 Prafulla Sarkar Street, Calcutta 700001 or email to saltlake@abp.in