What was once one of the most picturesque stretches in Kolkata is now a picture of neglect.
Southern Avenue, a green and clean road not too long ago, is now lined with footpaths that are broken on some stretches and blocked with dumped garbage or fallen tree branches on others. The boulevards, too, cry out for repairs.
Concrete benches, tiled pathways and statues have come up inside the boulevards over the past several years, annoying many Kolkatans who failed to understand the purpose of those structures. 
Some of the boulevards have weeds rising up to 3.5ft and covering the garden plants. The once landscaped green boulevards look like swathes of vacant land overrun with weeds.
"The green boulevards should be well maintained. They should be properly landscaped and maintained regularly," said Abin Chaudhuri, an architect who has designed many public spaces in the city and who lives along Southern Avenue.
Bonani Kakkar, a frequent visitor to the area and a green activist, said that there needs to be some order and visual appeal in the boulevards.
"The boulevards have been in utter neglect for quite some time. To make things uglier, the authorities kept constructing statues and various kinds of figures in the boulevards. There was no need for them," she said.
Sudip Ghosh, another resident of the locality, said he was not objecting to the weeds since they gave shelter to a variety of micro-organisms, but the rampant construction inside the boulevards was unnecessary.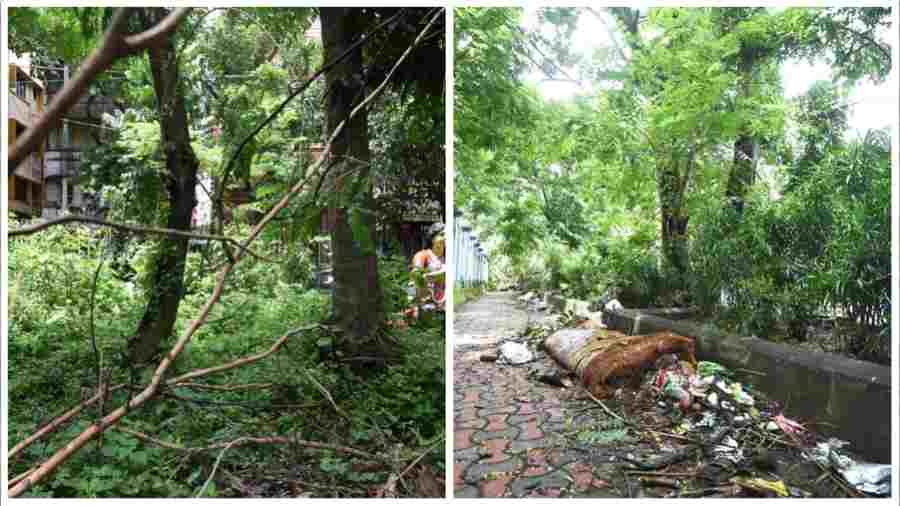 Tall weeds cover one of Southern Avenue's boulevards; (right) a pavement blocked by weeds.
Pictures by Gautam Bose
Many of the boulevards on Southern Avenue are maintained by charitable institutions and private companies. But the ones with tall weeds are maintained by the state forest department. State forest minister Jyotipriya Mallick promised to take necessary action. "I will look into the matter and do whatever is necessary," he said on Sunday. 
Impacting daily commuters more directly are the footpaths, especially the stretch towards the Rabindra Sarobar stadium from Safari Park.
Discarded commodes, pieces of thermocol, plastic bags, earthen pots, paper cups and used bedding remain dumped on the pavements. It is clear waste has been swept from some places and kept in heaps on the footpaths.
"Southern Avenue was never like this. It was a clean, green and dreamy stretch where everyone enjoyed their walk. There was never so much dirt on Southern Avenue," said a south Kolkata resident.
Chaitali Chattopadhyay, councillor of Ward 90 (which includes Southern Avenue)  and chairperson of Borough VIII of the Kolkata Municipal Corporation, admitted that she had noticed a tendency among people to dump waste on a particular stretch of a Southern Avenue footpath. "We had cleaned it but waste was dumped again. We will start restoration of the broken stretches of the footpaths soon. Work got delayed because the GST rates changed, pushing back the schedule of issuing tenders," she said.