The much-maligned public transport of Kolkata has got an international recognition with a detailed mention in the just published UN report on climate change and is being cited as an "illustrative case study" to showcase how integrated action can combat climate change.
The report, titled "Climate Change 2022: Mitigation of Climate Change", has pointed out that actions on several public transport modes "contributed positively in bringing down the trend of greenhouse gas emissions per unit of GDP to half in one decade" in the Kolkata metropolitan area, "with potential for further reduction".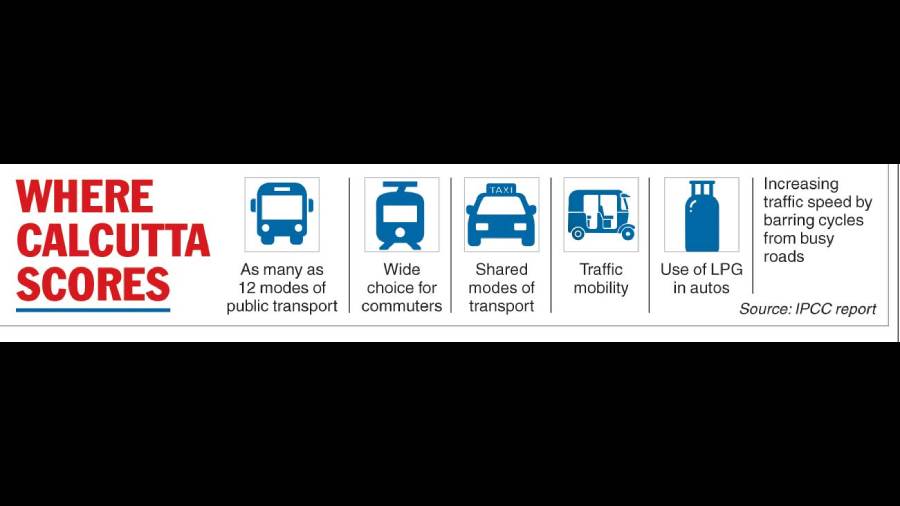 In chapter 5 of the 2,900-plus-page report, Kolkata's transport model figures among nine international case studies showcased. Apart from the one on Kolkata, the case studies are from Indonesia, Brazil, Ghana, China, European Union, Germany, Finland and Uganda.
"The megacity of Kolkata (Calcutta) in India provides a useful case study… as many as twelve different modes of public transportation, each with its own system structure, actors and meanings co-exist and offer means of mobility to its 14 million citizens," reads the report prepared by the Intergovernmental Panel on Climate Change (IPCC), a UN body.
The report points out that "most of the public transport modes are shared mobility options ranging from sharing between two people in a rickshaw or between a few hundred in metro or suburban trains", and stresses that "sharing also happens informally".
The report has acknowledged that "a key role is played by the state government in collaboration with other stakeholders, to improve the system as whole and formalise certain semi-formal modes of transport".
Delving further, the UN report says Kolkata's mobility system has become "more efficient… in terms of speed, reliability and avoidance of congestion… and sustainable through strengthening coordination between different mode-based regimes… and comfortable with air-conditioned space in a hot and humid climate".
The report says that the shared taxi rides and autorickshaws powered by less polluting liquefied petroleum gas (LPG) have led to reduction of "greenhouse gas emissions per unit of GDP to half in one decade" in the Kolkata metropolitan area.
"The Kolkata case study shows how multiple public transit systems, including public buses, through government interventions are providing sustainable mobility solutions for people," said Joyashree Roy, a professor at the Asian Institute of Technology in Bangkok and coordinating lead author of chapter 5 of the report.
However, the IPCC report has also sounded a few warning bells for the city.
"Around one-third of Kolkata's population lives in informal settlements… only 59 per cent (of them) used modern energy… the remainder depended on kerosene and solid fuels such as coal and charcoal… conventional urban planning has excluded these informal sectors…"
Environment experts, while lauding the recognition, have reminded that quantity and distribution of public transport has slid sharply in recent past, and urged the government to bring CNG to the city soon and promote trams and waterways for further reduction of carbon footprint.
"It's an achievement more by default. More people use public transport here because of lack of economic growth and income," said green activist Subhas Datta.
Anumita Roy Choudhury, a public transport expert from the Centre for Science and Environment (CSE), pointed out that Calcutta, along with Mumbai, had the largest share for public transport trips — around 80 per cent — among major cities of the country.
Climate Change 2022: Mitigation of Climate Change was published on Monday after it was approved by 195 member governments of the United Nations.
Firhad Hakim, Kolkata mayor and Bengal transport minister, expressed "happiness for the recognition" but admitted that a lot more needed to be done to scale up environment-friendly public transport.
"We expect to add another 50 electric buses soon. We have placed more orders but supply is a problem," Hakim said.