A girl from Bengal has made it to the national team in skating. Ridhi Bahety of
Ultadanga has got a call-up for the camp that will be training the Indian contingent for two upcoming tournaments — the Asian Championship and the World Championship.
"This is the first time that a skater from Bengal has been selected in the national team in over two decades," said Pradip Ganeriwal, who had helmed the Roller Skating Federation of India for 20 years which was then headquartered in Calcutta and was himself a member of the national team for artistic skating in 1974.
Ridhi won four golds, one silver and one bronze medal at the National Ranking Championships last year which secured her a call-up at the selection trial in Bangalore. A runner-up result there ensured her qualification in the second selection trial in April in Mohali. "She competed in four events, out of which she got silver in track dual time trial, 100m road race and 10km road points. To be named in the national team, a silver medal at the trial is the minimum qualification," said Victor Balmiki, Ridhi's coach at Bidhan Sishu Udyan Skating Academy.
The contingent was announced on May 9, naming Ridhi in the four-member above-19 women's team.
"We cut a cake in celebration. This is a dream come true. I have been working for 14 years to achieve this," said the 20-year-old who has been skating since the age of six and has a sister four years younger to her following in her track.
While the national call-up is a "big milestone" in her career, she has set her sights higher. "There is still an international medal to get," smiles the girl, who was the only one selected to represent West Bengal in skating in the 36th National Games held in Gujarat last year.
With the World Championship coming up in Italy from August 26, Ridhi has started training in earnest. "Of course, we will undergo training at the national camp before that. Meanwhile, I am staying in shape with practice, off-skate workouts and gym." The workouts involve dry skating in which a player practises and rectifies mistakes in posture without skates on.
Ridhi is unsure how many events she would compete in though she has qualified in three. "Since she is a sprinter, we are expecting her to be fielded for 100m road and 200m track," said mother Rekha.
For the track race, she has the 150m track at Bidhan Sishu Udyan near Ultadanga crossing, which is the longest in Bengal. But even that is shorter than the competition stipulation. "International tracks are 200m and have a synthetic coating, which offers more grip and speed. Ours is a cement one. Still it is possible to practise on this track though I sometimes leave for a private facility in other states to hone my skills just before a competition."
New Town road ban hurdle for skater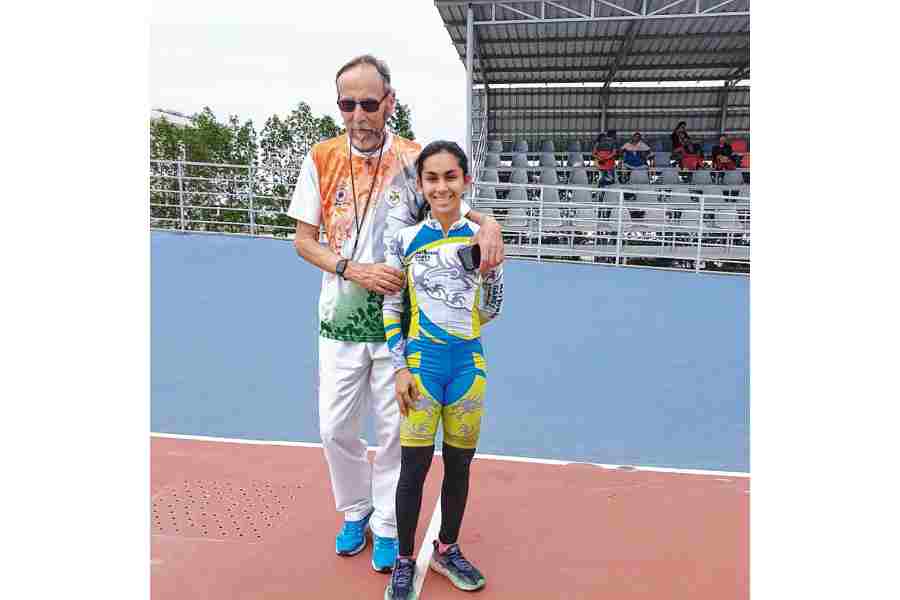 Ridhi Bahety with Team India's Italian skating coach Giulio Ravasi at Mohali
So far, she used to practise on roads with less traffic in New Town early in the mornings for her road event. What has put her in a fix is a recent order from NKDA, banning skating on the road in the "interest of public safety". "Road has a different texture and though the road chosen for skating contests is round, it is 500m in length. So there is more of skate length and less of turn, unlike on the oval 200m track. No amount of practice on a track can prepare one for a road race," she said.
The New Town roads used to be a half-hour drive away from her Ultadanga home. "Now we are looking for a stretch of road elsewhere. This is really upsetting. I hope the authorities consider our case."
Though she is a speed skater, Ridhi has never broken a bone. "I did tear a muscle though," she recalls. That was about four years ago when she was practising for a national meet. "I somersaulted and fell, hitting a side railing. That caused a thigh muscle tear." She had taken the field with the injury though could not seriously compete. "I was back in action after three months of physiotherapy and treatment."
Ganeriwal lauds her as well as her parents for the achievement. "The biggest credit goes to the player herself. She has been consistent in her performance. And her parents have been supporting her as well. The coach comes in after that," he said.
Balmiki is delighted at the development. "My dream was to see a student of mine in a blue jersey. Now that she has achieved this, she is providing motivation to the rest of my students," the coach said.
On the education front, Ridhi has appeared for her economics honours finals from St. Xavier's University and also completed a degree in financial risk management on the side. "Her BA exam started the day after we came back from the selection trial in Mohali. She was studying in Mohali as well," said her mother Rekha.
And it is not just an international medal that Ridhi is aiming for. She also plans to enroll in an MBA course by the end of the year. "She has always been a good student," her mother says.
Write to saltlake@abp.in