Start-ups looking for affordable office space now have two more options in New Town.
Hidco's first Happy Works working pod had opened in August, opposite Coal Bhavan. On Friday, two more opened doors. One is opposite Eco Park's Seven Wonders attraction while the second is next to Sankalpa 2, at walking distance from Biswa Bangla Gate.
The pods are co-working spaces that allow users to bring their laptops and sit at desks separated by transparent dividers. Wifi and air-conditioning are on the house but one has to pay for food and snacks. In winter, one can even sit on the open-air staircases outside the single-storied buildings. The design and bright yellow colour scheme are common for all three pods but two new features have been added to the new spaces.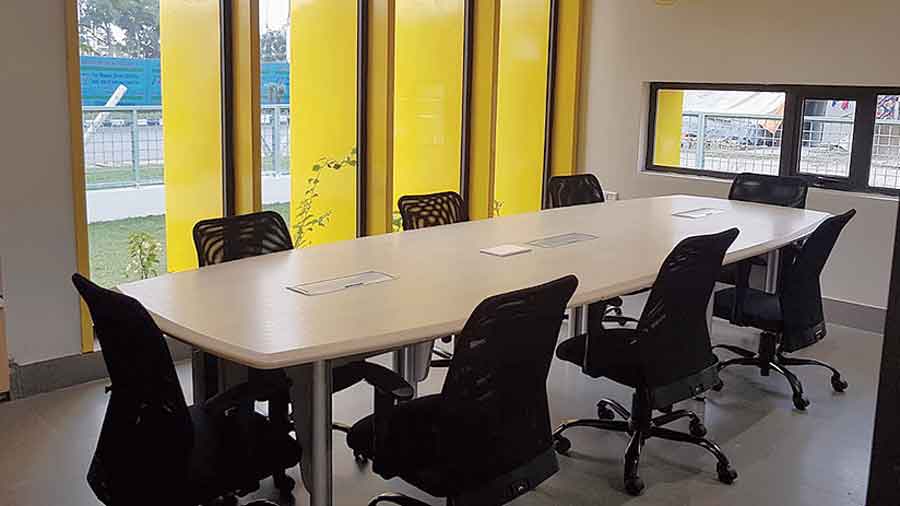 A conference room has been added to the two new working pods based on customer feedback at the first pod
"From users' feedback, we realised that besides individual working space, there is a need for sitting arrangement that allows group discussions," said Hidco managing director Debashis Sen, who inaugurated the two spaces on November 26. "So besides 11 individual seating spaces, we are offering nine seats in a conference room setup."
The timings have also been extended. "Users pointed out that 10am — that was when the first pod opened — was too late for those working in the stock market. So we have decided to open the pods at 9am instead," said Sen, adding that the footfall at the first pod had now touched 500.
"We built the pods in different residential areas so people living across New Town could access them easily. But we have also seen people coming from Salt Lake, Lake Town and Dum Dum," said Sen.
The units will be run by a Self Help Group, Banani, under Kolkata Society for Cultural Heritage. "The problem of affordable office space is a genuine one for start-ups. We faced it ourselves and so are committed to helping others overcome the problem. Eight start-ups have already enrolled with us and we shall contact more," says the president of the society, Sourav Mukherjee.
Rent per seat at the pods for the first 90 minutes is Rs 30 and henceforth Rs 20 per hour but monthly arrangements can also be worked out. The conference room is available at Rs 200 an hour. A library corner has books to browse at the pod itself and food and snacks, photocopy and printing are chargeable. Timings are 9am to 8pm.