Paritosh Sen Memorial
Elderly members of the Paritosh Sen Memorial Elderly Care Society felt rejuvenated by participating in a stage show dedicated to Tagore after the two-year-long pandemic break. The township-based NGO, that provides medical, social and legal assistance to senior citizens, put up their event at Rabindra Okakura Bhavan.
Swati Sanyal began with the song Hey chironutan. "This song is frequently sung as the inaugural song at the Jorasanko Thakurbari on the Bard's birthday. I had learnt it almost 52 years back during my Rabindra Bharati University days and felt it would be appropriate today. In the backdrop of the pandemic. it would bring peace to me and the listeners," noted Sanyal.
Tripti Chakraborty presented Tagore's O chand tomay dola and said she could not express how happy it made her to receive applause from a live audience after so long.
Septuagenarian Sunil Das narrated the troublesome phases in Tagore's life, such as his daughters' marriage and subsequent unhappiness. "At our age, it's a challenge keeping our mind fresh. Although physically weak, we want to be involved with cultural and welfare activities to stay active," he said.
Dancers of Surtaal Academy, run by member Sumita Ghosh, presented a fusion dance encapsulating the journey from darkness to light during the pandemic.
There were performances by students from Madurdaha, a village near Anandapur, where the group does social work, as well as by guest artistes like Pradip Dasgupta and Madhumita Dasgupta who performed an audio drama. Debashis Bhattacharya entertained all by singing two lesser-known songs by Tagore and Sachin Dev Burman.
Secretary of the group Sarmistha Sen Das mentioned how during the trying times, they arranged for video calls with doctors for their members, how their youngest member Bidisha Das donated two oxygen cylinders and how they conducted frequent online programmes to keep the members engaged. "We also continued with providing monthly ration for 60 needy elderly beneficiaries in the outskirts of the city who had no source of income. We appeal to everyone for funds that may be used to continue such projects," she said.
Bharati Kanjilal
Workshop for the Blind
They may have been visually impaired but that does not deter them from dancing, singing and paying a tribute to the Bard.
Students of the LB Block-based Workshop for the Blind Sang a chorus to Tagore's Bijon ghare and danced to Ei akashey amar mukti. 
"We got a chance to dance after many years. Our teacher taught us so well that we managed to memorise them in a week," said Kakoli Barui, an instructor at the workshop who had initially joined as a trainee.
Shuvra Sarkar and Swapan Singha sang Nazrulgeeti while Kakoli and Subhra Sarkar, decked in colourful attire and garlands of flowers, presented a dance. "I lost my vision after wrong treatment but still studied up to college and have now joined this workshop to achieve self-reliance. We learnt the dance steps through measurement of steps, mudras and touch therapy," said Sarkar, who travels from Ranaghat everyday.
Sakina Khatun recited Tagore's Antar mamo bikoshito karo, Chandan Mukherjee recited Nazrul's Samyobadi and office staffer Arpita Dutta Biswas recited Tagore's poem Lukochuri.
One of the performers, Swapan Singha, shared how his vision was lost to small pox. "I studied through the Braille method, graduated from school and since I wasn't good at handicraft, I completed my diploma in music. Now I perform at cultural functions and am the sole earning member in my family," he said.
The students had been coached in music by Sahela Panja and dance by Esha Goswami.
Secretary of the institute Swapan Ghoshal congratulated the performers and appealed to all to come forward and help students become self-reliant.
Bharati Kanjilal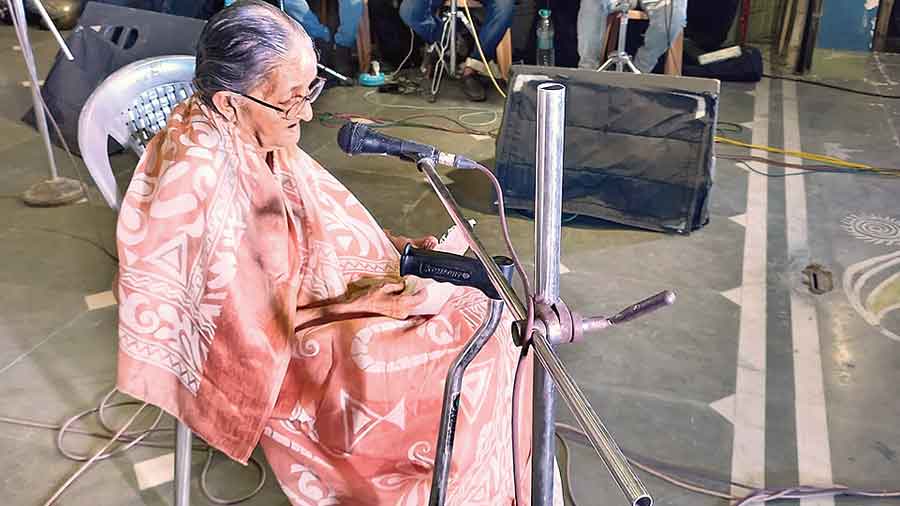 Anuva Das recites a Tagore poem
AJ Block
The Rabindra-Nazrul jayanti at AJ Park saw participation from young and old. There was four-year-old Aarya Das, who sang Phule phule confidently, as also 83-year-old Anuva Das, who recited Tagore's Proshno and received applause. "Tagore is a part of our lives and we connect with his work. I recited for an audience after a long while today, although I used to perform frequently earlier and also had released two cassettes of my recitation. I am unable to perform with age but made an effort this time," Das, dressed in a white and yellow sari,  said. Her granddaughter Arna Sengupta was part of a group that danced to the song Prajapati prajapati.
A group of kids performed a poetry collage titled Chhotoder Rabindranath ar Chhotoder Nazrul and Supriyo Saha played the tune of Mayabono biharini on his guitar.
The audience chuckled on overhearing two-and-a-half-year-old Rishi asking his mother Priya Dutta a pressing question after observing pictures of the two bards. "Is it a must to have curly hair to become a poet?"
Cultural convenor Lalan Saha said residents loved performing. "Such events could not be held over the last two years but this time they are so excited to participate and also to watch," he said.
Shatadipa Bhattacharya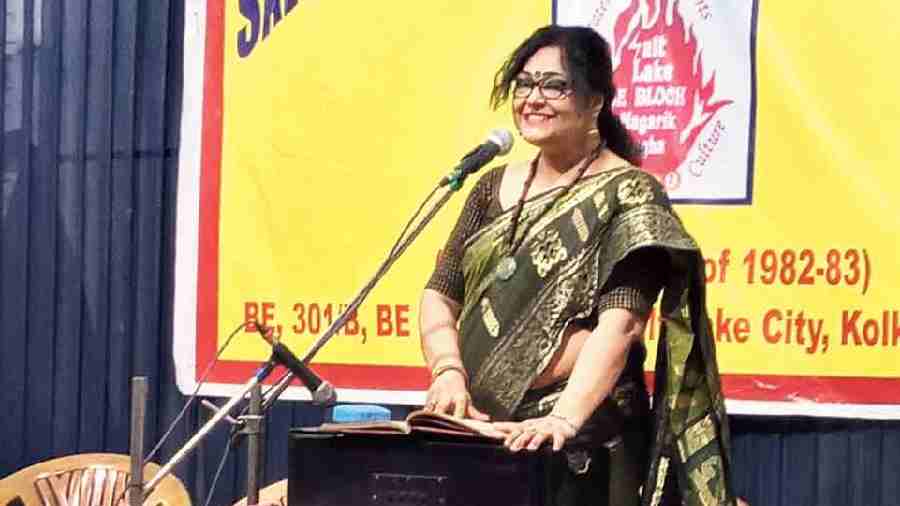 Subarna Bhattacharya performs at the BE Block programme
BE Block
At BE Block's Rabindra-Nazrul jayanti, committee representative Narottam Dutta asked residents to take a pledge not to remain confined within four walls but to come forward and strengthen inter-cultural relations. "Let us take refuge in Tagore and Nazrul," he said. 
The event began with the Rabindrasangeet Khelaghar bandhte legechhi and a Nazrulgeeti by Mangalya Kar. Arinjoy Chakraborty, of Class VI, recited Tagore's poem Banabas. "I performed after two years and out of nervousness forgot a few lines of the poem," confessed Arinjoy.
Chirodip Guha recited Nazrul's Lichu Chor, Shreyos Bhattacharjee played the tabla and Subarna Bhattacharya, a former student of Dakshinee, sang two Tagore numbers. "I have come to perform despite my knee pain and am feeling great to be meeting neighbours after a long time," Bhattacharya said.
Megha Saha of Class X had learnt the song Majhe majhe tabo dekha pai from a YouTube recording. "I have some previous training in classical music so I could pick up the song easily," she said. 
There was more music by Ranjini Lahiri, Somava Paul and others. The event was anchored by Partha Mitra.
Bharati Kanjilal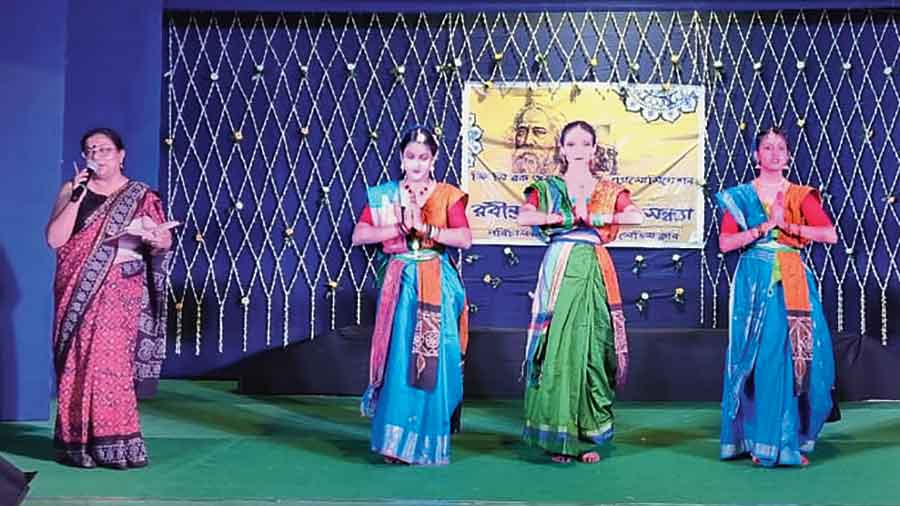 Dancers greet the audience before their performance at GC community hall
GC Block
The Rabindra-Nazrul evening at GC Block began with women singing Jagat jure udar surey in chorus. Then children performed a dance item,
comprising three popular Nazrul songs, directed by Anuradha Saha, a disciple of Kohinoor Sen Barat.
Basudha De, one of the dancers, was happiest about the rehearsals having taken place at her house. "I enjoyed a lot as my friends came over and we rehearsed together after a long time," said the Class IV student. "I would even teach my friends in the absence of our teacher." Tiara Dutta Sharma, the youngest performer, had so much fun dancing that she kept pestering her mother about when she could perform again.
A poetry collage of Nazrul's works was directed by Rita Niyogi and presented by Arkoprabha Mondal and Baidik Dutta.
A scripted music show, titled Pathchola, presented selected songs and poems of Tagore. It was sung by Prashanta Narayan Dutta, Ratna Banerjee and others. Script and narration were by Ratna
Banerjee and music by Prashanta Narayan Dutta. 
A group dance based on Tagore's songs of nature and monsoon, called Natun Chhonde Srabonero Gandhe, was performed too. It was choreographed by Sushmita Das. "I was scared I'd forget my steps as I was out of practice for two years and then just rehearsed for few days. But luckily, it went fine," smiled Srijoyee Sahu, with a sigh of relief after the performance. 
Concluding and most awaited presentation of the evening was Tagore's popular dance drama by dancers of Shyama by Esha Goswami Dance Troupe.
Cultural convenor Jhumpa Ghosh was happy they could make a comeback on stage post pandemic and that there was a huge audience who gathered to watch the show. "The pandemic had created a social distance between us and today's celebration was an opportunity to meet face-to-face and break barriers," she said.
Bharati Kanjilal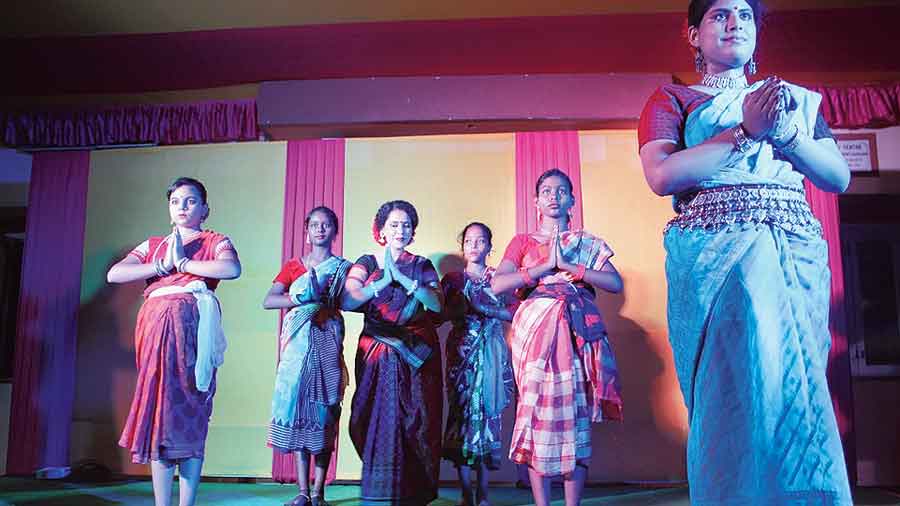 BF Block residents stage a dance at their community hall
BF Block
The Rabindra Nazrul jayanti by BF Block residents began with a soulful rendition of Hey Nutaan, rendered by Jaba Chakraborty, Trisha Ganguly and Kajal Sarkar.
This was followed by several performances of Rabindrasangeet and Nazrulgeeti by artistes such as Sharmila Chatterjee, Madhumita Roy and Tania Das. "We are all very happy to be performing on stage after a gap of two years. As artistes, no one liked staying cooped up at home but there was no option. I feel blessed to be able to perform before a live audience again," said Das.
Next in line were music and dance collages titled Anjali and Bishwa Bhara Praan, directed by Shaonli Majumder and Shubhasish Mondal respectively.
"The programme was streamed live on our Facebook page. Many people chose to stay home as they were still not sure about stepping out. But we have got a lot of views on our online page. After the pandemic, it was decided that we should make the show available online for people who could not attend, especially senior citizens," said Ganguly, one of the organisers.
Showli Chakraborty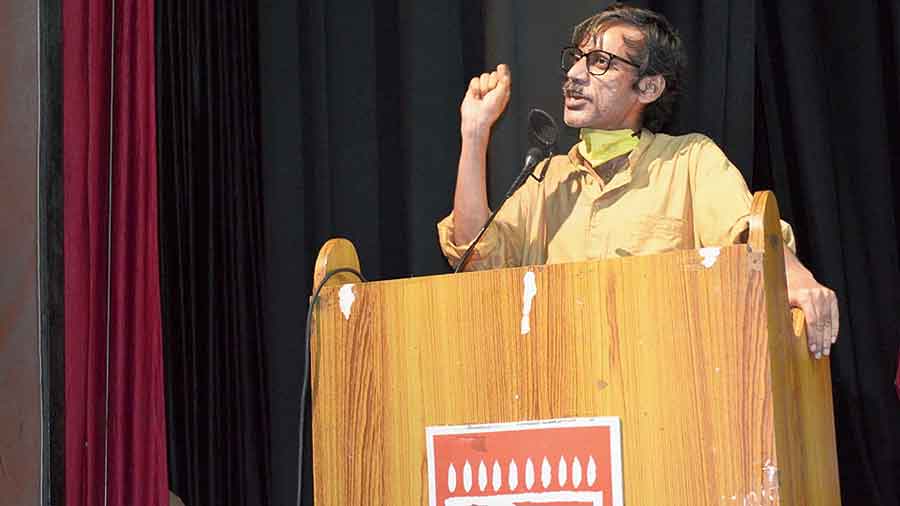 Abdul Kafi speaks on communal harmony.
Aranyak Mojumder
Newtown Citizens Welfare Fraternity
Rabindra Tirtha hardly had any empty seats when Newtown Citizens Welfare Fraternity organised an evening dedicated to Tagore and Nazrul Islam. The audience enjoyed the cultural performances by New Town residents and then Abdul Kafi, professor of Bengali at Jadavpur University, delivered a speech on communal harmony.
"Nazrul used to write secular Shyamasangeet that wasn't just for one particular religion. It had the strength to make even people of other religions develop faith in these songs," he said. "Nazrul himself had written that he was hated by many people of his own religion due to his secular approach and that there were also some from other religions who discriminated against him."
Kafi added how Tagore continuously tried to question his own religion and kept searching for answers instead of blindly believing everything that he was told. "I don't know if this would be misinterpreted by the audience but I want to make it clear that everything, including religion, should be discussed and talked about but in a respectful manner," he said.
"Both Tagore and Nazrul have united people by breaking the bounds of religion," said Dipak Biswas, secretary, cultural sub-committee of the organising body. "That is why we chose to include a communal harmony seminar with cultural programmes this evening."
Aranyak Mojumder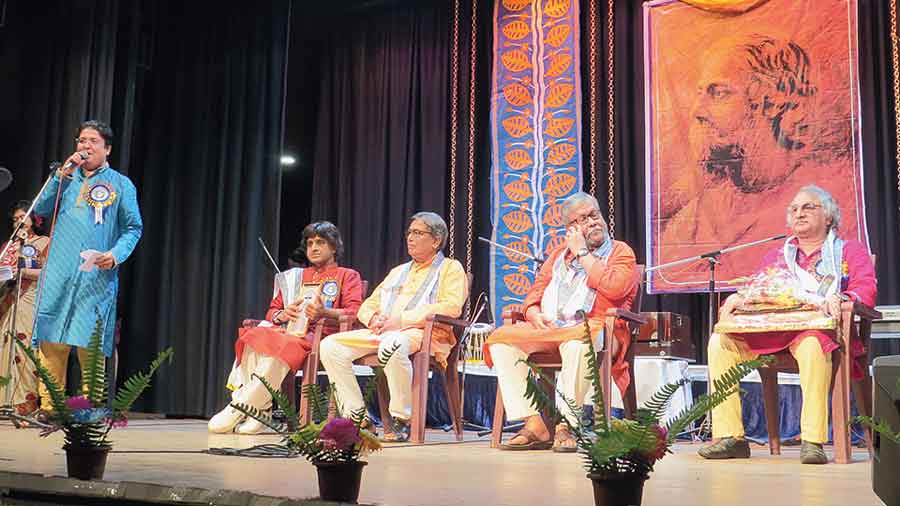 Organiser Sayan Banerjee speaks in presence of Mallar Ghosh, Parthajeet Banerjee, Prabir Brahmachari and Kalyan Sen Barat at their felicitation at Okakura Bhavan.
Sudeshna Banerjee
Sruti Niketan
The Rabindrajayanti programme organised by music school Sruti Niketan at Rabindra Okakura Bhavan started with songs by Chandrabali Rudra Dutta. Four people were felicitated for their contribution in their respective fields — percussionist Mallar Ghosh, composer Kalyan Sen Barat, elocutionist Prabir Brahmachari and physician Parthajeet Banerjee .
The programme was shrouded in melancholy as several speakers remembered the founder Tanusree Banerjee who passed away in 2017.