The Victoria Memorial Hall, British Council and the Natural History Museum (NHM), London, have conducted a six-day photography and conservation training programme for students with an interest in wildlife and concern for climate change.
A group of about 35 students from schools and colleges of Kolkata underwent master classes on the technical aspects of photography in Victoria Memorial Hall as well as took part in field trips to the Indian Botanic Garden and Eco Park to learn the tricks and nuances of wildlife photography.
The programme, put together by NHM, ended on June 25.
The collaboration will hold a two-month exhibition of the photographs taken by the students, at VMH starting in November.
The Natural History Museum, London, runs one of the world's oldest wildlife photography competitions called Wildlife Photographer of the Year, which culminates in an exhibition of the winning entries.
Some of the winners from India are training the students here in this first outreach programme of NHM titled Young Minds for a Compassionate World.
Among the trainers are Ripan Biswas from Cooch Behar who is the only Indian wildlife photographer to have won NHM's Wildlife Photographer of the Year award twice; Green Oscar winner Ashwika Kapur; wildlife conservation filmmaker from Chennai Shekhar Dattatri; nature photographer Nayan Khanolker from Mumbai and wildlife photographer Dhritiman Mukherjee.
Gemma Ward, who is the manager of the Wildlife Photographer of the Year competition, is leading the project.
"Kolkata is an apt place to start our first outreach programme," said Ward, who in her fatigues had spent the greater part of the programme at the Indian Botanic Garden sensitising her students to the wildlife around them.
"The aim of the project is to use nature and wildlife photography to amplify, champion, and celebrate the voice of young people by providing them with an international platform to share their experiences of the natural world," said Jayanta Sengupta, curator, VMH.
British Council has funded the entire project as part of their India/UK Together, a Season of Culture to celebrate India's 75th anniversary. "We are very excited about the collaboration between two iconic institutions of Kolkata and London...," said Debanjan Chakrabarti, director, East and Northeast India, British Council.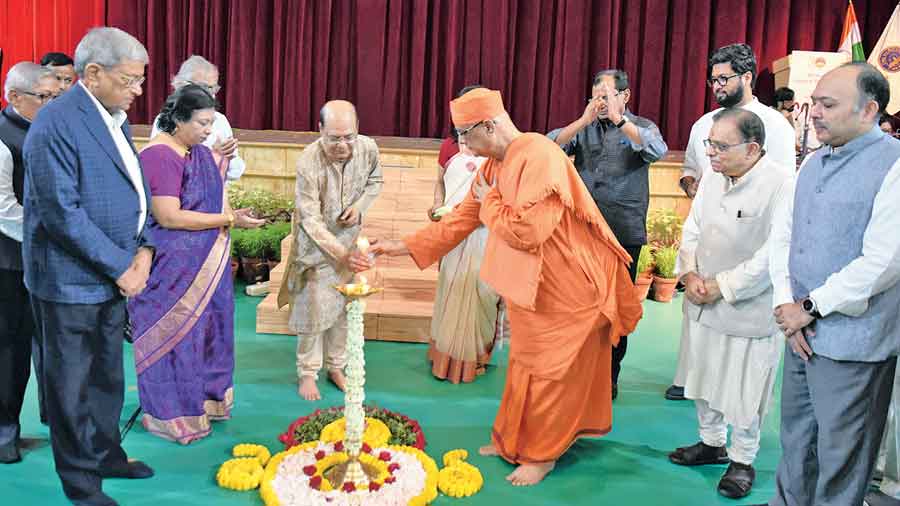 21st foundation day celebration of Heritage Group of Institutions
Picture by Gautam Bose
The inaugural lamp being lit at the 21st foundation day celebration of Heritage Group of Institutions on Saturday. The group started its journey with The Heritage School and Heritage Institute of Technology in 2001 with 419 students. "Today, the entire group offers value-based education to over 10,000 students," a spokesperson said. The inaugural ceremony was addressed by chief guest Swami Atmapriyananda, pro-chancellor, Ramakrishna Mission Swami Vivekananda Education and Research Institute. J. Charukesi, the chief postmaster general of West Bengal circle, was the guest of honour. A special cover to commemorate the occasion was released at the programme.