Trader M. Bashir Alam, who wanted to avoid the congestion at Park Circus and took a detour through Lower Range and Karaya Road, was one of the two who were injured by bullets allegedly fired by constable Chodup Lepcha on Friday afternoon.
An eyewitness said Lepcha had first aimed the gun at Alam, who was on his scooter. When Alam, sensing trouble, tried to slip past Lepcha, the cop pressed the trigger.
A bullet lodged on the back of Alam's right shoulder. He was taken to SSKM Hospital for treatment.
Doctors at SSKM said Alam took a bullet on his right shoulder and there was no exit wound, suggesting it was possibly still lodged inside him. The 48-year-old was admitted to the male general ward of the hospital.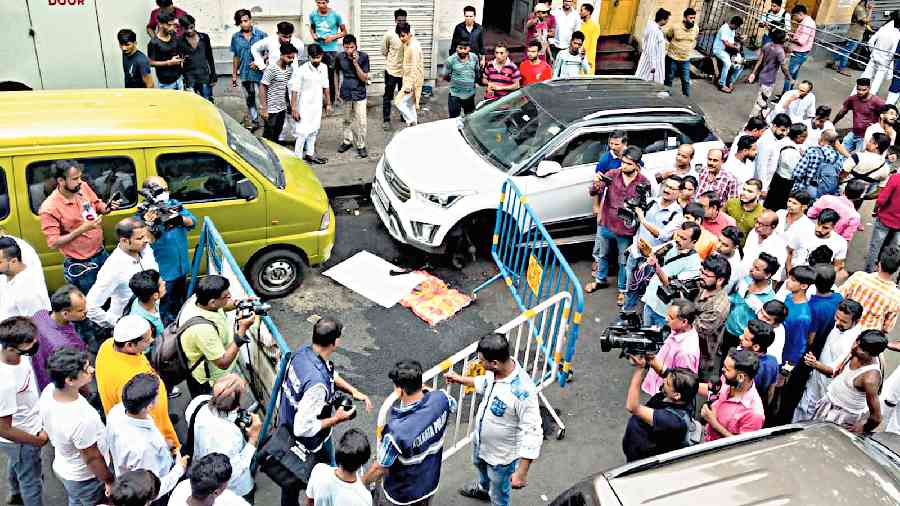 The spot on the road off Lower Range where a pair of shoes was found.
Pradip Sanyal
A team of surgeons attending to him were yet to decide whether an immediate surgery was needed or not.
"A series of tests were carried out on the patient, including ultrasonography, and the wound has been attended to. Till late evening the vitals of the patient were fine and it did not appear that he was in a critical condition," a senior doctor of the hospital said on Friday night.
"We think there is only one bullet injury. The doctors don't want to rush the surgery. They want to study all the test reports to have a clear understanding of the patient's condition," he said.
Alam, a resident of central Kolkata, called up friend Kaiser Ali after being hit and told him to reach the spot at the earliest.
"He first told me he was shot at. After some time, he called again saying the police were taking him to SSKM Hospital. I directly went to the hospital and found my friend had been shot at in the shoulder," Kaiser said in the evening.
Mohammad Sarfaraz, 19, the other person injured in the firing, was also taken to SSKM Hospital. He was discharged after treatment.
Sarfaraz was hit by a bullet from Lepcha's rifle, a police officer said. The bullet left grazing wounds on his left arm, which apparently did not need hospitalisation, the officer said.