After two autumns stuck indoors, pandal-hoppers were out in full force on the streets this year. The pandals, which had lost their gloss due to lack of both funds and footfall in 2020-21, were back to looking their innovative and artistic best. Here's a report card on pujas that, according to Bidhannagar commissionerate sources, drew the biggest crowds.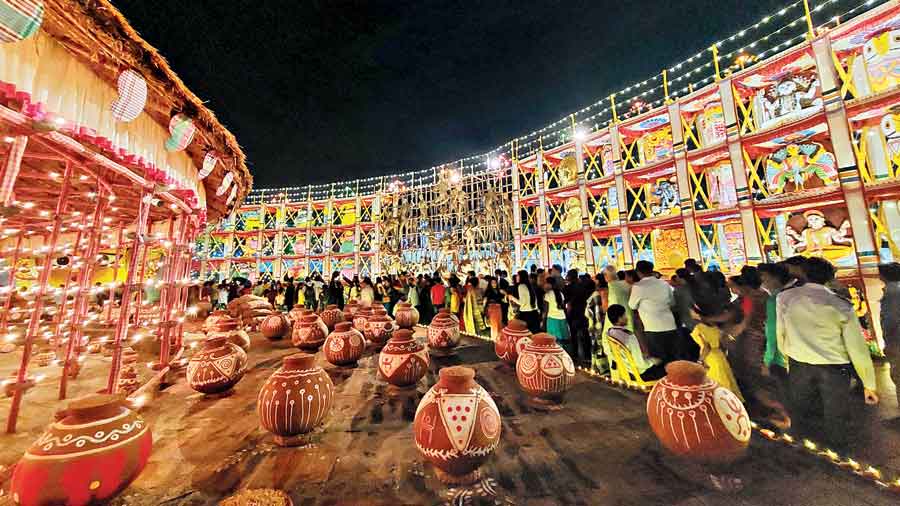 1) New Town Sarbojonin: The puja which hit the headlines on debut as the only puja in New Town not restricted to any block or housing complex, emerged as the biggest crowd-puller in the twin townships combined. Guests, including those associated with the city's biggest pujas, like mayor Firhad Hakim and minister Sujit Bose, have predicted the puja's potential to break into the big league. Prasanta Pal's open-air tribute to Bengal's handicraft had visitors queuing up at the Clock Tower ground. "The pandal has three check-points where crowds are released in batches of 100-150 every 30 seconds or so. This flow remains from 6pm till about 11pm, after which there is a drop due to lack of public transport here at night. On Saptami, around 7.30pm, the inflow rate was about 200 people every 30 seconds," said one of the 30-plus volunteers deployed in the pandal. There were 30 private security guards and over 50 police personnel on duty on Ashtami evening.
A senior police official expressed confidence that New Town Sarbojanin will "never become a Sreebhumi" in terms of traffic and crowd management challenges. "There are wide roads on all sides of the site and ample parking space," she said. The police had created a no-entry zone for vehicles behind Central Mall and people were directed to park their vehicles inside the mall's parking lot as well as at the lot outside the pandal.
The only tense moment was during a shower on Sashthi. "Most jostled into the sanctorum sanctorum for shelter. There must have been at least 250 people inside. Drenched children were given our puja T-shirts to change," said a volunteer. 
Viplove Agarwal of CA Block, Salt Lake, thanked his three-year-old daughter. "It is because of her that I was allowed to pass through after being in queue for 30 minutes. But this pandal is so pretty that it would have been worth waiting for even one hour. We saw the FD Block puja yesterday but the crowd here is bigger," he said on Ashtami.
"Visitors have praised our arrangements for senior citizens and children. Despite the shower, people did not have to tread on slush as we had a raised wooden pathway built all the way to the pandal. We have also made the cut for the Red Road Puja carnival on October 8," said puja secretary Samaresh Das.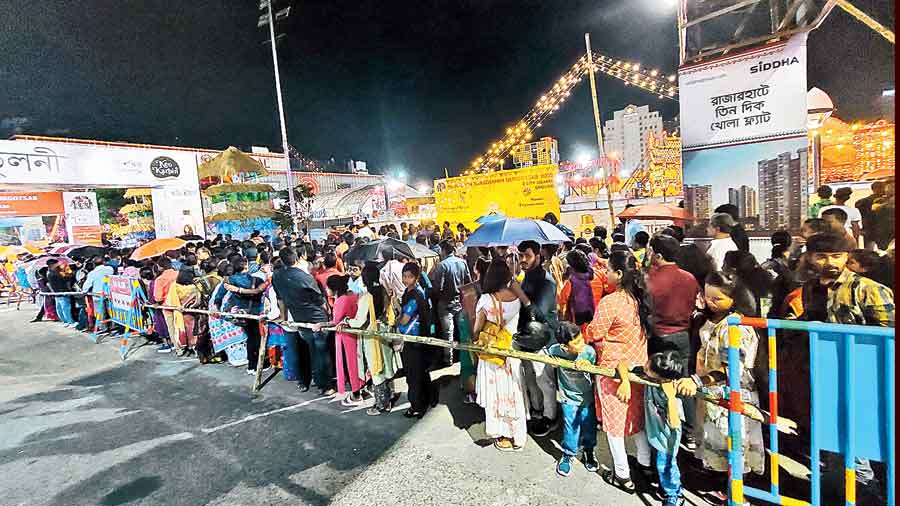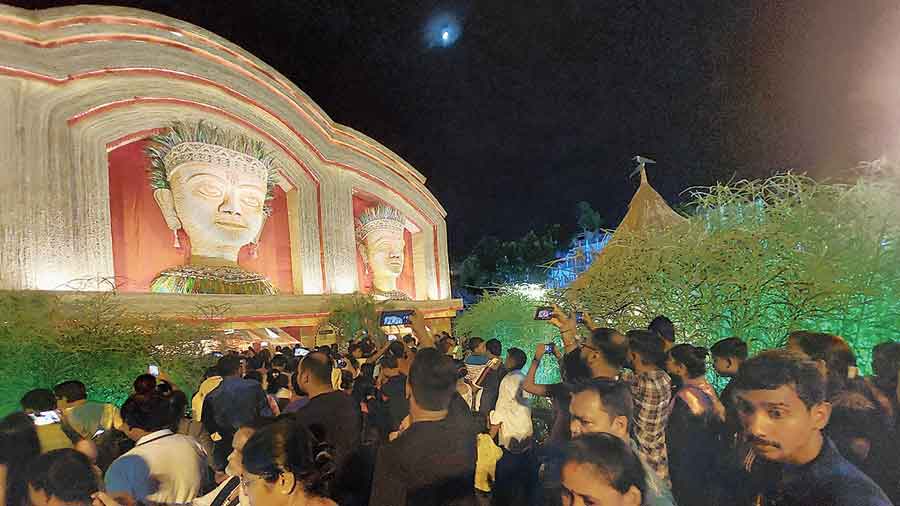 2) FD Block: An imaginary tribal village in the middle of a jungle was Salt Lake's top draw. Police had put up barricades at Netaji statue, at the EC Block exit and at City Centre island. "The crowd was steady till 2am on Ashtami night. On Saptami, it was bigger," said a private security guard on duty at the EC Block barricade. Bidhannagar traffic guard sources put the average crowd flow around the park on Saptami at 20,000 per hour.
The puja, which was the first in Salt Lake ever to be inaugurated by chief minister Mamata Banerjee on September 22, will be taking part in the carnival for the fifth time.
"People are coming in numbers since Panchami. We are getting an unexpected flow even on Dashami. This must be due to word of mouth spreading about our puja," said president Banibrata Banerjee.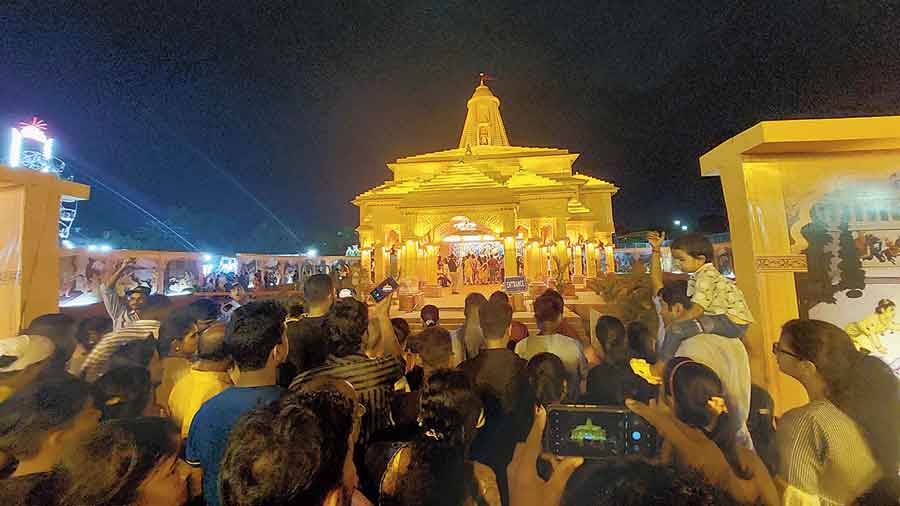 3) BJ Block: The imaginary Ram temple, which had illuminated gates with the slices of Ramayana in lights as well as on flex banners on the sides of the pandal, was on every rickshaw route. "We are charging Rs 300 per hour to show around seven-eight pandals in Salt Lake. After three pujas adjacent to each other in Sector II, we are going straight to FD Block and covering a few nice pandals in Sector III," said rickshaw-puller Rajib Manna, as he shouted "FD chalo, FD chalo" to the crowd flowing out of the fair at a side of BJ Park.
"On Ashtami till 1 am, we had to stagger the flow with ropes at the park entry and again at the pandal entry. There are 12 of us on duty on the night shift and six at day time," said a security guard.
"The only day we got affected was on Sashthi because of the shower. There is so much enthusiasm among people, more than what we saw before the pandemic," said puja committee joint secretary Umashankar Ghoshdastidar, adding that immersion was pushed back by two hours because of visitor flow on Dashami.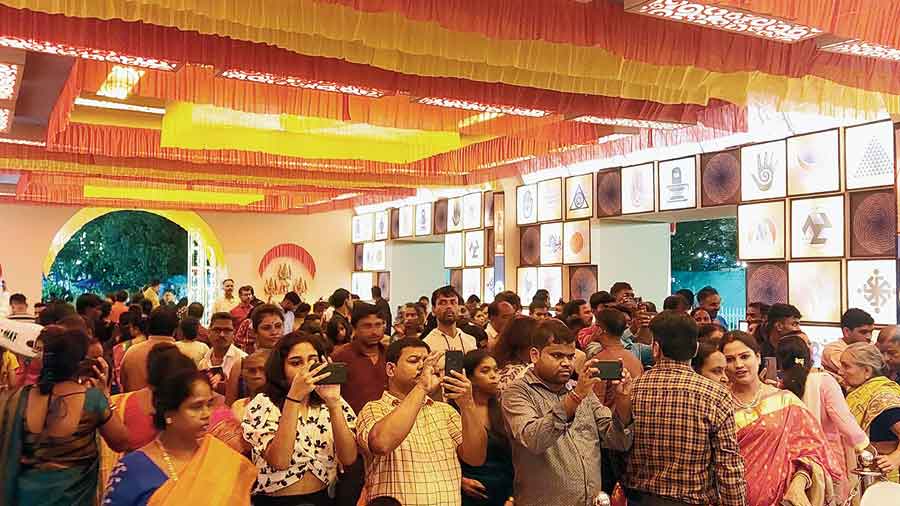 4) AJ Block: "Both AJ and BJ Block pujas are seeing a crowd flow of about 8,000 per hour," said a Bidhannagar traffic guard officer on Saptami, adding that BJ had the extra pull of a fair. The road leading to the puja by the route 206 bus stand was a sea of heads. "We enjoy a visitor flow from the opposite side too because of the Kestopur footbridge. They would number 20,000 per day," said Prosenjit Banik, a committee member, keeping a watch from the stage. "It may be crowded but there is smooth movement," said Dip Banerjee, who had come with family from Baranagar.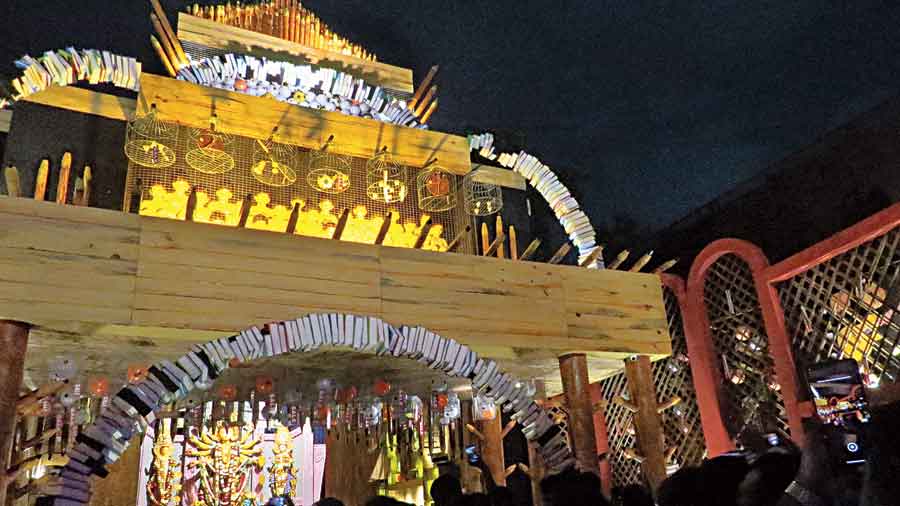 5) AK Block: The burden of studies on children was a big hit with children. And that meant the security guards were on tenterhooks. "Egulo chokhe dekhar jinish, chhuye dekhar noy (these are meant to be seen, not touched," yelled a security guard for the umpteenth time, in between blowing his whistle to make the cellphone-wielding mass move on Navami night. Tots tried to touch either of the two statues of students standing on either side of the entry into the sanctum sanctorum, bent over with books overflowing out of their schoolbags. The puja has been selected for the carnival.
Police said crowd count at the puja increased manifold this year as the bridge connecting Salt Lake to Kestopur was thrown open to traffic. "A lot of people headed to this pandal first from Kestopur and adjoining areas by crossing the new bridge over the canal," said the officer. On Ashtami night, more than 60,000 people were at the pandal.
Write to saltlake@abp.in