Summer is here and so is the season of mangoes. To pay a tribute to the king of fruits, restaurants in Kolkata have not only come up with unique recipes infused with mangoes, but have shared them with us too — and we are drooling. So, what are you waiting for? From salads to curries, drinks to desserts — explore this versatile fruit in every possible way and surprise your loved ones on a day you are at home.
Mango Colada from Trincas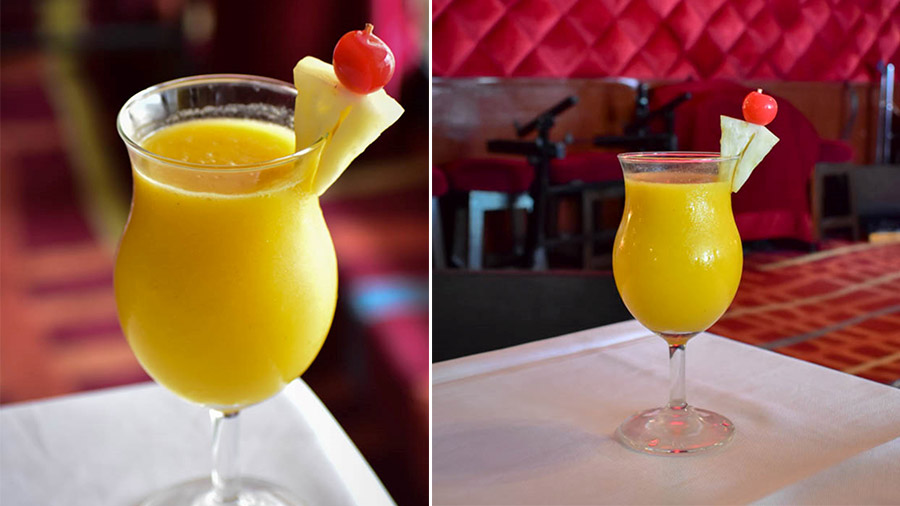 Mango Colada
If a Pina Colada is already on your go-to list of drinks, take it up a notch and make yourself a glass of chilled Mango Colada. Anand Puri, partner at Trincas, shares a recipe to beat the heat this summer. This drink can be made as a mocktail and a cocktail too. So, go as you like it! To savour more such delicious drinks, dishes and a happening breakfast opportunity, visit the iconic heritage eatery on Park Street in person. 
Ingredients:
Cold Pressed Mango Juice: 60 ml 
Coconut Milk: 30 ml
Lime Juice: 10 ml
Bacardi: 60 ml (if you want to make it alcoholic)
Ice as required  
Pineapple and cherry to garnish 
Method:
In a shaker, add ice, Bacardi (optional), coconut milk, mango juice and a hint of lime juice 
Shake and pour in a cocktail glass. 
Garnish with a cherry and pineapple slice on a stick and serve cold
Raw Mango Salad from Burma Burma, Kolkata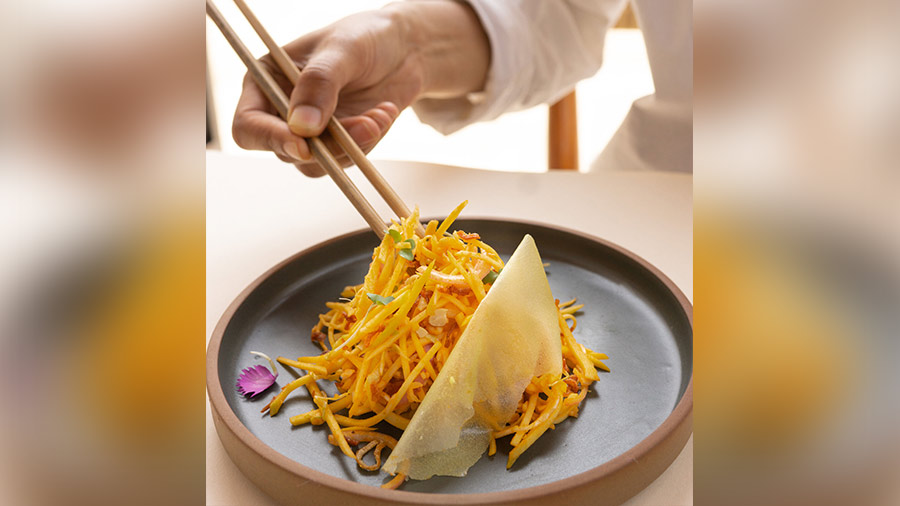 Raw Mango Salad
Don't have time to make a proper breakfast? Worry not. Quickly toss in a few easily available ingredients and raw mango and stir up a Raw Mango Salad with a little help from chef Ansab, head of Culinary Operations of Burma Burma Restaurant & Tea Room. This healthy recipe serves as a light brunch or breakfast and is perfect for health-conscious workaholics, who are in a hurry to rush to work.
Ingredients
Raw Mango: 120 gm
White Cabbage: 20 gm
Iceberg Lettuce: 20 gm
Red Onion: 10 gm
Brown Onion: 10 gm
Roasted Chilli Powder: 2 gm
Crushed Peanuts: 10 gm
Chilli Oil: 5 ml
Honey: 20 ml
Salt: 1 gm
All-purpose seasoning Powder: 2 gm
Sugar Powder: 5 gm
Gram Flour: 10 gm
Salad Oil: 5 gm
Cornflower: as required
Edible Flower for garnish: 2 gm
Method:
Heat a thick bottom kadhai
Roast the gram flour
Slice raw onion, dust with cornflower and fry till brown and crisp
Wash and dry iceberg lettuce. Shred them into pieces once dried
Peel and julienne raw mango
Shred white cabbage and slice raw onion
Roast and crush the whole peanuts (optional)
In a salad mixing bowl, add cut raw mango, iceberg lettuce, raw onion and shredded cabbage. Mix it well
Add seasoning, crushed peanuts, brown onion, roasted chilli powder, chilly oil, honey, roasted gram flour and salad oil. Give it a good mix gently and adjust the seasoning
Garnish with edible flowers and serve
Aam Sole of Rural Bengal from Ilish Truly Bong Restaurant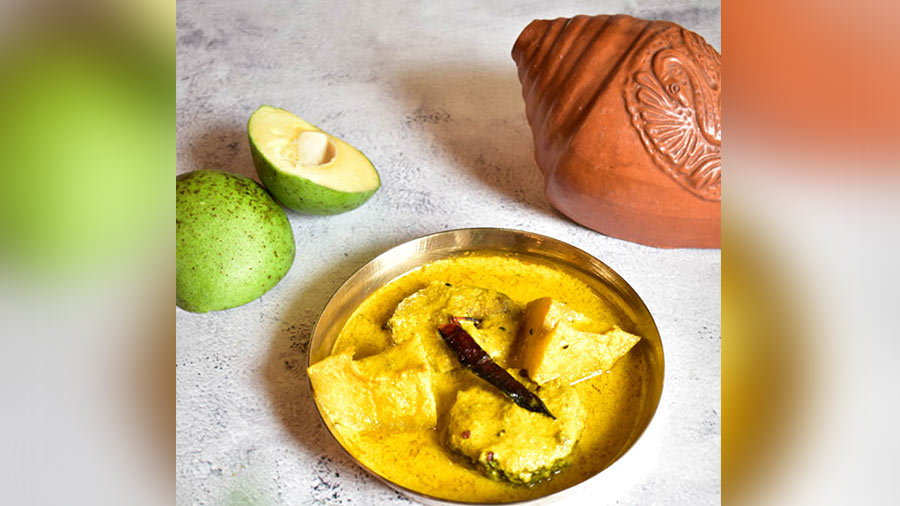 Aam Sole of Rural Bengal
Bengali's love their fish, don't they? Coming from the ruralscape of Bengal is the recipe of Aam Sole narrated by Lopamudra Kamilya, founder-director of Ilish Truly Bong Restaurant. This is an easy-to-cook recipe for lunch and can be served with steaming hot rice. The raw mangoes lend the dish a tartness which enhances its flavour.
Ingredients:
Snakehead Murrell fish: 500 gms
Raw mango: 150 gms
Turmeric powder: 1 teaspoon
Yellow mustard seeds: 2 tablespoon
Poppy seeds: 1 tablespoon
Dry red chillies: 2 nos
Panch phoron: 1/2 teaspoon
Salt to taste
Sugar: 1 tablespoon or to taste
Mustard Oil to fry
Method:
Apply salt and turmeric to the pieces of fish. Shallow fry in mustard oil till the fish turns light golden. Remove from the pan and keep aside
Boil raw mango pieces in water for 5 minutes and keep them aside
Make a paste of the poppy seeds, mustard, a pinch of salt and a bit of water. Then, add 1/2 cup water to this paste to make it runny
Add 2 tablespoons of mustard oil in a kadhai and heat, add panch phoron, dry red chillies, and let them splutter
Now, add the mustard-poppy paste. Stir well and let it cook for 2-3 minutes over low heat
Add salt and 1/2 teaspoon of turmeric
Add boiled mango pieces and cook over medium low heat for 1-2 minutes
Add the fish pieces, salt and sugar to taste, and then cover and cook for 5-7 minutes or till the fish is cooked to your liking
The dish is ready to be served
Prawn Mango Curry in Mustard Sauce from Fairfield by Marriott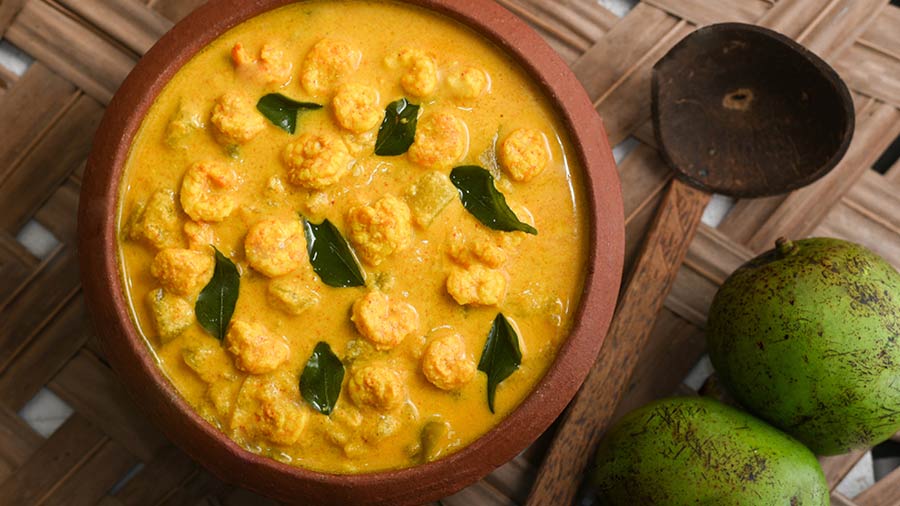 Prawn Mango Curry in Mustard Sauce
If you are looking to cook a dinner for yourself, family or guests, check out this Prawn Mango Curry in Mustard sauce, which is easy to make and can be readied in no time. Shared by Arabinda Seth, executive chef at Fairfield by Marriott, this recipe is all about balancing flavours. The tanginess of the raw mango with the pungency of mustard, the sweetness of coconut and heat of the chillies makes for a delicious dish that pampers the spicy palate.
Ingredients:
Prawns: 250 gms (cleaned and deveined)
Raw mango: 1 small (roughly chopped)
Mustard seeds: 1 tbsp (soaked for 30 minutes)
Green chilies: 2-3 pieces
Turmeric powder: 1/2 tsp
Mustard oil: 1 tbsp
Fresh grated coconut: 2 tbsp
Garlic cloves: 2-3 pieces
Coriander leaves: 2-3 tbsp (chopped)
Salt: as per taste
Method:
Grind the chilies, mustard, garlic, raw mango and coconut to a smooth paste
Mix the paste in a bowl along with prawns, mustard oil, coriander leaves, salt and turmeric powder. Place 1-2 two green chilies on the top.
Transfer the contents to a steel container with a lid. Pour some water in a pan and place the closed steel container over it
Cover the pan and steam cook for 10-15 minutes
While serving, drizzle some extra mustard oil if you wish. Serve with hot steamed rice
Mango Kulfi from Paprika Gourmet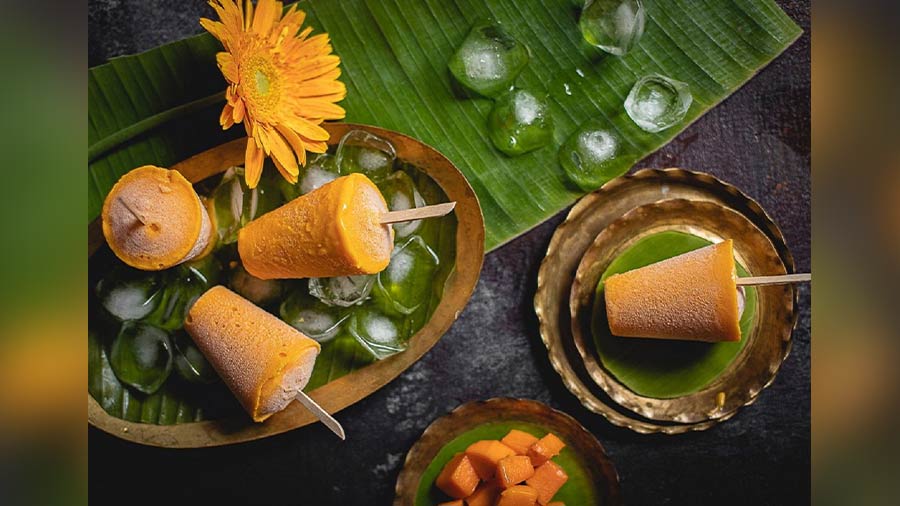 Mango Kulfi
Craving something sweet? Then try this Mango Kulfi — a perfect way to satiate your sweet tooth. Vidisha Bathwal, owner and chef at Paprika Gourmet, shared this no-fuss recipe.
Ingredients:
Mango: 1 pc (chopped finely)
Full fat milk: 1 litre
Mango pulp: ½ cup
Mawa: 1/3 cup
Sugar: 1/3 cup
Cardamom powder: ½ tsp
Roasted nuts sliced: ¼ cup
Method:
Heat milk in a heavy bottomed pan. Keep stirring to avoid sticking to the bottom of the pan
Add sugar, cardamom powder, roasted nuts and mawa (or khoya)
Keep mixing and cook on low flame for 15 minutes
Add mango pulp and whisk till smooth.
Let it cool
Add chopped mangoes to the mixture
Put the mixture in a kulfi holder and let it set overnight or use the mango skin as a cup and freeze it
Unmold kulfi holder by dipping it in room temperature water for 3-4 seconds
Serve chilled, drizzled with mango sauce (optional).