As much as the elderly, the young and the apparently tech-savvy are vulnerable, too, to cyber crime. Most of them fall prey to social media frauds.
Even if younger people are familiar with gadgets and technology, the fact that social media has become an indispensable part of their lives has left them exposed to online fraud.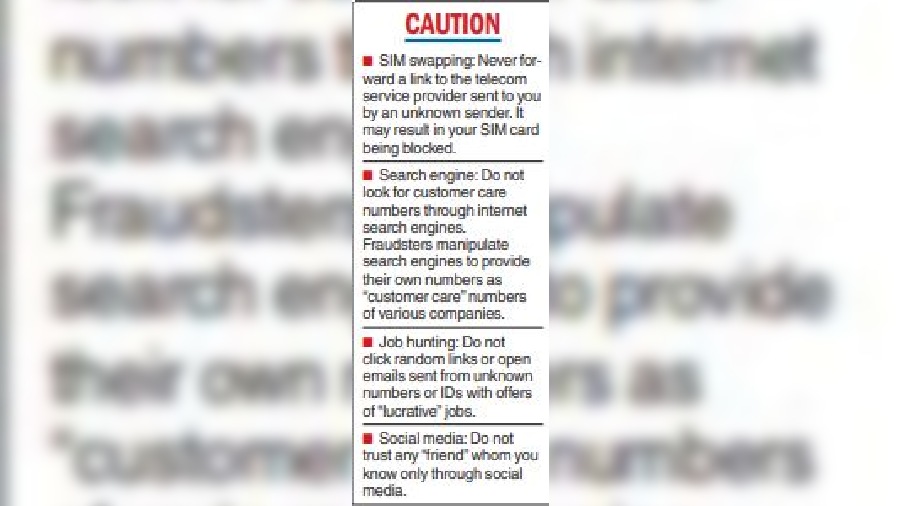 In an event organised by Alipore police station, students of a management institute were addressed on Friday.
Arup Banerjee, officer-in-charge of Alipore police station, said students were targeted for the awareness session as "they are the largest users of online technology and were most prone to cyber crimes". 
A first-year college student who attended the programme said: "Every fourth person I meet has been cheated online. In today's session, we were told to apply our logic before clicking any link sent by any random sender. We were told to start thinking and ask questions before carrying out any online transaction or clicking any link."
Another student shared the experience of a friend who lost Rs 2.2 lakh simply by clicking a link that was sent to his father's mobile number to "update KYC". 
"My friend had thought that as the text message had come to his father's phone, it must be important and hence he clicked the link. Immediately Rs 2.2 lakh was deducted," said Subhranil Datta, also a first-year student of the same institute. 
Datta said that despite his knowledge and idea about the use of technology, the concept of "SIM swap" that he learned on Friday was new to him. 
"I had no clue about SIM swapping. It is so scary. A sender sends a link and asks the recipient to forward it to a specific telecom service provider's number. By doing so, the person is actually risking his own SIM card to be blocked forever," Datta said after attending the session. 
Police and bank officials who were present at the event said the young are most vulnerable as they use online transactions most. 
"From ordering food to eating roadside phuchka, they will make the payments through QR codes. This generation is much more digital than our generation. We used ATM cards but this generation depends only on QR code payments or the use of e-wallets for fund transfers. Hence, if someone manages to mirror their phone by making them click on a link, all their banking details are exposed which they carry in their phones," said Indranil Acharya, a senior official of the ICICI Bank who was one of the speakers at the event. 
Another official of the bank, Sunita Dey, gave the example of how the young — in their early 20s — are most vulnerable to online fraud. 
"All the students in the auditorium will graduate soon and start looking for jobs. This is where the fraudsters try to encash when these students will start searching online portals for jobs," Dey said. 
Similarly, frauds by "search engine optimisation" are also common these days, she said.
Search engines can be manipulated by fraudsters so that they place their numbers on the Internet posing as customer care numbers of various companies.