The Tolly Rackets Carnival 2022, the annual intra-club and largest racket sports event in Kolkata, was held at the Tollygunge Club between November 22 and 27, and featured over 200 players playing four different racket sports events — lawn tennis, table tennis, badminton and squash.
In tennis, Sujata Karnani and Sudha Karnani won the ladies' doubles, while Devika Gurung and Sara Stephanos finished second. Raghu Damani won the men's singles category, with Gaurav Bhoopal finishing second. Vishesh Agarwal and Pranay Kumar won the open doubles category, with Indrajit Bhalotia and Zubin Mehta finishing second. Oniel Pramanick and Adit Karnani won the veterans' doubles category, while Gautam Sen and Anand Kumar finished second. Priyansh Mundra won both the junior U-14 and U-21 singles, while Anoushka Saha finished second in the former and Abhay Karnani in the latter. On the final day of the tennis tournament, there was also an American doubles event with over 40 participants. The mixed doubles round robin event in which participants were paired at random was won by Saurav Roy and Vikram Saha, who defeated Raghu Damani and Agastya Mehta.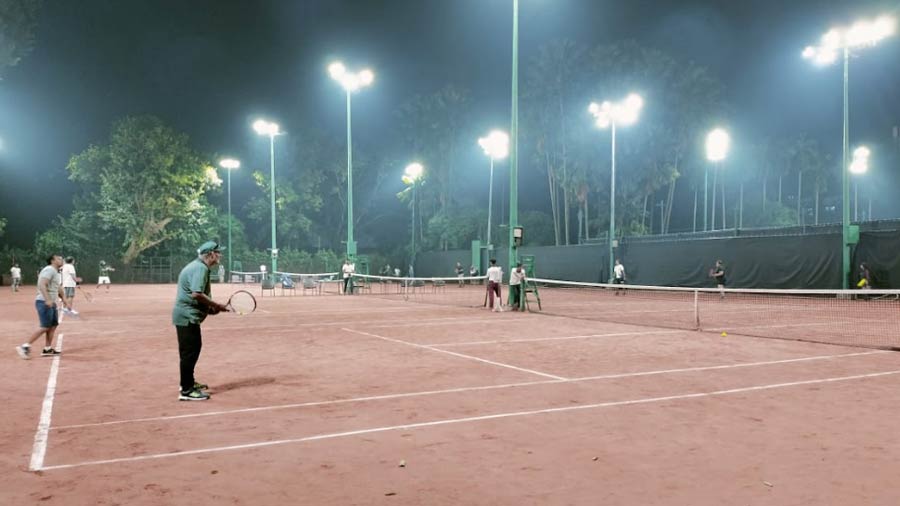 Eight separate tennis events took place during the tournament
Harsh Bihani and Aariket Bharech won the American doubles badminton event, defeating Charlie Bose and Vishesh Agarwal in the finals. Aariket Bharech, just nine, was named American doubles' most sporting participant and Dileep Singh Mehta was named American doubles' oldest participant.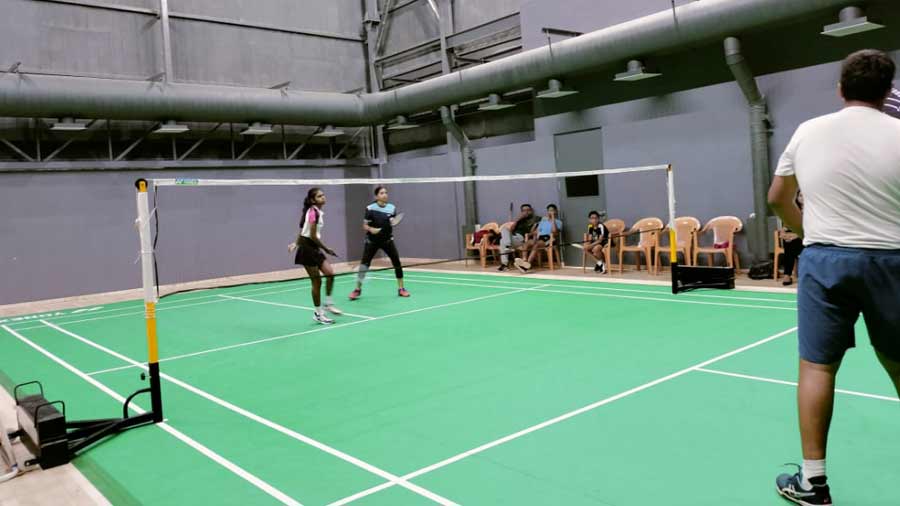 Badminton was another sport that generated a lot of excitement at the Tolly Rackets Carnival
Sarin Kulkarni won the junior U-21 event in table tennis, while Ashrut Almal finished second. In the final match, Pulkit Agarwal defeated Sunil Vaidya to win the men's singles event. Prabha Chatterjee won the ladies' singles category, with Era Dutta coming in second. Sunil Vaidya won the open veterans' singles category, with Pradeep Guhathakurta finishing second. Sunil Vaidya and Pulkit Agarwal won the men's doubles event, with Saharsh Borar and Akhilesh Kajaria finishing second. Prabha Chatterjee and Pulkit Agarwal won the mixed doubles event, while Era Dutta and Sunil Vaidya finished second. Avyaan Bahri was named as the youngest participant, while LN Bangur was named as the oldest.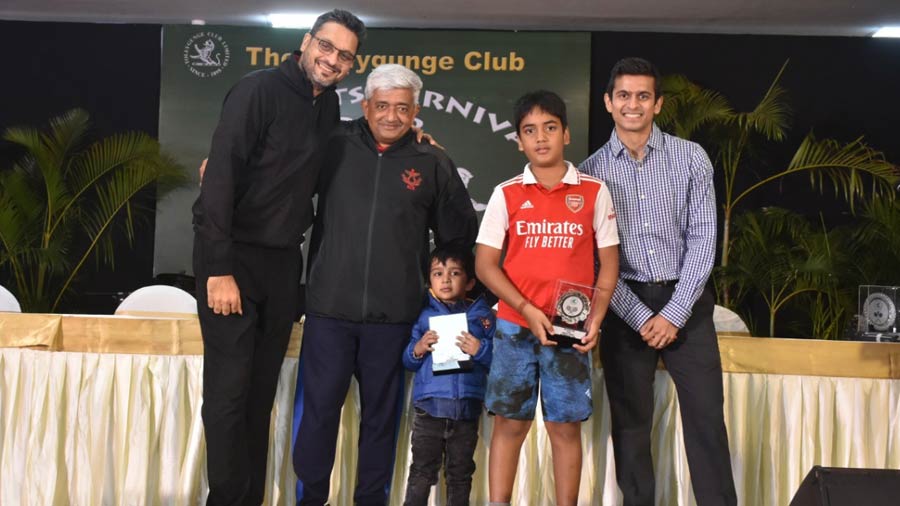 Raghu Damani (extreme left) and Agastya Mehta (in the Arsenal jersey) receive their trophies at Tollygunge Club
Ayaan Kankaria won the junior U-18 singles event in squash, while Shloke Sethia finished second. Himanshu Jatia won the men's singles, with Vinesh Hira finishing second. Pragati Sureka won the ladies' singles title, with Rachna Chalan finishing in second place. Bidhan Chowdhury won the 55-and-above veterans' singles title, while JL Roy finished second. The handicap open doubles event was won by Abhishek Ghosh and Saurav Kankaria. Vivaan Hira was named as the youngest participant, while Yatish Prasad was named as the oldest.
Squash player Saurav Ghosal was present as the prize distribution ceremony's chief guest. The winners were also presented with awards by Anil Mukerji, CEO of Tollygunge Club; Sanjiv Dhir, president of Tollygunge Club; and Hiteshwar Singh, co-chairman of Rackets.