The roll of honours at the IIHM presents The Telegraph School Awards for Excellence 2022, 27th edition, in association with The Bhawanipur Education Society College
The Caring Minds Award for A School that Cares:
Shree Jain Vidyalaya, Kolkata
Ankur, in Kamalgazi and Sonarpur
The Somak Dutta Endowment:
The Anand Paul Memorial Award For Social Service:
The Ambuja Neotia Award for Excellence in Maintenance and Eco-Friendly Initiatives:
Santiniketan Sishutirtha School, Ballavpur Danga
Delhi Public School, Howrah
The Surrendra Paul Memorial Award For Courage:
Riddhi Roy, Jyotirmoy Public School, Sonarpur
A Class VI student, he suffers from a rare defect in his spinal cord. Riddhi is a passionate painter and participates in all co-curricular activities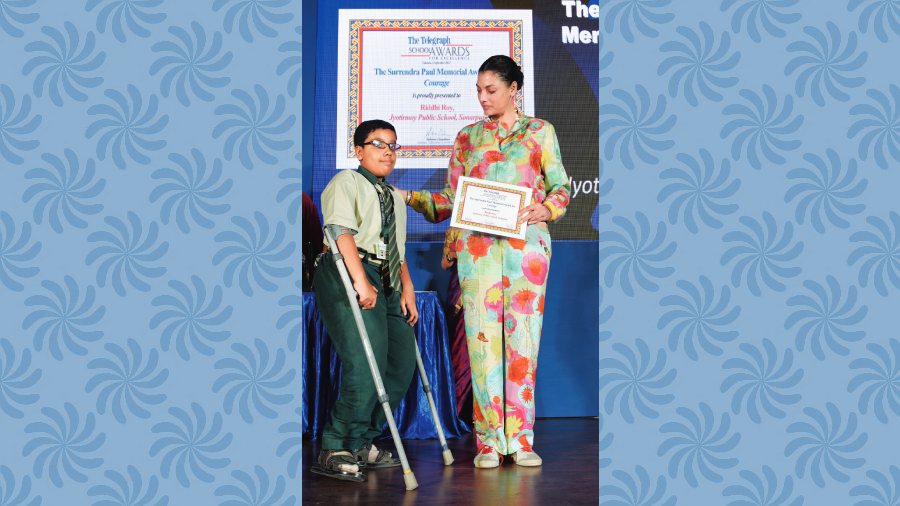 Riddhi Roy
Srishti Mondal, South City International School
A student of Class XII, she suffers from a disease that manifests in problems in breathing, eating and speech. Beating all odds, she plays instruments and sings, is a talented painter and scored 86 per cent in ICSE last year
Uma Kumari Agarwal, passed class XII this year, Our Lady Queen of The Missions School, Saltlake
Lost both her parents as a child but still scored 98.75 percent in ISC
Yathaarth Poddar, Lakshmipat Singhania Academy
The Class V student was diagnosed with a rare neurological disorder last year, which affected his motor skills severely. Yathaarth is an avid chess player who plays in tournaments regularly
Saptanshu Ghosh, Adamas International School
Ghosh, a Class VII student who suffered from a genetic muscular disorder, passed away last month. He was confined to a wheelchair but still won medals at the International Mathematics Olympiad
The Sonika Chauhan Award for Courage:
Avaneeka Biswas, The BSS School
She was a student of Class V when she met with a car accident that killed her mother and severely injured her and her father. Stuck in the mangled car, she managed to call her relatives, which eventually facilitated the rescue.
Scholarships:
The Dr Ashin Dasgupta Memorial Scholarship:
Swarnali Das, Class XI, Behala Sarada Bidyapith
Daughter of an auto driver and a homemaker, she scored 92 per cent in Madhyamik
The Vidya Mandir Society Scholarship:
Satadal Chowdhury, Class XI, Majilpur J.M. Training School
His father, who lost his job at a hardware store during the lockdown, now sells vegetables. Their meals during the lockdown came from alms by samaritans. Beating all odds, Satadal scored 95 per cent in Madhyamik 2021 from Raghunathpur High School at Majilpur in South 24-Parganas.
Dr Amiya Kumar Bose Memorial Scholarship:
Md Abdul Jabayer Alam, first-year MBBS student at Nil Ratan Sircar Medical College and Hospital
His father runs a shop in a village in South Dinajpur. Abdul cleared NEET from Al-Ameen Mission in 2021 scoring 86.52 per cent
The Lakshmipat Singhania Education Foundation Scholarship:
Sivam Hembram, Class XI, Gurap R.K. Institution
A first-generation learner whose parents are agricultural labourers, he scored 89.2 per cent in Madhyamik
The Ina Puri Scholarship:
Anubhav Paul, 2nd Semester, BFA (Print Making), Rabindra Bharati University
The promising artist lost his father to Covid last year. He still won an award in the university annual exhibition.
The Late Debaprasad Purkayastha Scholarship:
Recipient not named but his story was shared.
His mother was arrested for prostitution, a profession she was forced into by the pandemic. His father is a labourer. The recipient, in Class VII now, is determined to carry on with his education.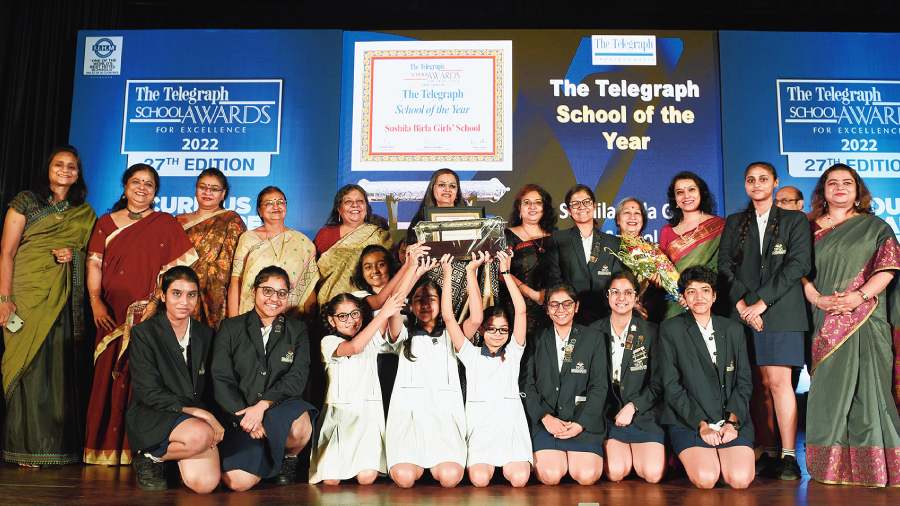 Sushila Birla Girls' School
The Bhawanipur Education Society College Honour For An Educationist:
Subal Chandra Laha, Nabasan High School, Bankura
A resident of Nabasan, Bankura, Laha left his job at Durgapur Steel and came back to his own village. Started as math and science teacher at Nabasan High School. Soon, started teaching other subjects as well. He has been instrumental in bringing every kid in the village to school. Laha has also been the driving force in bringing civic amenities to the village, which, today, has a latrine in every house.
The Dr Mrs NB O' Brien Memorial Lifetime Achievement Award For A Teacher:
Gour Chandra Roy, Sindrani Sabitri High School, North 24 Parganas
He trains people in sports and that in turn helps them to earn livelihoods. A total of 411 of his students got jobs with the BSF, Indian Army, CRPF, West Bengal Police, Kolkata Police and CISF.
Seema Paul, St Patrick's Higher Secondary School, Asansol
She joined the school in 1983 and took over as the principal in 1999. A teacher of biology, her sole commitment is the well-being of her students.
The IIHM Award for Excellence in Academics (CBSE):
Delhi Public School, Howrah
Birla High School
The IIHM Award for Excellence in Academics (ICSE and ISC):
St. Michael's School (Special mention)
Winner ICSE/ISC
Don Bosco School, Park Circus
The IIHM Award for Excellence in Academics (Madhyamik and HS):
The Madanlal Dhandhania Charitable Trust Award For Academic Excellence By A Student:
Science:
Aayan Yadav, Delhi Public School, Durgapur
Anirvan Chakravarty, St Augustine's Day School, Barrackpore
Bharat Agarwal, Delhi Public School Megacity
Himangshu Shekhar, Central Model School, Barrackpore
Pratyush Biswas, DAV Model School, Durgapur
Sammyabrata Nandy, DAV Model School, Durgapur
Swaptashwa Baisya, Delhi Public School Ruby Park, Kolkata
Humanities:
Akshita Lal, Sri Sri Academy
Rohin Sen, Patha Bhavan
Samraggi Dutta, Pratt Memorial School
Commerce:
Kashvi Khaitan, La Martiniere for Girls
Prachi Agarwal, Agrasain Balika Siksha Sadan, Howrah
Trisha Agarwal, La Martiniere for Girls
Scholarship Section 2:
The Purushottam Bhagchandka School Scholarship:
Aloka Tudu, class XI, Rajhat High School
A first-generation learner, her mother is a daily wage earner and her father is in a correctional home for last ten years. Her brother is studying in class VII.
The MCKV Charity Trust Scholarship:
Krishnendu Shaw, class X, Malpar Vivekananda Siksha Niketan, West Midnapore
Scored 98.29 percent in school annual examination. Family income is Rs 4000 a month.
The Bansari Saha & Late Moloy Saha Scholarship:
Prerana Rana, second year MBBS student at NRS Medical College and Hospital
Her father is a small farmer and only bread earner of the 5-member family. Prerana suffers from Synovial Sarcoma and her left foot has to be amputated.
The Nabarun De Inspiring Excellence Scholarship:
Surojit Hembram, class VI student of Basudevpur Vidyamandir at Haripal, Hooghly
His father is in a correctional home. His mother has passed away. He and his brother live with their ailing grandparents.
The Admission Tree Scholarship:
Kuhu Malik, class IX, Ranaghat Debnath Institution for Girls
Both her parents are in correctional homes. She wants to continue with her studies.
The Parvathy Kailas Pathy Memorial Scholarship:
Pranab Dinda, class XII, Malpar Vivekananda Siksha Niketan, West Midnapore
A class XII student who scored 87.28 per cent in Madhyamik. Dinda's father went missing when he was 6 and his mother is a daily wage earner.
The Abhirup Bhadra Memorial "Thank You Baba-Ma" Award:
Abhay Saha and Apu Saha, Jadavpur University (Parents of Swagata Saha)
The family's income is from vending milk. Swagata topped among girls in humanities stream in HS exam this year.
Loretta D' Silva, Julien Day School, Kalyani (Mother of Greta D'Silva) (Scholarship)
Her husband passed away when their daughter was only 5-years old. She used to cycle down to Kalyani station with her daughter early morning and board a train so that Greta could attend her school. Greta is a national throwball player and a skilled footballer.
The Chittajit De Memorial Scholarship:
Greta D'Silva, Julien Day School, Kalyani
The Shining Star Honour:
Manoranjan Behera, Hariyana Vidya Mandir
Joined the school in 1992. Looks after printing of all question papers and delivery of all exam answer scripts. In charge of entry and exit at the main gate of the school. A true all-rounder
Suhas Mondal, Loreto House
Joined in 1997. He is a lab assistant cum bearer and cycles 25km every day to reach school from his home. The school says he is rarely absent
Tikaram Lamichhana, Calcutta Public School, Kalikapur
A security guard cum caretaker and lab assistant. He sacrificed his annual leave by staying in school during the pandemic. He delivered textbooks to students at their doorstep during the pandemic.
The Kalyan Bharti Trust Award for All-Round Excellence:
Saanya Bansal, La Martiniere for Girls
Scored 98.23 per cent in ISC. Won Bronze in Hong Kong International Mathematics Olympiad in 2021. A state-level basketball player and a swimmer. Also a dancer and classical vocalist.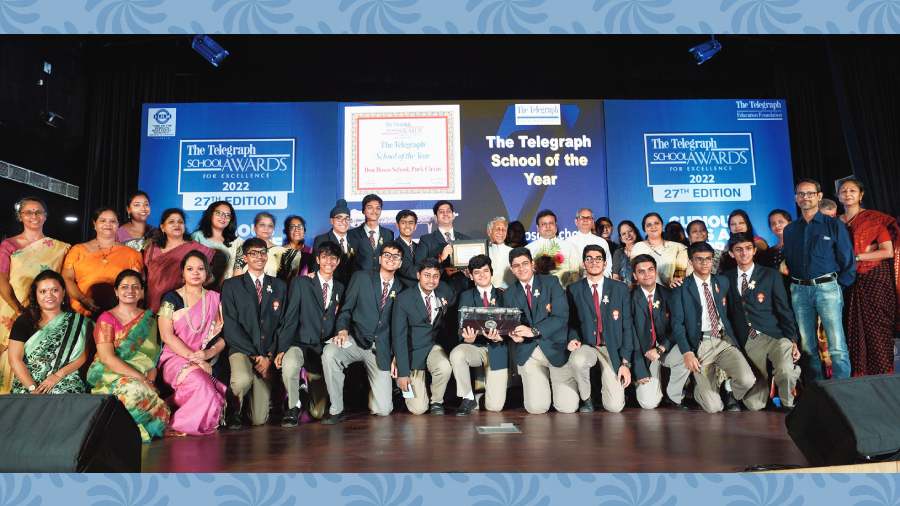 Don Bosco School, Park Circus.
Pictures by Pradip Sanyal
The Telegraph Education Foundation Award for Outstanding Talent in Sports:
Aleena Farid, class VIII, Pratt Memorial School (Lawn Tennis)
Ranked 9th in the girls' under-14 category in India as on May 30. Second-ranked in girls' U-14 category of Asian Junior Ranking Tennis 2022
Asmita Karmakar, class XII, Delhi Public School Megacity (Swimming)
Won gold medal in 200m freestyle, 100m freestyle, 200m individual medley, 50m breaststroke in the 8th Netaji Subhas State Games 2022.
The Srirupa Basu Memorial Scholarship (Sports Scholarship):
Partha Sadhu Khan (long-distance runner)
Came 2nd in 1500m race in Bengal meet. A class XII student of Bajitpur High School, North 24-Parganas, he practices with Mohun Bagan. His father is a construction labour and van driver.
The Balrampur Chini Mills Award For Outstanding Talent:
Abhinav Duttagupta, class XII, The Newtown School (Art)
A self-taught artist, he wants to create magic out of the ordinary and mundane around us. He is enthusiastic about adopting new art forms and methods.
The Anirban Sinha Award for Outstanding Talent in Music:
Ankita Giri, Jadavpur Vidyapith
Sings Rabindrasangeet and Nazrulgeeti. Won several inter-school competitions and a district level competition.
Koustav Roy, DAV Public School, Kolkata
Plays Sarod. Junior scholar at the Sangeet Research Academy.
The Vidya Mandir Society Award for Excellence in Extra Curricular Activities:
Delhi Public School Megacity
Lakshmipat Singhania Academy
The Telegraph Award For The School Of The Year:
Kanaknagar SD Institution (HS)
Sushila Birla Girls' School
Don Bosco School, Park Circus