A handicraft crusader pointed to millions of Muslims choosing India over Pakistan during the Partition. A firebrand politician stressed secularism as something that kept India together. A culinary historian hoped that the bigotry of the present will be "undone" in the future.
Three "formidable, redoubtable" women, born in 1947, looked back and forth at India at the Tata Steel Kolkata Literary Meet, in association with the Victoria Memorial and The Telegraph, on Wednesday.
Laila Tyabji, founder-member and chairperson of Dastkar, an NGO dedicated to promoting handicraft and handloom; Subhasini Ali, former MP, CPM politburo member and daughter of Captain Lakshmi and Prem Sahgal of the Indian National Army; and Chitrita Banerji, author of Mirror City, A Taste of My Life and Chaitanya Mahaprabhu, were part of a panel discussion with Paroma Roy Chowdhury, a journalist-turned-public affairs professional.
"I think people forget about a chunk of Indians, of which my extended family were part, who deliberately chose to stay on in India. For my parents, grandparents, aunts and uncles, going to Pakistan was inconceivable. They thought the idea of a single-religion country absolutely claustrophobic," said Tyabji.
Her father was Badruddin Faiz Tyabji, a former civil services officer who was later seconded to the foreign service. 
"They thought Partition was one of the biggest losses. That we were losing the spirit of India.... There were millions of Muslims who made that choice and stayed here. Nobody talks about that. I am very proud. In a way, I am doubly Indian. Because I was born Indian and my family chose to remain Indian. To look at India in this majoritarian way is really a tragedy," said Tyabji, who has worked with chikan workers in Lucknow, Lambani tribals in Karnataka, and kantha craftswomen in Kashmir, Bihar and Bengal.
Laila Tyabji said she was lucky that she worked in a field where people of every caste, religion and gender work together. "For me, it is a microcosm of what India should be."
The communal violence and Partition left Ali's parents scarred.
"They were the two most celebrated freedom fighters, invited to every function but they would not attend any. Because they said they were in deep mourning, because our country was being vivisected, our dearest friends were being turned into foreigners. This was not the freedom we had fought for. It came dripping with blood. Many many years later I was told that there was one other very celebrated Indian who didn't celebrate August 15, and his name was Mohandas Karamchand Gandhi. I must say, I really appreciated my parents after that," she said.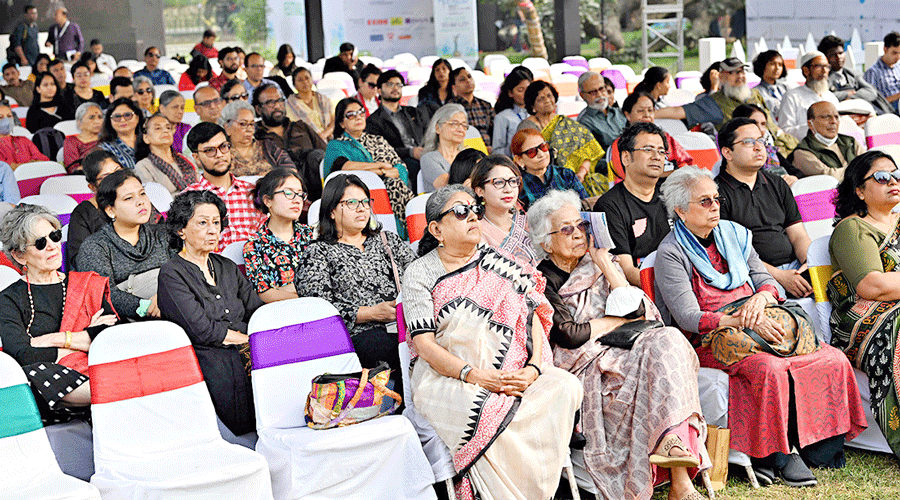 The audience at the session.
Sanat Kr Sinha
Later on, while speaking of the past and present, Ali stressed the idea of secularism. "I came to know and appreciate Netaji through reading, finding out things... you have to tell people how important the idea of secularism was to people who were really great leaders. It is not something they adopted because they thought it would fetch them votes. Secularism is absolutely essential to keep India together and keep India moving forward," she said.
Roy Chowdhury, the moderator, talked of rapid digital progress on one hand and a rise in bigotry, "even among the younger generation" on the other.
Banerji, who lives in Massachusetts in the US but has "her feet firmly planted on this side" of the world, said she hoped things would get better.
She talked of her memories of the Liberation War of 1972, when she found many families in Kolkata to be surprisingly kind towards the refugees.
"I found many West Bengali families, whom I would have expected to be not helpful, to not care and think that these people were suffering because of the choice they made, to stay in Pakistan, they did not act like that. There was a common humanity that rose up at that point. They wanted to help the refugees as much as they can. For a while, that made me think that India had very conflicting forces in its society but we can rise above them.
"In 1975, I happened to be visiting when the Emergency was declared. My family was crushed. This was a country we were so proud of.... Two months later, Sheikh Mujibur Rahman was assassinated. People were saying the same thing. How could this be? History often shows us that we do and we undo. On young people being bigoted... that is something very depressing for people like us, when we remember our hopeful and idealistic childhood but I am still hoping that this will again be undone," she said.