Many Kolkatans joined hands to clean the Rabindra Sarobar premises on Saturday.
Visitors who volunteered were given bags in which they picked up waste from the Sarobar premises and deposited the bags in bins on the Nazrul Mancha premises.
The Kolkata Metropolitan Development Authority (KMDA), the custodians of the Sarobar, had organised the plogging, picking up litter while jogging.
One of Kolkata's few remaining green spaces, thousands visit the Sarobar every day. Those who volunteered mostly found plastic and thermocol waste. Metro was present on Saturday morning.
The exercise: Visitors to Rabindra Sarobar were asked to pick up waste in the course of their walk or jog. Termed plogging, similar exercises are conducted worldwide to involve citizens in the act of keeping public spaces clean.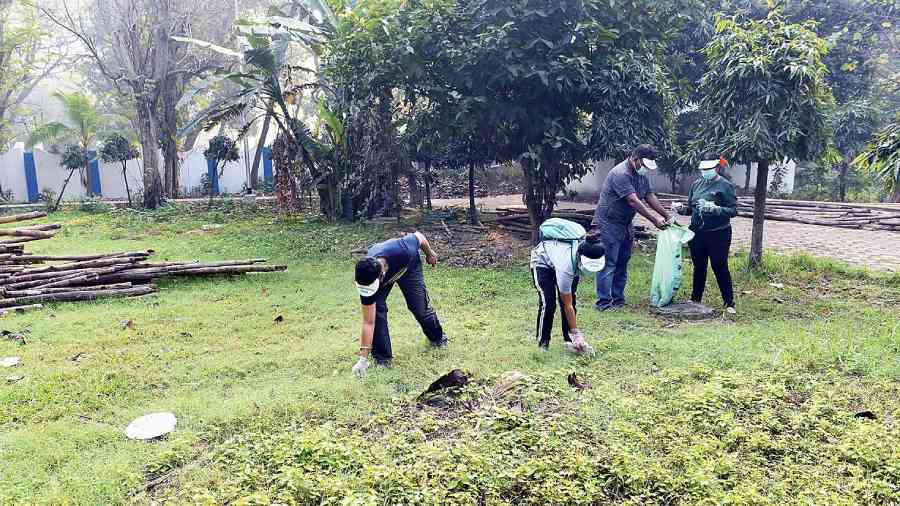 Clean up drive in progress.
Bishwarup Dutta
The CMDA had handed over large biodegradable bags to the volunteers.
Participants: Around 100.
Waste picked up: About 15kg, said a CMDA official. More than the weight, the waste was voluminous since almost all of it was plastic.
Types of waste: Plastic used for packaging of biscuits, potato chips and many types of food products, gutkha, chocolate wrappers; single use plastic; thermocol dishes, shredded sacks; plastic bottles and glass bottles.
"We collected over 2kg of waste in two hours," said Rishin Basu Roy, who had come with four of his colleagues from Bijoygarh.
Antara Acharya, the chief executive officer of the CMDA, volunteered. She spent about 1.5 hours picking up waste and said the cleaning exercise made her realise how difficult it was for daily cleaners to find and clean the tiny packages of biscuits and chips. These were light packets, easily driven away into the hedges and grounds from the metalled walkway.
The cleaners broom the walkway every day but picking up small plastics scattered over the grasslands was very difficult, she said.
Acharya said that one of the reasons CMDA organised the plogging exercise was to instill a sense of ownership among people about the place. "People who picked up waste on their own could then go on to prevent others from littering," she said.
The impact: Waste management experts said single-use and multi-layer plastics were largely non-biodegradable. Their presence in the soil degrades the soil quality and prevents the growth of plantation in that area.
What it showed: Basu Roy said discovering discarded plastic water bottles from Rabindra Sarobar highlighted one the most debated aspects of many parks.
"I do understand it is difficult to stay outside for long without carrying water, especially in the summer. But if citizens throw the bottles in this manner, it will force the authorities to impose a ban on carrying them. The onus is also on citizens to keep public spaces clean," he said.
Future exercises: A senior CMDA official said they have not planned a repeat of Saturday's exercise. "But we will soon sit down and decide. We may have similar exercises at regular intervals to make people more aware and create a sense of belonging among them," said the official.