After scouring umpteen shops at Burrabazar for two days, Subir Das was finally lucky enough to get the size of the National Flag he required at Motisil Street near Chandni Market in central Kolkata on Wednesday afternoon.
Such has been the demand for the 'Tiranga' (Tricolour) in the run-up to Independence Day in Kolkata this year that most wholesalers are fast running out of stocks.
After two years of lull, the Har Ghar Tiranga campaign suddenly seems to have pumped adrenaline into the sagging flag business by up to 200 per cent, if traders are to be believed.
My Kolkata tries to find out why the Indian National Flag has got everyone feverish with patriotism and how wholesalers have been caught completely unawares.
New flag code made it easy
Thanks to the Flag Code of India 2022, the National Flag is now allowed to be made of polyester, cotton, silk and wool along with the traditional khadi. Besides, it can be machine-made along with hand-spun and hand-woven. "There are no issues regarding these new rules. We just have to ensure the flag shape and if the Ashok Chakra is printed correctly and we are all set," said Rahul Gambhir, a shop owner in Burrabazar.
Buyers from all walks of life
The Prime Minister launched the campaign on July 22 to encourage people to bring the Tiranga home and hoist it to mark the 75th year of India's Independence. "Right from July 25, we have started receiving customers and with every passing day, the numbers surged," said Prasun Chatterjee, the owner of Neo Paragon, a shop on Motisil Street. He quickly added that students, teachers, businessmen and government employees form the bulk of the buyers.
Subir Das, who supplies material to different schools, said: "This is the first time the schools have ordered flags from me. We have received orders from five schools and more are joining the queue."
Subhadip Bhattacharya was caught hunting for large flags at the shops on Motisil Street. "I work for a central government-affiliated company and this year, we have been instructed to wave the National Flag on the roof of our office building," he added.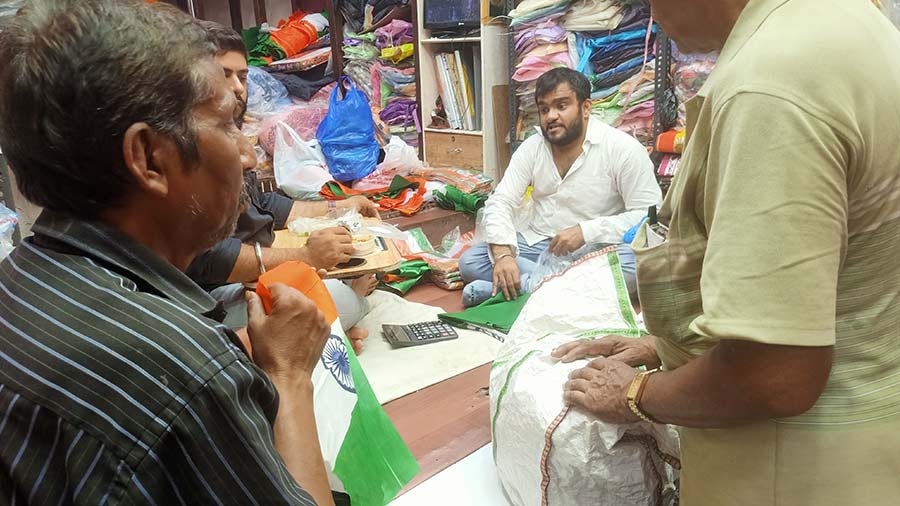 Rahul Gambhir at his shop in Burrabazar
 Supply pangs
The unprecedented demand for the Tricolour for the past three weeks has landed the sellers in trouble. In Burrabazar, most of the shops have had to place fresh orders to replenish stocks. "But we are not getting enough supplies, forcing us to turn away customers. They are either returning home empty-handed or going elsewhere to search. That is not desirable," said Himanshu Mishra, another shop owner.
Explaining the current situation, Prasun Chatterjee said considering the two-year lull in business and the present economic crisis, no one had anticipated that people would run around to buy flags. "So none of us had ordered enough cloth and stocks. The lockdown too has shut down most factories and rendered the workers jobless. That is affecting the supply schedule. Instead of three weeks to prep, we should've had at least six months," Prasun added.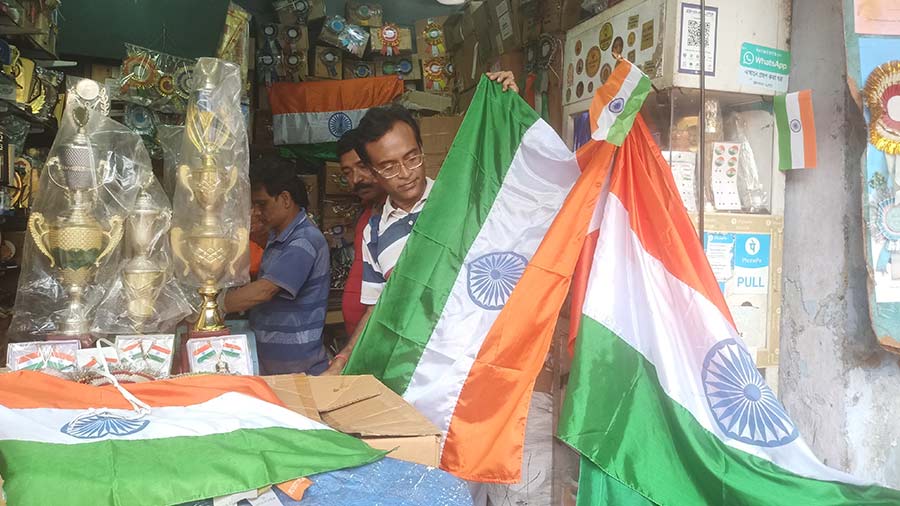 Subhadip Bhattacharya buys flags for his office building
Edge over 'banned' plastic
Flags are being stitched from three types of materials in the market. But the cloth variant is the clear winner, dominating over its paper and plastic counterparts. "While the paper flags are not very popular because of durability issues, plastic is often not chosen because of environmental concerns," said Rahul Gambhir, the shop owner.
"We are not stocking up on plastic flags because of the ban. In case of a raid, we will have to pay a hefty fine. It's best to keep the ones permitted," said Bulbul Das, a retailer at Jadu Babur Bazaar in south Kolkata's Bhowanipore area.
According to the sellers, flag manufacturers are using satin, butter silk, garden silk and khadi to stitch. While khadi is not very popular because of cost, satin ones are selling like hot cakes. Starting from Rs 20, the flag price goes up to Rs 650 per piece.
Bulk consumers
The BSS School, like many others, is celebrating the 75th Independence Day on a grand scale after a two-year pandemic break. For that, the students are making National Flags with eco-friendly materials like recycled paper. "Besides, we have procured a large number of paper flags from the market along with the main flag, made of cloth, that will be hoisted," said Rumki Banerjee, event co-ordinator of the school.