A downward Covid graph and a spell of chill that is possibly the season's last brought people back to their favourite destinations on Sunday.
The Alipore zoo, Victoria Memorial, Maidan and Eco Park were busy throughout the day.
Unlike in the run-up to the New Year, these places were not overflowing with people on Sunday. But after remaining shut for visitors for a full month, the footfall brought the buzz back.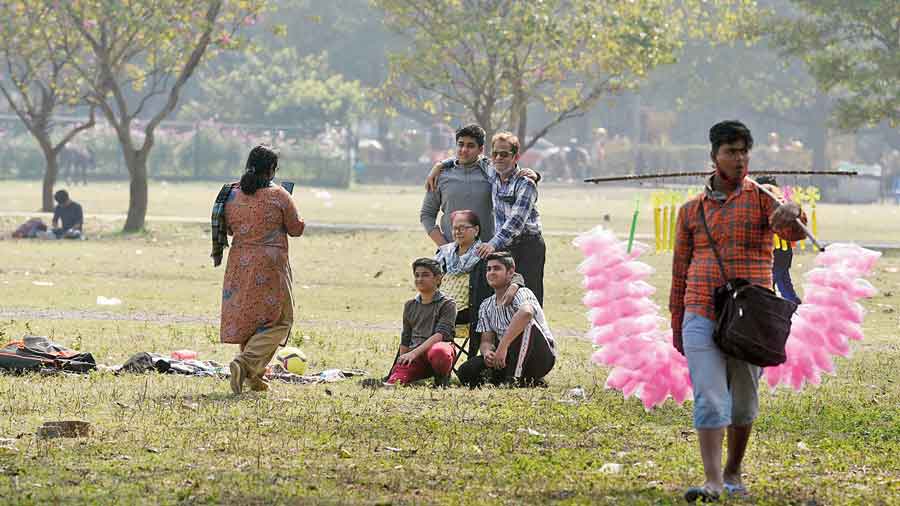 Visitors to the Maidan on Sunday afternoon.
Pradip Sanyal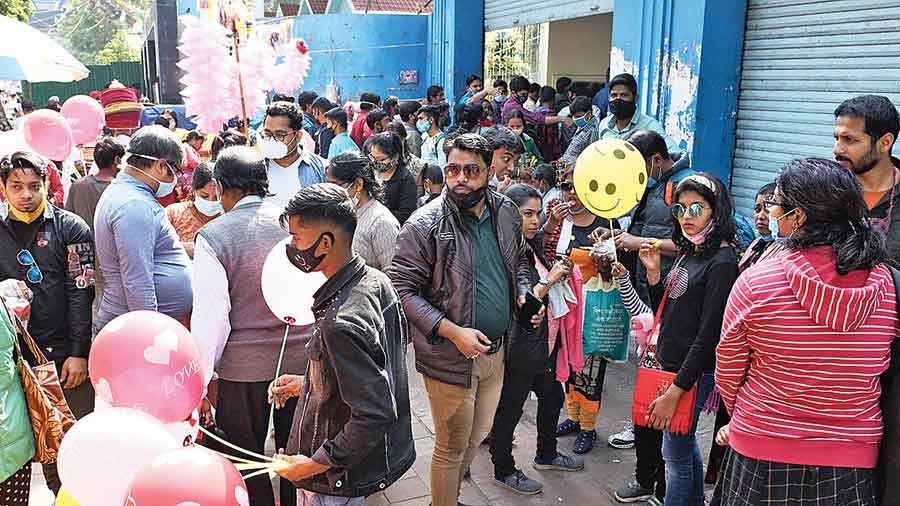 Visitors outside Alipore zoo on Sunday.
Pradip Sanyal
The zoo saw around 10,000 visitors. The tiger and chimpanzee enclosures were among the busiest.
Sekhar and Jayati Sarkar, from Thakurpukur, were at the zoo with their three-year-old son, Suman.
"His birthday is on January 20. We were supposed to come to the zoo on that day but it was shut because of the third wave. Sunday seemed perfect to live up to the promise," said Sekhar, who works at a nationalised bank.
The Victoria Memorial and Maidan were busy, too, throughout the day. The greens had a picnic vibe.
Large groups were seated on the green cover. People were having lunch from tiffin boxes and plates. Many people, young and old, were playing badminton and cricket.
Many people were without masks. Many others had them hanging from their chins.
The closure of parks and museums had made the Maidan the only destination for many winter revellers through the latter half of January.
Many hawkers, who usually sold their wares at the zoo or other areas in the city, had shifted base to the Maidan.
On Sunday, the crowd was spread evenly and so were the hawkers.
After a rainy Friday, the sky started clearing on Saturday. On Sunday, the weather was ideal for outdoor activities.
The minimum temperature was around 13 degrees, three degrees below normal. There was a hint of chill during the day. But the mild winter sun made the conditions pleasant.
Winter is now in farewell mode and the temperature is again likely to go up from Tuesday, according to the Met forecast.
"Another rainy spell is likely from next Friday," said a Met official.
Couples, groups of friends as well as families with kids in tow made a beeline for Eco Park on Sunday to enjoy picnic lunches as well as rides on the 100-acre waterbody.
The eateries and restaurants at the park, too, did brisk business after several months when the park was shut down because of the Covid restrictions.
Samraggi Ghosh, 28, a techie who works in a Sector-V based IT firm, headed to the park for a "picnic outing followed by lunch" with her gang of friends.
"We roamed all over and especially liked the Butterfly Garden before heading out to the Dhamsa tribal kitchen for lunch. In the evening we plan to head to the New Town book fair before calling it a day," Ghosh told this newspaper.