"Can we come back again to play tomorrow?" asked a 14-year-old boy at the end of a summer camp on Monday at Indus Valley World School.
Enjoying various games at the sprawling playground of the school was something he had never done before. 
Indus Valley World School invited 30-odd students of Classes VI, VII and VIII from various schools, all of whom are helped by Ek Tara, an NGO, to take part in a summer camp on its campus after a two-year shutdown forced by Covid-19.
The girls and the boys, all in their teens, who do not have access to any playground or "play area", have spent a week playing, participating in hurdle races, learning pottery and trying their hands at non-fire cooking.
For many of these children, who live in shanties, summer vacation does not mean holidays. Instead, it is time to do more household chores or look after their younger siblings at home.
"These children barely have access to a play area. When a school opens its campus for them, we know it is a controlled environment where we do not have to worry about their safety," said Vinita Saraf, founder and trustee, Ek Tara.
But not every school is ready to do so. "We had approached some schools in the past but they did not respond," said Saraf.
The students were helped by a few students of the Interact Club of Indus Valley World School. The idea was to give them an opportunity to enjoy themselves.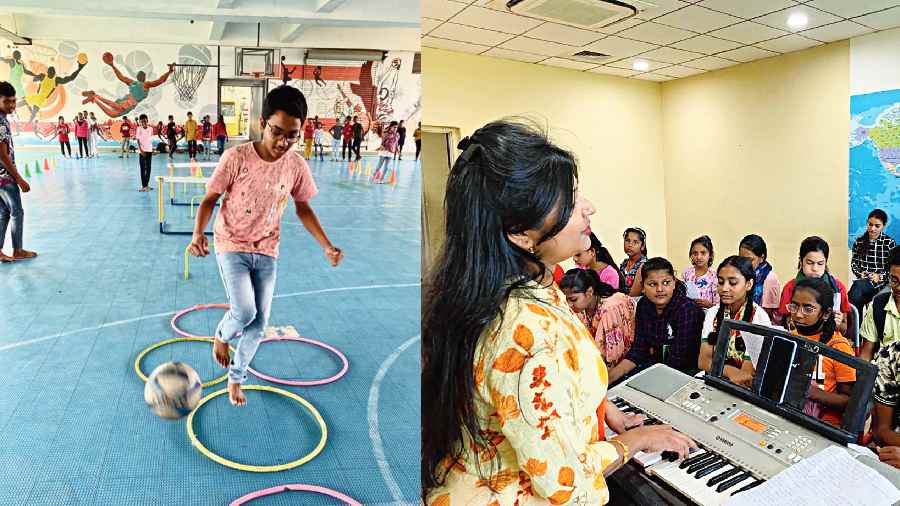 Children of Ek Tara participate in summer camp activities at Indus Valley World School
Sourced by The Telegraph
"Playing is an inherent part of growing up and many of these children are deprived of it. Playing a few hours a week gave them so much happiness," said Amita Prasad, director of Indus Valley World School.
"Last two years, all our collaborative projects were online. When we could reopen campuses we thought of inviting the children and giving them access to our infrastructure and play spaces," said Prasad.
Rizwana, 13, enjoyed pottery at the camp, an activity she did for the first time.
Her mother works in a factory and she could not keep her daughters with her during the lockdown and subsequent months.
Rizwana and her sister stayed with their grandparents till her mother got back her work and started earning again.
At Ek Tara, the thrust after a two-year gap is on sports and other non-academic activities.
"These activities help them focus on their studies as well. Later on, they can stand up in the world against other children as they too know a sport or an art form," said Saraf.