Durga is not only here to save the world from evil but also to protect the earth and the best way to do that is to recycle waste. So, the goddess on the Techno India main campus in Salt Lake is armed with recyclable items such as drums, pipes and screws.
In a labour of love, students of Techno India schools, colleges and the university came together to conceptualise and create their recycled Durga idol in just about 45 days. 
The beginning 
The teaching and support staff at Techno India played a key role in directing the students and helping them focus on the theme.
"Our co-chairman, Manoshi  Roy Chowdhury, had called us for a meeting and said we had to make a Durga idol from waste material. She also said we had to include students in the project and execute the project through them. We discussed the plan with the students and wanted to know what they had in mind. In a guided tour, we took them to Kumartuli and they saw how the idols are made. Once the project began, their zeal was worth watching. They enjoyed every moment of it. The entire idol has been drilled and fixed with nuts, bolts and screws. In future, this structure can also be recycled,'' said Saikat Chakraborty, arts teacher, Techno India Group Public School, Garia.
The process
Amrito Kumar Dey, a second-year student from the Department of Architecture, Techno India University, said the planning began around one-and-a-half months ago. "We were enthused by the idea of creating an eco-friendly idol with reusable items. We have a recycle bin in our university and asked students to dump unwanted and reusable materials there. From there, we selected whatever we needed. We have used a lot of items like pipes, bottles, plastic bowls, drums and other items that can be recycled. We took almost a week to paint the structure. We have used around seven to eight coats of spray paint and a layer of varnish,'' Dey said.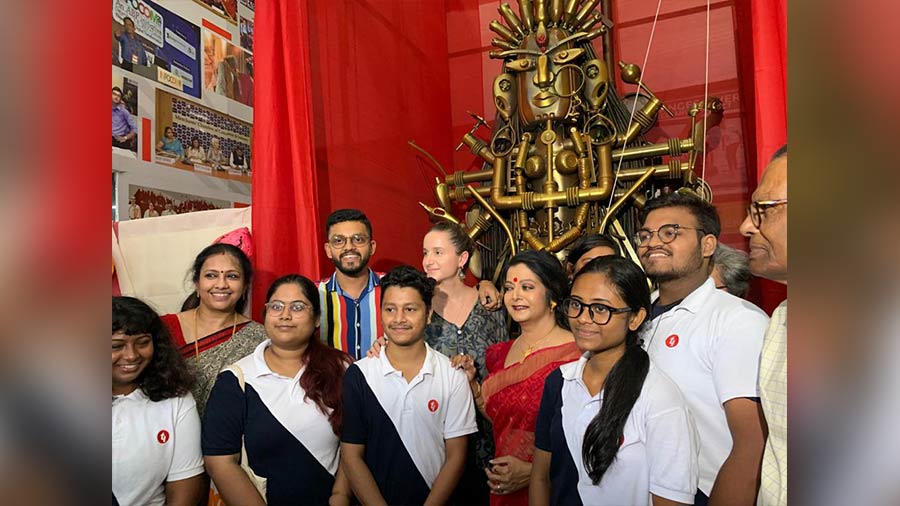 The chief guest for the evening was elocutionist Bratati Bandhopadhyay
Lessons learnt 
A core team of 15 students were actively involved in the making of the idol. Students juggled academics and worked on the project for around four hours a day to complete the idol on time. 
So, what did they learn from this? Aditi Mandal, a Class XI Humanities student from Techno India Group Public School, Garia, said, "I was very excited to be chosen for the project. We travelled from Garia to Salt Lake every day to work on the project. It taught me that if used intelligently and creatively, waste materials can be of good use.'' 
"In Architecture, we have a subject that deals in green buildings and their sustainability. The main motto of this idol is that Maa Durga fights pollution and supports the principles of going green. We learnt how to reuse even the smallest of things which we normally throw away in daily life,'' Dey said. 
The grand unveiling 
The 11.5 ft idol was unveiled on the Techno India Main Campus, Salt Lake, on September 28, at a grand ceremony in the presence of Manoshi Roy Chowdhury, co-chairperson, Techno India Group; Meghdut Roy Chowdhury, chief innovation officer, Techno India Group; and Pauline Laravoire, director, sustainability, Techno India Group. The chief guest for the evening was Bratati Bandhopadhyay, elocutionist. 
"We are all connected with one song since childhood and that is 'Aye re chhute aye, pujor gondho esechhe.' Today, my teachers, students and the dhaakis have created the same ambience here. One must see it to believe the way students and teachers have toiled day after day to prepare the structure. Without passion, involvement and sincerity, it could not have been possible,'' co-chairperson Manoshi Roy Chowdhury said.
The programme ended with a round of dhaak and dhunuchi naach.