Empty grasslands are being set on fire in New Town regularly.
The fires like in other places in the state are set by people who want to drive away snakes and reduce vegetation so that they and their livestock can move around freely, an official of the New Town Kolkata Development Authority (NKDA) that has formed a cell to monitor and  stop such fires said.
Although New Town has almost no farmlands, cattle herders often head to the grasslands to let their cows and buffaloes feed.
"We have also found instances where fires are being set to waste that is dumped on empty plots and grasslands," the official said.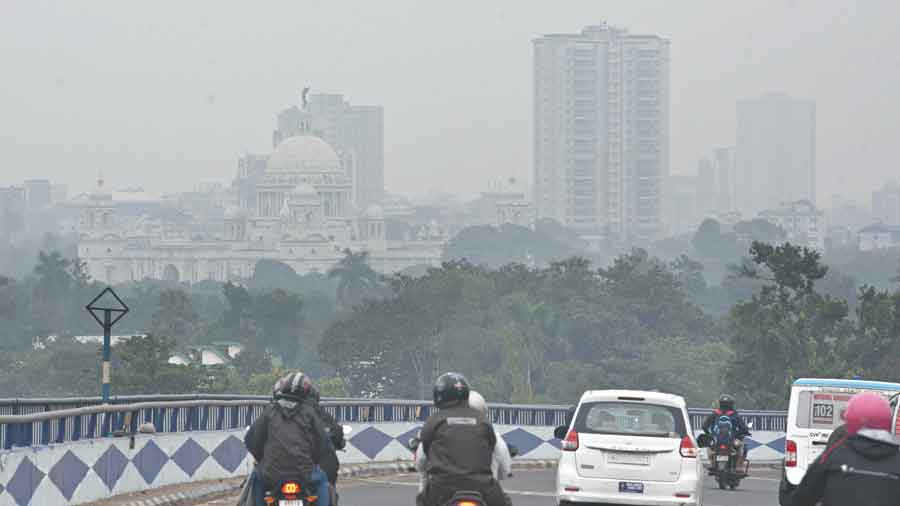 Haze over the city on Monday morning.
Pradip Sanyal
Empty plots and grasslands in New Town are all owned by the Housing Infrastructure Development Corporation (Hidco) while NKDA provides civic services to all three action areas of New Town.
Burning of waste in the open across Kolkata contributes significantly to the city's air pollution.
Across the city, as winter comes, municipal solid waste collectors gather dry leaves and paper and burn them in the open. Many residents also do the same.
Kolkata Municipal Corporation officials said they have instructed solid waste collectors to not burn any waste. Burning waste is an offence that invites pecuniary punishment, said the official.
In New Town, however, such fires are not only driving up air pollution levels but also destroying the grasslands where many birds including migratory birds are nesting.
At least a dozen fires have been reported in the past four days by residents. One was reported from behind Bengal Silicon Valley adjacent to Eco Park and several fires have been spotted by residents behind the Mother's Wax Museum.
Residents of all three action areas said that they have spotted fires being lit even on empty plots and on a large empty grassland near Elita Garden Vista and Sukhobrishti Housing Complex in Action Area III.
On Monday morning and Sunday night, residents of action areas I and III were greeted by acrid black smoke rising up from two separate grasslands.
Subhashree Chakraborty, a resident of BC block in Action Area I, said that she had to keep all doors and windows shut since Monday morning because a grassland near her home was set on fire.
"There was an extremely pungent smell and we were having difficulty breathing. My son suffers from asthma and we had no option but to stay cooped up indoors all day," said Chakraborty.
New Town does not have an air quality monitoring station and there is no way to measure the impact of the fires on the air.
The grasslands and marshlands in the township and in adjoining Rajarhat are home to a wide variety of birds and an annual winter destination for many migratory birds.
Many nests have been burnt because of the frequent fires in the grasslands, said birders who frequent the areas.
The number of insects and rodents that live in the grasslands, a steady source of food for the birds, has also depleted.