A group of around 15 underprivileged children put up a street play in the Deshapriya Park area of south Kolkata on Saturday evening. The play reflected on war, Covid pandemic and global warming, some of the issues that have impacted the kid's present and future.
The immense health and socio-economic crises brought about by the pandemic have disproportionately hit underprivileged children. The play reflects the hardships that most of the children go through in their everyday life.
A 13-year-old saw her father, an app cab driver, lose his job.
A 16-year-old boy had to deal with an abusive father after their source of income dried up. He got beaten up for trying to save Rs 500 for his mother's treatment.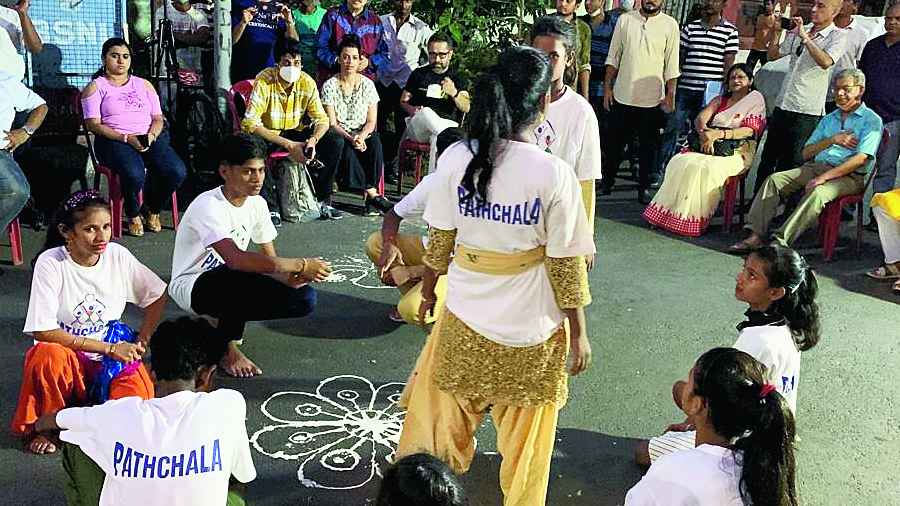 The children are from an NGO called Pathchala. The NGO works with underprivileged children and holds dance, art and crafts workshop for them. The kids are also provided academic assistance.
"Through these street plays we talk about issues that impacts these kids directly. This is an attempt to make these kids socially aware," said Rukmini Paul, president of Pathchala.
Being able to perform in public also builds confidence in the kids. The NGO currently works with 60 children from the age of four to 18.
Pathchala had started its journey in 1997. The founder, Indrani Ganguly, Paul's mother, wanted to bring a change in the lives of underprivileged children.
On Saturday, the play was put up in front of Oudh 1590. The restaurant had collaborated with the NGO and provided refreshments to the kids.
"The NGO is in our vicinity and work with the children selflessly. This is our first collaboration with them and we intend to carry it forward," said Shiladitya Chaudhury, co founder, Oudh 1590.
Along with the play, candles and envelopes made by the children were put on display.