Residents of HA Bock were treated to an educational show that dispelled superstitions and celebrated the use of science in everyday life.
"Science is all about application. You must apply what you read in science books. Things like wearing a red thread on the wrist after a puja or married women wearing a noa actually interrupt the flow of the blood through the veins. Women fall sick more frequently on account of that noa or loha badhano in their hands," said Tarun Mukherjee, a member of the West Bengal Vigyan Mancha, who was conducting the show. "Such superstitions are harmful to us but since religious beliefs often supersede common sense, we don't question them."
Mukherjee, a science teacher at a government school in Jatragachhi, was accompanied by Kaushik Sarkar, another member, in performing some experiments on stage.
The duo cited examples in Purulia, as recent as during last year's lockdown, where women were set on fire after being declared witches. He also talked about superstitions among the youth, such as an incident in which a teenager killed his own mother as a sacrifice for a puja.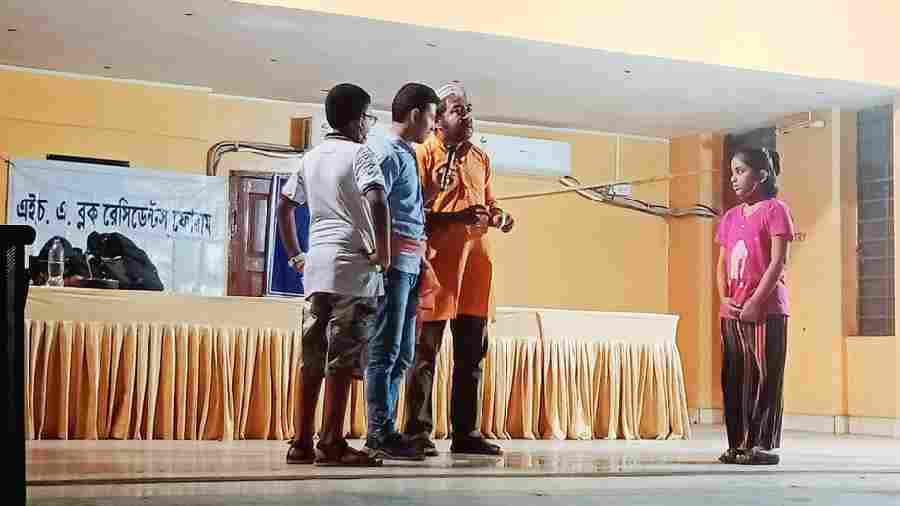 Explaining how chemicals can prevent burns on skin
Showli Chakraborty
"I remember an instance when a priest wrapped a cotton cloth around his shoulders and sprinkled kerosene over it. He then walked through a gate of fire. His clothes did not catch fire for three reasons. One, the material was cotton and the heat escaped from the body. If he wore terylene or nylon then the heat could not have escaped. Second, if there is no air bubble between the cloth and the skin, which is possible if the cloth is held very tightly, then his clothes will not catch fire. Third, all this was done within a fraction of a second in which he crossed the gate of fire. It was not a miracle but science in application."
However, when he asked the lady to walk through the fire after him, her clothes caught fire and she was declared a witch. "The woman died of her burns."
The children were sitting starry-eyed in anticipation as they would be star-gazing with telescopes that the Mancha members had got for them. But sadly, a sudden bout of thunderstorms and heavy rains had them all scurrying for shelter and this segment had to be cancelled.
"Scientific awareness is the only cure against superstitions," said Milan Gayen, a member of the group. 
"Though monsoon is not the best time for sky-gazing, we must encourage children to look at the sky and study space. Few know that the telescope was invented long before Galileo was given credit for it. It was invented by an optician by placing two lenses parallely to bring things that are far off closer to the eye. Galileo only developed this scientific fact and placed two convex lenses on two ends of a pipe."
Moinak Dutta, an organiser, said their aim was to create a scientific attitude among people.