Delhi Public School, New Town
After a hiatus of two years, Delhi Public School, New Town, organised their annual sports day on the school premises from December 12 to 14.
Day I saw the tiny tots from Nursery to Class II take part in races, relays and drills.
As a special attraction, 20 children from Tulipians Preschool performed an aerobics dance.
Children from Premasree, a residential home for the visually impaired, also performed on the occasion.
Classes I and II students of the host school took part in various drills and races, raising their voices on environmental issues. The Class II students also showcased their karate moves.
On Day II, students of Classes II to IV took over the school grounds, giving off their best in flat race, potato race, obstacle race, one-leg race, relay and other events. Students also performed yoga and karate moves and a Callisthenics drill.
Children from Basha, a home for the underprivileged, took part in a race and a musical event. The audience enjoyed the event very much.
The final day was for Classes VII to XII. Apart from the marchpast by the four houses and different hurdles and races, the students showcased a pyramid formation and presented a Football Jugglers show that left the audience cheering. The parents, teachers and school staff members also took part in various races and events.
Children from an NGO, Newtown Cenergy Welfare Society, took part in some races and enjoyed themselves as well.
"The students and teachers were extremely happy to be part of the annual sports after three years. The drills, races, martial arts and yoga have helped the children regain physical fitness. There was music, colour, healthy competition and joy all around," said Delhi Public School, New Town, principal Sonali Sen.
Ram Mohan Mission High School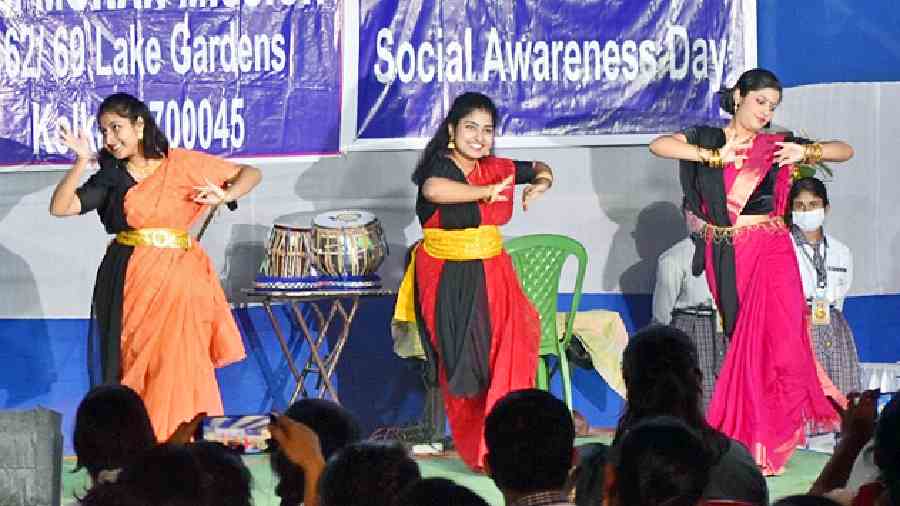 Ram Mohan Mission High School celebrated Social Awareness Day to mark the birth anniversary of its founder-president and philanthropist Sankar Biswas on December 1.
The aim of the event was to spread awareness about the school's fight against social evils such as female foeticide, child marriage, dowry, child labour and domestic violence. The guest at the event was MLA Debashis Kumar. Fifty marginalised children were given school bags, pencil boxes and food packets on the occasion. The students also presented a cultural programme.
"Every year, on this day, we try to make our students aware of other children who are growing up in more difficult circumstances. This year, we invited 50 underprivileged children. Our students interacted with them and got to know about their world and issues. The aim is to make our children more sensitive," said principal Sujoy Biswas.
Lions Calcutta Greater Vidya Mandir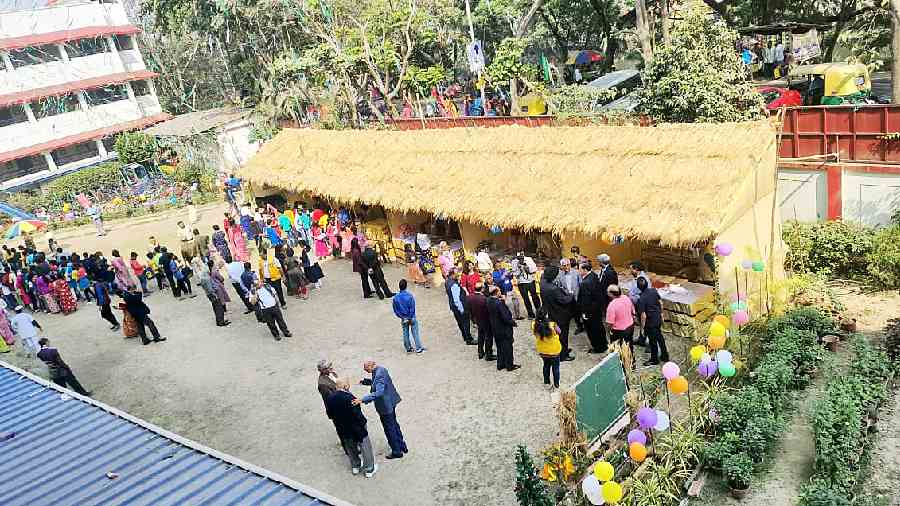 A fair to give underprivileged children a good time was organised by Lions Club of Calcutta Greater on the grounds of Lions Calcutta Greater Vidya Mandir on December 10.
Haate Baazare, based on the joy of giving, brought cheer to 300 marginalised children as they had a day out, making rounds of the various kiosks up for grabs. The children could "buy" goodies like blankets, utensils, pressure cooker, sarees and other utility items with play money.
There was also a play area for them. Eye screening, dental and general health checkup were arranged for the children as well. They also had a blast sampling treats from various food stalls.
The haat was inaugurated by past international president Lion Frank Moore. The chief guest was international third vice-president A.P. Singh, past international director Prem Lahoty and others.
"Haate Baazare aims at serving the marginalised by not compromising with the self-respect of the beneficiary. The beneficiary has the privilege of 'buying' the products of his or her choice with play money. They also underwent medical check-ups, enjoyed party games and treated themselves to delicious snacks and sweets," said Lion Pramod Chandak, president of the school's managing committee.
"The smile on the children's faces and the sparkle in their eyes as they chose the goodies from the kiosks were unbelievable. This is a dreamcome-true day for the 300 children between eight and 15. We celebrated the joy of giving," said principal Kakoli Ghosh.
Khalsa Model Senior Secondary School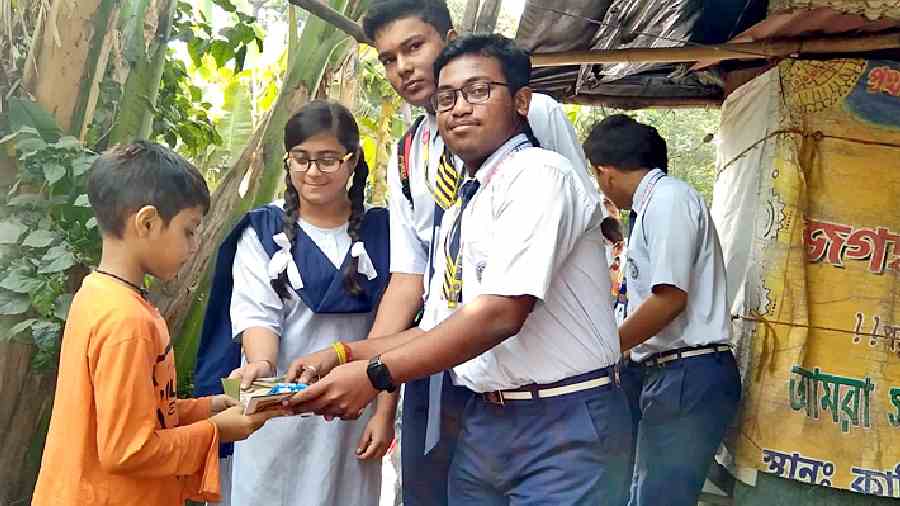 Class XI students of Khalsa Model Senior Secondary School spread the message of service on the eve of Children's Day.
They visited local slums to distribute essential amenities among the children there. A lot of interaction also took place between the children and the students.
A special assembly was organised on the school playground to celebrate Children's Day on November 14. Sandeep Chatterjee, president of Rotary Club, Calcutta chapter, was the guest. The teachers played the role of students in a cultural programme. The children were happy seeing their teachers perform.
"Service is the essence of humanity, and our students undertook the charity drive for the first time since the lockdown. Over these couple of years, the children have grown more sensitive. Now, they are looking forward to serving even better," said principal Gurmeet Kaur Arjani.
Satish Chandra Memorial School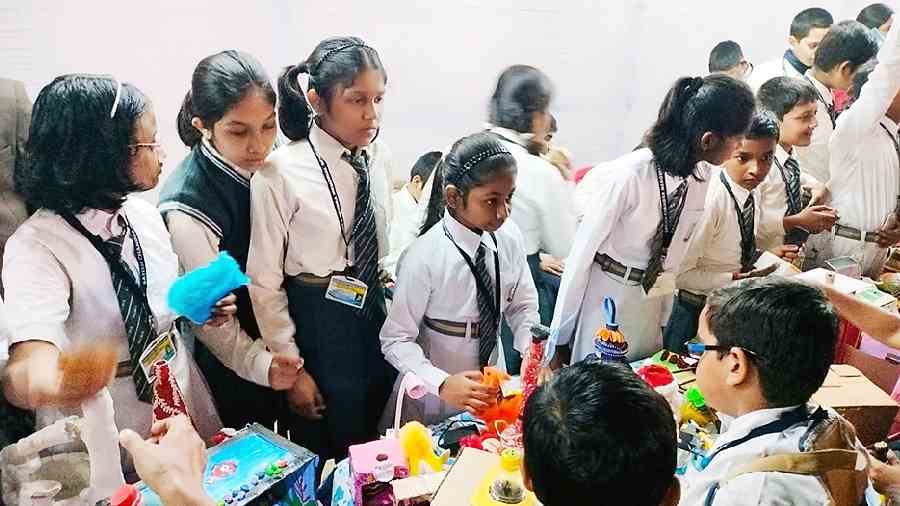 To encourage students learn through fun activities outside their classrooms, Satish Chandra Memorial School in Chakdah organised a science exhibition, Nava Nirman, on November 30. The participants were right from Nursery to Class XII.
The students paid a tribute to two Bengali scientists — Jagadish Chandra Bose and Prafulla Chandra Ray — of the Independence era through the event. Besides science models and projects, around 400 children made battery-operated and creative toys on the occasion. There were projects on AI as well as attempts at replicating some electronic gadgets.
The chief guest at the exhibition was K. Srinivasan, regional officer of CBSE-Bhubaneswar. Other guests included Gautam Bhattacharyya, director of the Saha Institute of Nuclear Physics and his colleague, Amit Ghosh.
A large number of students also created art and craft projects. There were food stalls, toys and other creative kiosks for the visitors. The footfall was around 7,000.
"This is our annual event, and it has always been a huge learning experience for our students. We aimed to educate them about Jagadish Chandra Bose and Prafulla Chandra Ray's contributions towards science and the freedom movement. The children's efforts were appreciated, especially the toys they made," said principal Arup Sarkar.