DPS, Megacity
Students of DPS, Megacity, are back on the sports field, achieving new feats and learning new things.
The school bagged the winner's trophy in football at Concord, an inter-school fest hosted by Calcutta Boys' School. Its basketball team came first runners-up.
Asmita Karmakar, a promising swimmer of the school, came first (with a new state record) in 200 IM and 200m freestyle at the State Age Group Swimming Championship. She came third in 100m freestyle, 100m breaststroke and 50m breaststroke.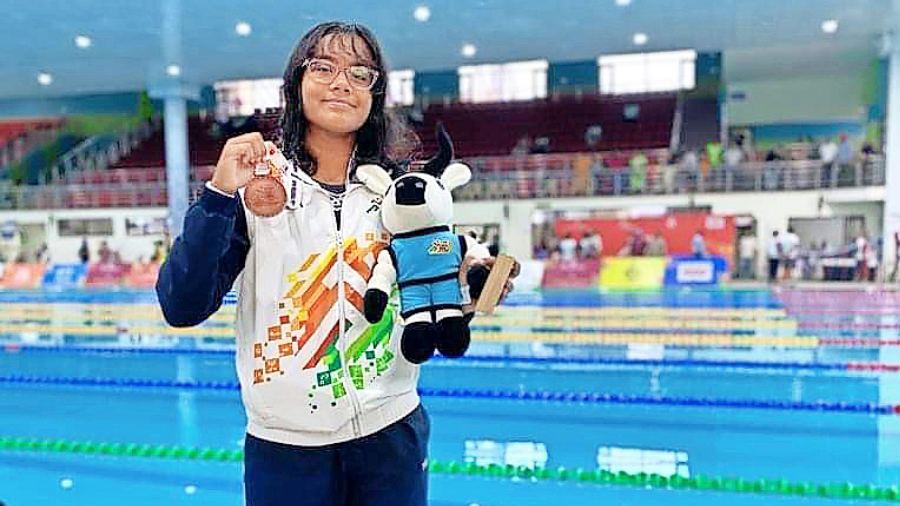 In the 8th Netaji Subhash State Games 2022, Asmita bagged gold in 200m freestyle, 100m freestyle, 200 IM, 50m breaststroke and a bronze in 50m butterfly.
She also took part in the 48th Junior National Swimming Championship in Bhubaneswar winning a bronze in the freestyle relay from the group 1 category.
"Sports activities help the students develop life skills. It teaches discipline, dedication, commitment and teamwork. It is our responsibility to award the courage of our students and support them as they work towards an integrated and holistic development," said Indrani Sanyal, the principal of the school.
Shri Shikshayatan School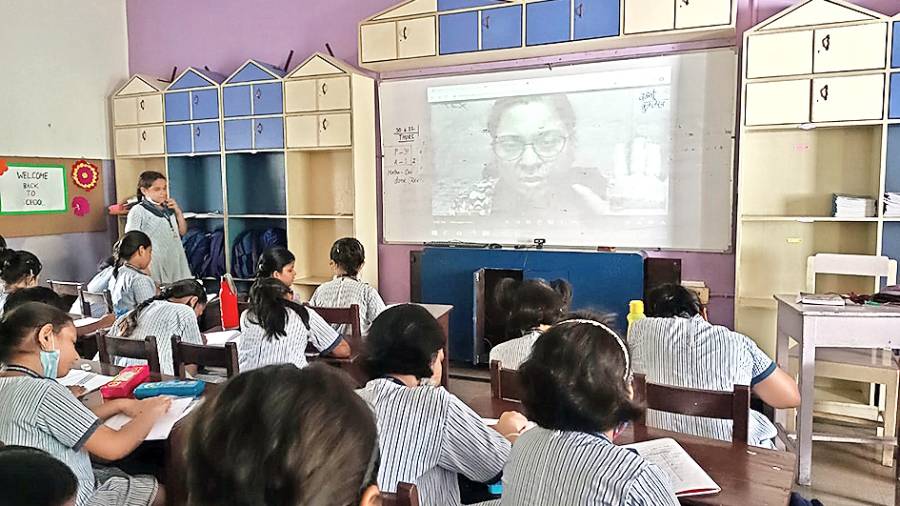 Many teachers of Shri Shikshayatan School are carrying on with their classes, despite being unwell and quarantined. Recently, junior school teacher Tanushree Chakraborty continued with her classes after testing Covid positive.
Chakraborty was mildly diabetic, so even when she tested negative a few days later, the school authorities allowed her to conduct classes from home as she did not want to miss them.
The school's "Teacher at Home, Learners in School" initiative has thus made it possible for quarantined teachers to continue with their classes within the safety of their home, using top-notch remote facilities. The initiative was much appreciated.
"This is a remarkable effort. The Shikshayatan Foundation always tries to do things with a difference," said the foundation's secretary-general Bratati Bhattacharyya.
"Teacher Anwesha Bose was the pioneer among us. She taught a specialised subject and did not want to miss too many classes. I requested her to try teaching from home. By now more than 10 subject teachers have followed suit. During a particular class, a substitute teacher steps in, switches on the smartboard and assists the quarantined teacher," said principal Sangeeta Tandon.
Seth Soorajmull Jalan Balika Vidyalaya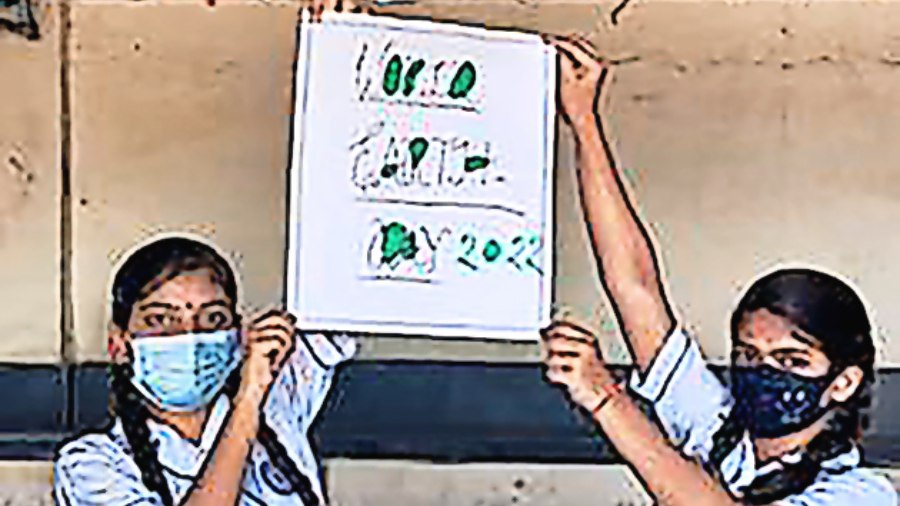 Students of Seth Soorajmull Jalan Balika Vidyalaya tried to make their school greener on the occasion of Earth Day. They gathered on the school grounds and planted saplings on April 30.  The students also hand painted the pots.
The celebration also involved students making bookmarks and craft. An exhibition of models made out of newspaper and recycled materials was organised on the occasion.
The main purpose of the celebration was to spread awareness about global warming, climate change and the need to protect the planet. The school is also plastic-free zone.
"We try to build consciousness about the environment among our students from an early age. We also encourage them to make paper and cloth bags and replace the plastic ones at their homes and around," said principal Nupur Banerjee.
Pursushottam Bhagchandka Academic School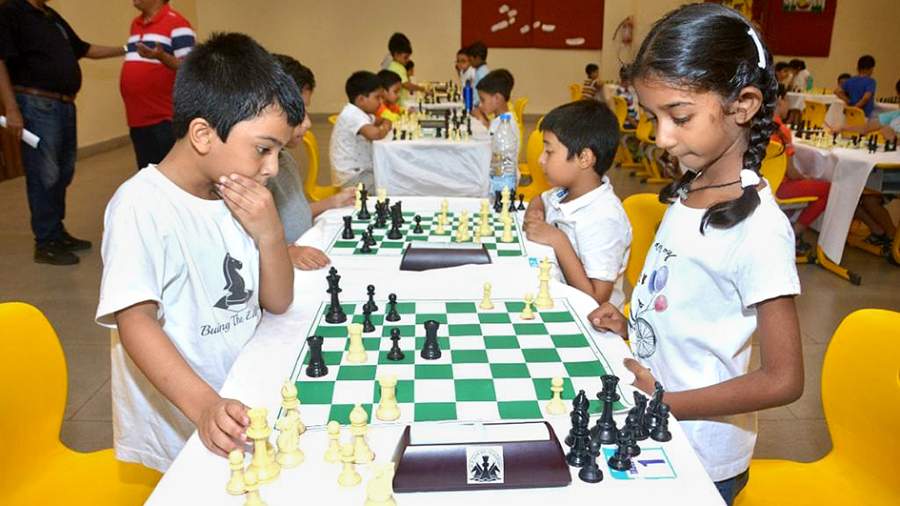 Deep concentration, smart moves and quit wit - the West Bengal Under-8 Open and Girls Chess Championship 2022 threw the spotlight on many talented players.
The meet was organised by Pursushottam Bhagchandka Academic School in association with RS Chess Academy, on behalf of Sara Bangla Daba Sangstha on June 18 and 19. Grandmaster Dibyendu Barua was the chief guest, along with school management trustee Kirti Bhagchandka.
There were many close contests with some players wiping out their opponents with professional calmness.
The closing ceremony and prize distribution were held at the end of the event in the presence of Indian Chess Federation secretory Syamal Dutta and joint secretaries Rajendra Singh, Tushar Chatterjee and Swapan Biswas.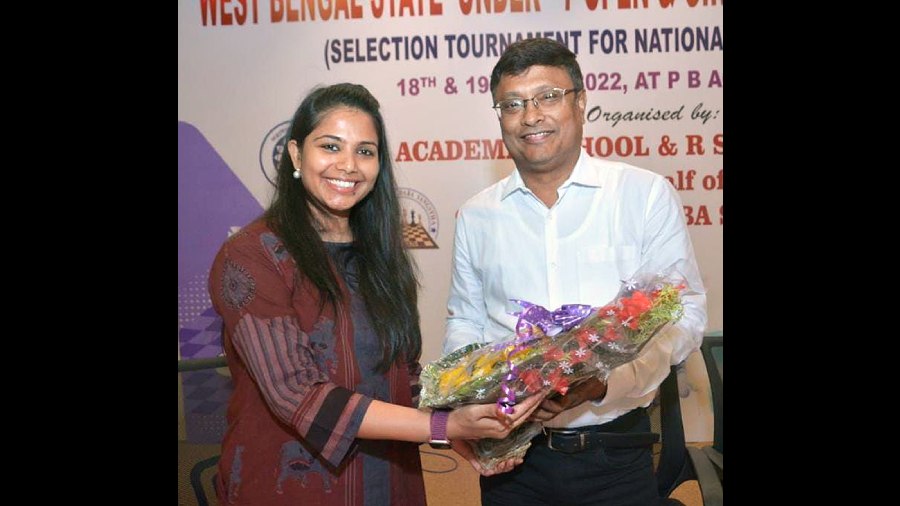 Principal Madhuparna Andrews gave away the trophy to Shruti Sarkar from North 24 Parganas. Shruti won the female category with 6.5 points.
It was a great experience for everyone present on the occasion and a proud moment for the school for hosting the contest.
"It was an honour to host the event, and I am glad that a girl child won the championship in the end. Three of my students took part too. Everybody put up a great show. Chess is not easy. Seeing the poise and focus of these players was very inspiring," said Andrews.