Children and individuals with special needs are back on the stage after more than two years of the Covid pandemic. Performing in front of a live audience is helping them regain self-confidence, said organisations working with such individuals.
Such events are also reinstating parents' confidence in the abilities of their children.
While mainstream schools and organisations have been organising on-stage events since April, organisations took some time to prepare the special kids for live performances.
Last two years the children were confined at home and their social and behavioural skills had suffered a major setback because of a lack of in-person interaction.
"We have been preparing the kids for over four months for a programme that was held on September 5. Initially, the rehearsals lasted for half an hour before the kids started to rehearse for a longer duration. As the day of the programme approached, the kids would rehearse throughout the day. Our children love to dance and sing but they have to be given time to prepare themselves," said Arunasis Adhikari, the secretary of a trust that runs Bhabna, a school for children and individuals with special needs.
On Teachers' Day, individuals of Bhabna put up a performance in front of an audience of 200.
"The last two years were all about online lessons. The live performance gave the kids' confidence a huge boost," said Adhikari.
Such programmes also reinstate the confidence of parents in their children, said those working with them.
"It is positive reinforcement for the individuals and their families. Such programmes help bring out the best in the kids," said Sumitra Paul Bakshi, director of DWish, an organisation under AKB Memorial Trust that works with children and individuals with special needs.
Paul Bakshi said that it was rewarding for parents to see their children perform on stage. Parents are often worried that their children may not be able to do things that others kids can.
Sunita Gupta, a mother, was almost in tears when she saw her daughter dance on stage.
"Honestly, I did not expect her to be so good. In fact, I noticed that she was more cheerful than usual during the rehearsals," said Gupta.
HEAVY RAIN ON CARDS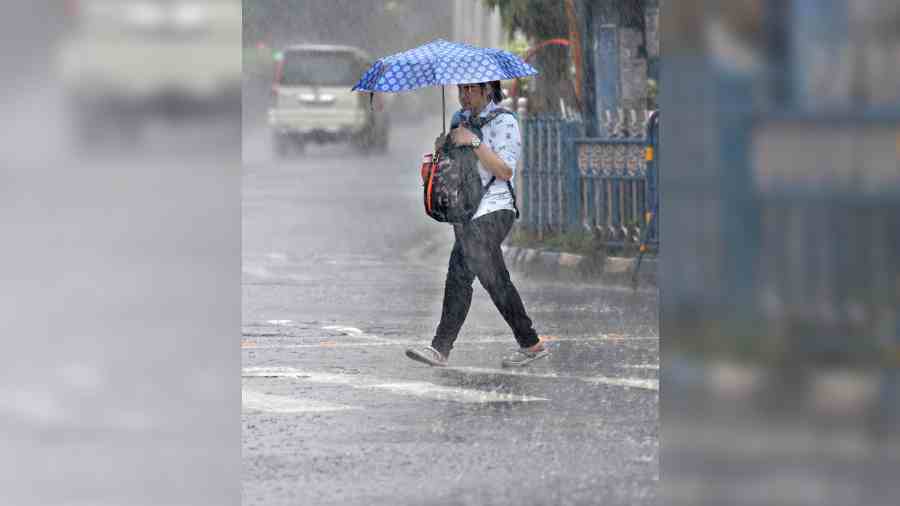 Picture by Pradip Sanyal
A pedestrian caught in the rain on Park Street on Saturday. A low-pressure area over northwest Bay of Bengal off the south Odisha coast is likely to intensify into a depression by Sunday. There is no change in the forecast for Calcutta, which is tipped to get heavy rain on Sunday and Monday. "It is likely to concentrate into a depression over northwest and adjoining west-central Bay of Bengal off South Odisha north Andhra Pradesh coasts during the next 24 hours. Enhanced rainfall activity likely over the districts of south Bengal," a Met bulletin said on Saturday afternoon.