Last year was a miss but this year residents of SOS Children's Village were excited as they came together to celebrate Children's Day.
This international organisation for neglected and orphaned children held a small celebration to mark the day with the children at their West Bengal branch in BK Block. Children from all the 15 houses took part and celebrated either by dancing, singing or reciting a poem.
Kiran Malda, Ajay Malda, Sagar Kumar, Priyanka Karmakar, Mandiri Karmakar and Chandana Sardar, six participants from House I, started the day with a beautiful group performance as they together chose to sing the Tagore song Alo amar alo ogo.
Rani Chakraborty choreographed the item for her five housemates from House II as they danced to Buddhu sa mann from the film Kapoor & Sons. "It was difficult to teach them how to dance. They are not dancers but they wanted to take part today. It was also fun at the same time. We practised for only three days ," smiled Rani.
"These kids have talent in them. They just need proper guidance. Though they have music teachers and others for guidance, today everything was done by them. They prepared their performances on their own. We are trying to provide them with the facilities, trying to bring them better teachers so their educational background becomes strong too," said Village director Arunangshu Guha Thakurta.
Six-year-old Roshni Singh was very excited to dress up in a colourful sari with flowers in her head as she danced to Kanha soja zara from Baahubali 2, followed by Somi Das's performance to the song  Dekhechho ki takey. "I have been dancing since a very young age and I love dancing. I always teach others too so doing it all again was fun. Last year was difficult and I missed dancing in front of everyone.I am glad that we are slowly getting things back to normal," smiled Somi from House VI before she got busy discussing her performance and clicking selfies with her friends.
Kajal Karmakar and Kajli Karmakar chose to wear matching yellow and red ghagra as they danced to a Haryanvi song, 52 gaj ka daman.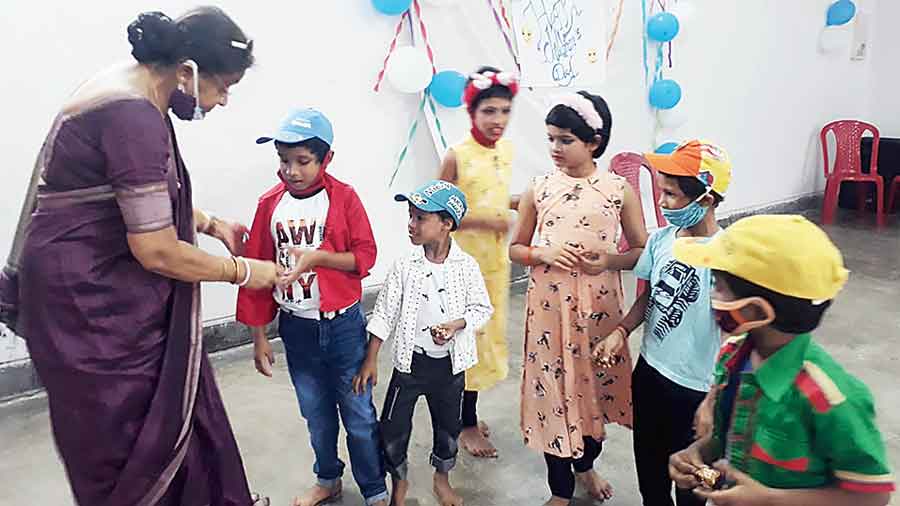 Chocolates being distributed
Seven-year-old Siddhartha Sardar put up a confident solo performance reciting Kazi Nazrul Islam's poem Probhati. "I like poems and I had known this one for a long time so I was not nervous to perform this in front of everyone," said the House IX member.
At the end of the show, chocolates were distributed by Sonali Das, secretary of the centre. She urged everyone to always keep learning. "Though this is a celebration, we should still learn from our mistakes. I have noted how you all can improve your performances so feel free to contact me anytime to get my feedback so you all can do even better next time," she said.
Shatadipa Bhattacharya
Art exhibition was held to support breast cancer victims at Vedic Village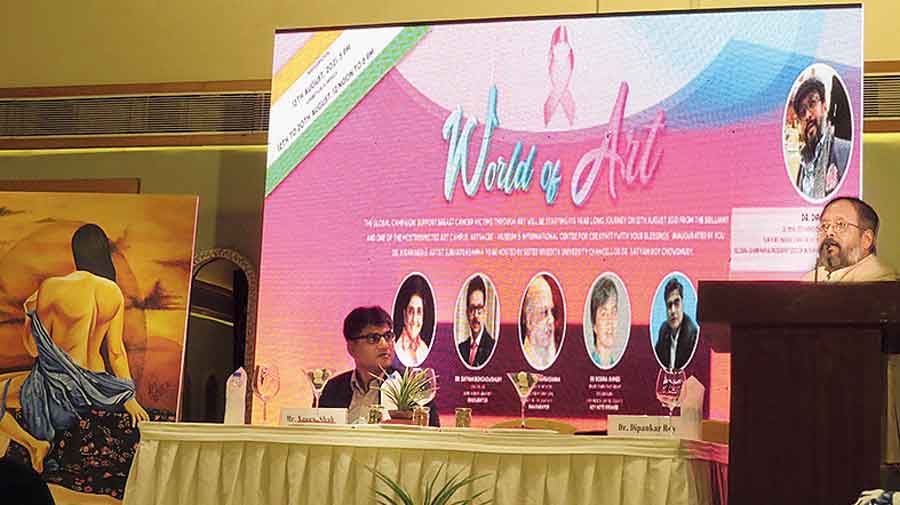 Dipankar Roy addresses the gathering at Vedic Village.
Picture by Sudeshna Banerjee
An art exhibition was held to support breast cancer victims through art at Vedic Village.
"This is a year-long campaign that aims to raise US $ 1lakh through art for the treatment of cancer patients from disadvantaged backgrounds. We have pledged to start a cancer research and treatment centre in Moradabad, UP, in partnership with Cosmos Hospital. Our organisation is also talking to General Insurance Worldwide. We will pay annual premium to get 5,000 patients treated and 25,000 diagnosed," said Dipankar Roy, an orthopaedic surgeon residing in Rosedale Gardens, who is the chairman and chief executive officer of International Art Acts.
A total of 32 works of art were on display, including 12 by painter Samir Dutta, a Kestopur resident, which were to be sold to raise funds.
Several cancer survivors were felicitated. A wellness programme called Vedic Sanjeevani was also launched by the programme host, Vedic Village Spa Resort.
If you want to get a programme featured in this column, write in to The Telegraph Salt Lake, 6, Prafulla Sarkar Street, Calcutta - 700001 or call 22600115 on Wednesday evening or e-mail to saltlake@abp.in