Around 100 environment-conscious citizens, including Kolkata's mayor, a senior minister, KMC officials and experts, discussed the city's climate future for over three hours at an event held at Kolkata Press Club on June 5. 
In the wake of a series of recent UN reports underlining Kolkata's high climate risk, Kolkata climate future: Searching for the solution was organised by Environment Governed Integrated Organisation (EnGIO) in association with Prabha Khaitan Foundation and powered by The Telegraph Online My Kolkata.
Here's a summary of the main points that came up during the discussion and recommendations by the experts.
City mayor Firhad Hakim:
A plan is being prepared to ensure that the city's commercial vehicles run on non-fossil energy sources from 2030.
An expert committee is being set up to prepare a climate action plan for the city
KMC will introduce more electrical vehicles to reduce both the city's carbon footprint and air pollution
Plans are underway to create small pockets of urban forest within the city to reduce its load of greenhouse gas
Disaster management minister Javed Khan:
Illegal constructions and encroachments, particularly in East Kolkata Wetlands, are needed to be prevented to stop drainage and waterlogging problems
The ministry concerned is working in tandem with KMC to upgrade the city's disaster management set-up.
Bangladesh deputy high commissioner Andalib Elias:
Kolkata can follow Dhaka's cue as it is mandatory for a new building in the Bangladesh capital to save 40 per cent of the total space for greening and solar panels in any new building to reduce carbon stress.
KMC mayor-in-council Debashish Kumar:·      
KMC needs more funds to continue the city's solar programme in parks and other public places
  More FAR (floor area ratio) is needed in new buildings for substantial greeneries
Former sheriff Dulal Bose:  
Local clubs can promote climate awareness and action during the Durga Puja festival this year.
Indian Chamber of Commerce director-general Rajeev Singh and Bengal National Chamber of Commerce and Industry director-general Subhodip Ghosh:
Most industries comply with green norms and are ready to help implement any plan proposed by the government.
West Bengal Pollution Control Board chairman Kalyan Rudra:
Dust is a major problem that influences urban heat islands in city pockets.
Environmentalist Arunabha Majumdar:
Though the city's drainage was originally designed considering a maximum rainfall of 6 mm per hour, it has become important to plan drainage considering 12-18 mm rainfall per hour.
Solar expert S.P. Gon Choudhury:    
 Kolkata has the potential to generate over 500 MW power through rooftop power; KMC bylaws need to accommodate a solar policy for the city.
Transport expert Bhargav Moitra:
Promotion of electric buses and scrapping of 15-year-old vehicles is a positive sign. However, water transport and rejuvenation of tramways in the city must be encouraged.
Kolkata Press Club president Snehasish Sur:
Media needs more familiarisation regarding climate change and related issues. 
Activist Naba Dutta:
The administration needs to fulfil its commitments and laws should be properly implemented to combat environmental violations, which are still rampant.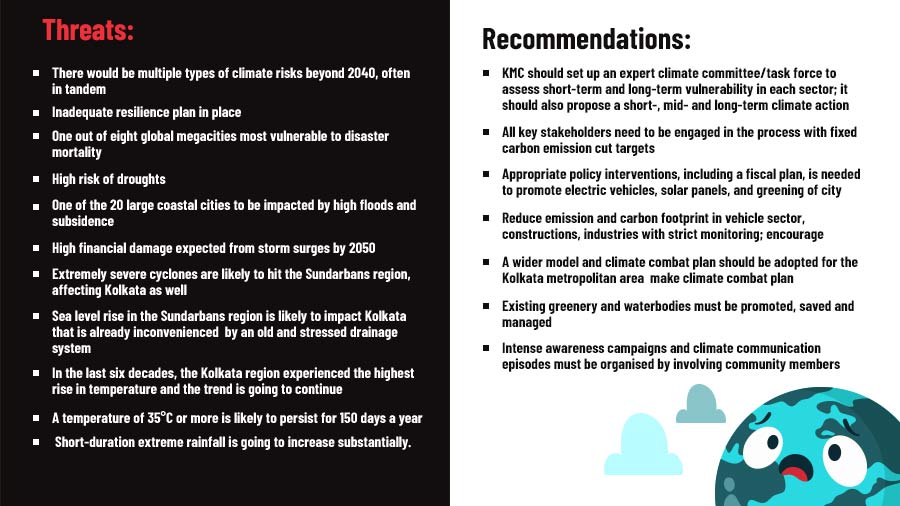 Graphic: Arif Hossain Mondal
Pulmonologist Arup Haldar: 
With changing climate and more air pollution, it is expected that asthma, heat strokes, cholera-related diseases and vector-borne diseases will be on the rise. Our healthcare system should be prepared for that.
Calcutta University professor Aniruddha Mukherjee:    
Kolkata should use its inherent ecological resources and target to become a green city in real terms within a fixed timeframe.  
WWF-India Sundarban Programme director Anurag Danda:
Pumping may not be adequate to drain out additional water during intense rainfall. In light of this, public places like parks should be redesigned to hold runoff. 
Green Tech Environ Management CEO Ramakant Burman:     
Kolkata immediately needs a waste-to-energy plant where 12MW power can be generated every day using single-use plastic, multi-layered plastic, fabric, rubber and wood as input materials.