Sector V is stirring out of its somnolent state. So are the office areas of New Town. Our business districts, that were almost completely "working from home" since March 2020, with only the BPO units attending office in recent times, have now started calling employees back to office. Reactions among employees are mixed and many companies are also trying out a hybrid model of work from both home and office.
Arundhati Maitra, who stays near Kalikapur, was so moved on being allowed into her company's New Town Gitanjali Park main building office for a meeting after a gap of 20 months that she posted an emotional message on social media. "I have still not gone to my own workstation in Sector V yet. We have been asked to come once or twice a week from December but there is no compulsion if someone is not comfortable. I am planning to go once a week to retain the habit of office-going. It will be a refreshing change too," she says.
Subhadip Kar, a BE Block resident, had breathed a sigh of relief when he was allowed back in office for the first time on September 13. "Baritey kaj kora jaay na ki? Pressure bere jaay," he laughs.
Now his Sector V company is allowing employees to come on Mondays and Thursdays. But  Subhadip plans to come more frequently. "The company has allowed those of us in leadership positions to come voluntarily on other days too but the attendance roster has to be filled up in advance on an app that has been recently created. A QR code would get generated. One needs the code to enter office. And yes, double vaccination is mandatory. That information for the entire employee base is already updated on the app," Subhadip says.
Best of both worlds
Most employees spoken to said a hybrid model would suit them best. "I miss my colleagues, who have become friends over the years," said Mahamaya Sinha, who had gone to office after a long spell, last Friday. "If they force us to come to work everyday now it'll be a bother but I would love to go once in a while to meet my colleagues."
Since the group no longer meets that often, they are now planning to go trekking together. "In fact, we're headed to Decathalon to buy our gear right now," Sinha said, running to catch up with her colleagues after lunch at a pice hotel opposite Infinity Benchmark. 
Abhishek Das too hopes for work to stay in permanently hybrid mode. "Since the workload is slightly less on Fridays, we have been coming to work on the day," said the resident of Kudghat, for whom travelling to work means bus and Metro rides spanning an hour and a half. "Twice a month of office attendance should be enough."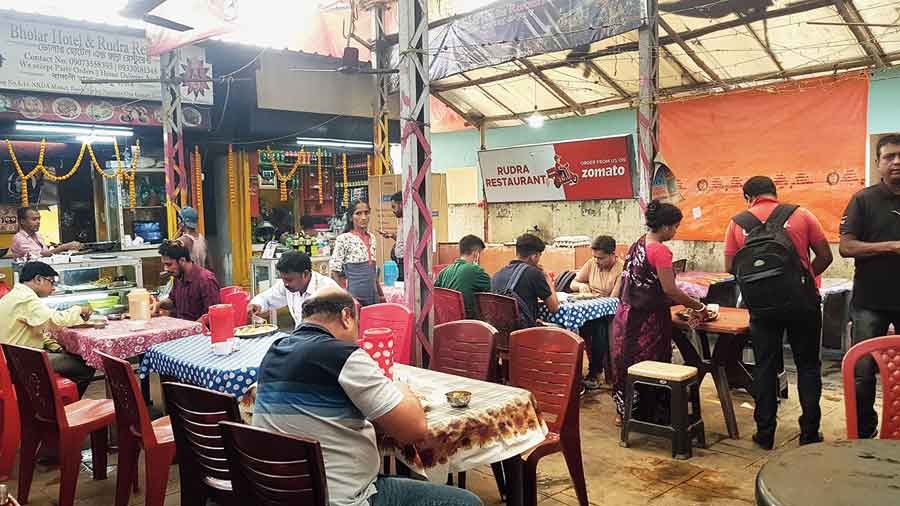 Lunch-time crowd at the food court opposite New Town's Candor Tech Space.
Brinda Sarkar
Back to business
Bus and auto drivers say office-going passengers have risen marginally since the Pujas. "Time was when there wouldn't be a single auto left in the stand during rush hour. And now there are seven of us waiting at 9.30am on a Monday," said Khokon Dhali, an auto driver on the Karunamoyee-Sector V route. "These days I set off with just three passengers. If I try to wait longer for a fourth, the others leave by bus."
The eateries of Sector V are also looking forward to better business in December. "Our lunch sales are back to about 70-80 per cent of pre-Covid levels with a rise in dine-in customers. We are hoping for further improvement as smaller companies are seeking four-five days of attendance in a week. Of course, because of the late night curfew, we are losing out on the call centre crowd that would walk in around midnight as and when their shift ended," said Abhimanyu Maheshwari, founder of Rang de Basanti.
Handicaps at home
For some, coming to work is more than overcoming boredom. "To make calls, those in sales need a
dialer that isn't available in their homes," says Satabdi Basu, a human resources executive at a web development firm in Sector V. "When these employees stayed home they could not make calls and were being paid a bare minimum salary so they have been desperate to come back."
Sarbottam Chatterjee, who holds a sales job in an Eco Space company, says productivity was dipping at home. "People who stayed home went off to bed after lunch. So how would they meet targets? We need the office environment to keep us sharp," he says.
Debabrata Ghosh has been going to office daily after the Pujas. "Working at home wasn't conducive for me but my office would only let me back after I was doubly vaccinated," said the man waiting for a bus at Karunamoyee to go to work on Monday morning. "But if the buses are crowded I let a few pass before hopping onto one."
Among the problems of working from home was the challenge in supervision. "The premise behind work from home is flexible timing. But if 20 team members log in at separate times of the day, it becomes difficult to supervise them. Unlike in several countries abroad where a structure is in place, the work-from-home culture did not exist in India. It was thrust upon us by the pandemic," said Kalyan Kar, vice-president of Sector V Stakeholders' Association.
So HR policies are also having to undergo huge changes.
Basu, an HR executive, confesses that while companies saved a lot so long as employees stayed home, managers pushed them too hard.
"There is no respect for our personal lives. The boss calls up at odd hours and expects things to get done immediately. The attitude is: 'Baritei toh achhis, kore de,'" says a resident of AB Block in New Town, who works in the financial sector.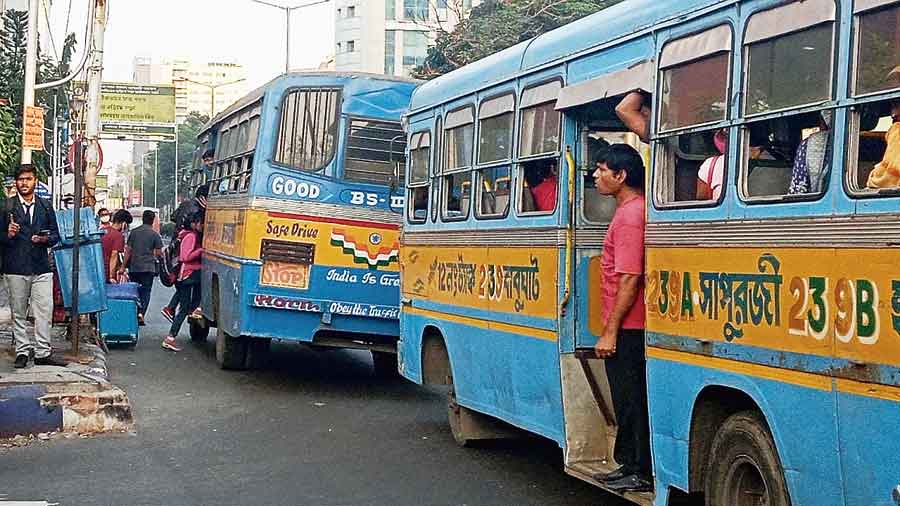 Private buses pick up daily commuters from Sector V on Wednesday afternoon.
Rushil Sengupta
High attrition
Kar, the vice-president of Sector V Stakeholders' Association, says offices are making adjustments to get employees back. "A team of say 20 is getting divided into smaller teams of four each and being asked to come to office by turns, so that the attendance does not cross 25 per cent or so. Some companies have also given up large rented spaces and moved to smaller premises. But many are wanting to revive office culture as serious HR issues are emerging. There is no team bond. The workforce has got disintegrated. Companies are facing unprecedented attrition," he said.
It may sound unlikely but work from home seems to have facilitated job-hopping. "So far, people were tied to the city they were settled in. But now, someone sitting in Calcutta can work for an employer in Bangalore. So if there is talent, there is opportunity. Location is no barrier," Kalyan Kar explains.
Basu seconds him. She recalls an employee who resigned earlier this year as he got an offer for a job with a huge pay hike. "But after the Pujas, he called us asking if his old post was still available. His new job was for a Mumbai-based company that was now asking him to report to office," says Basu. "His salary was plum by Calcutta standards but he couldn't have sustained himself on that in Mumbai."
Security and ethics
The New Town AB Block resident points out that presence in office depends on client requirement. "Employees dealing with credit or debit cards or projects dealing with sensitive data had started to come to office from around September-October as the overseas clients were not comfortable letting them work from home any more. At the height of the pandemic, they had somehow managed on their own. Many clients, who had grudgingly agreed to their projects being run from employees' homes, are now insisting that they return to secure workplaces where even mobile phones are not allowed as that might lead to data leaks."
One employee in Basu's company was caught working simultaneously for two more companies. "He would sit with three laptops and work from home," she says. "This could never have happened if he was under our noses in office. I blacklisted him."
Home was fine
While companies have many a reason to call back employees, their decisions are sometimes met with resistance.
"Those who have left the city and gone back to their hometowns are not ready to report for even a day or two every week. Working from their hometowns is leading to major savings which they are unwilling to give up," notes Kalyan Kar.
No wonder the system has turned others green. "Working in the banking sector, I've had to come to office all through the pandemic," says Sanchita Nandy who works in Sector V. "I wish I could work from home. I would have saved so much on food, transport and would have had the comfort of home."
Are you going back to office yet? Write to The Telegraph Salt Lake, 6 Prafulla Sarkar Street, Calcutta 700001 or email to saltlake@abp.in