A probe into the fire that gutted a shop, a small warehouse and a cloud kitchen, located in a six-storey building at the Bangur Avenue-Jessore Road crossing, on Sunday evening, indicates that it was sparked by an electrical short circuit and the fire fighting systems that were there did not work, a senior official of fire and emergency services said.
The commercial-cum-residential building is equipped with fire alarms, smoke detectors and water sprinklers that are supposed to get activated during a fire but on Sunday evening none of the systems had come into play and residents were alerted not by the alarms but by the heat and crackle of the flames.
On Monday, a team from the fire department went to the commercial-cum-residential building and collected samples from the shop whose glow signboard had first gone up in flames before spreading to other floors of the building.
The team also went around the building where most of the empty spaces had been used to store boxes of all kinds.
The building is located on Jessore Road and is close to the Bangur Avenue crossing on the Nagerbazar bound flank. Passersby, petrol pump workers and shop owners of the area were first to spot the flames on the ground floor.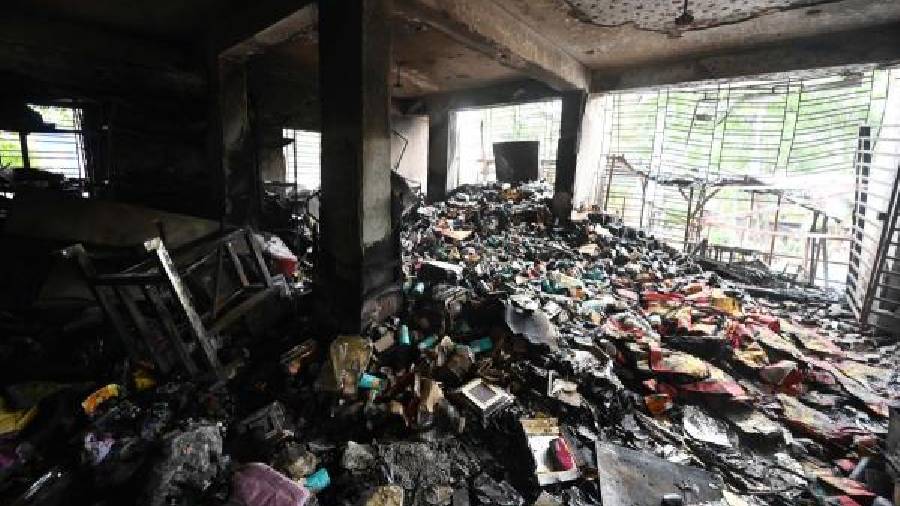 The first floor of the building
The warehouse and the cloud kitchen are located on the first and second floors, respectively, while the rest of the floors are residential and have apartments on them.
Residents, petrol pump workers and others had tried to fight the fire with sand and water as it had started out small. The fire department too had despatched three fire tenders to the spot initially. But the building's proximity to two fuel stations triggered panic. Another nine fire tenders were later sent to the spot.
A senior fire official said the small warehouse that stored flammable materials like cardboard boxes, tins filled with ghee and butter as well as plywood partitions added fuel to the fire. It spread rapidly through the godown before the flames reached the cloud kitchen.
"We have started a probe and are checking whether this warehouse and the cloud kitchen had valid fire licences and whether the fire fighting equipment installed in the building worked properly," said the official.
On Monday a section of residents told this newspaper that the alarms and fire fighting systems did not function at all.
Nitin Goenka the owner of the shop that had been completely gutted said that there was a lamp post outside the building from where the short circuit could have originated.
"We could see sparks coming out of the post even during the fire," said Goenka.
On Monday the residents held a meeting and issues such as stocking of flammable articles in the godown, using common areas like storage units were discussed.