A month left before Durga Puja, Kolkatans swarmed the shopping hubs in the city on Sunday.
With Covid cases under control, a bullish sentiment was driving sales, said retailers. Malls were the biggest beneficiaries, they added.
By 4pm, the parking lot at South City Mall on Prince Anwar Shah Road was full. That means around 1,200 cars. Vehicles moving in and out of the mall triggered snarls on the road outside. 
Inside, the food court was brimming with people. An open-air extension of the food court on the roof was also full.
The stores in the mall did brisk business.
"The weekends have almost reached the pre-pandemic level rush. Earlier, we had a lot of idle time. Not any more," said the manager of a menswear brand's outlet at the mall. The store has six employees, including him.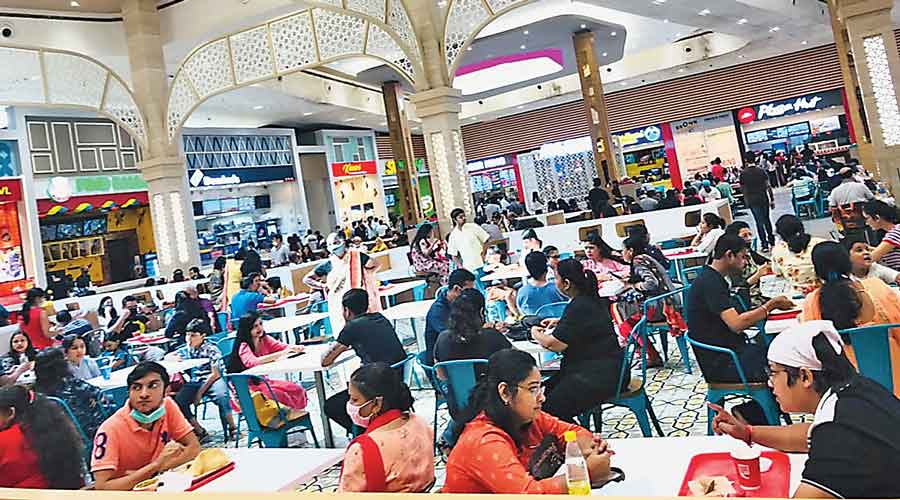 The food court at South City Mall on Sunday afternoon.
Gautam Bose
An official of the mall said the footfall on Sunday had touched 60,000, a jump of over 10 per cent from the previous weekend.
"Till a couple of months ago, the majority of visitors were people who had to buy something. They came in, bought what they needed and left. Now, people are coming to spend more time. The mall offers an outing," said the official.
Acropolis Mall registered over 25,000 visitors. "We are inching closer to the pre-pandemic footfall," said an official of the mall.
City Centre I recorded a footfall of around 40,000 on Sunday. "The footfall is going up, gradually. Family crowd is back. People are coming in for a day out — shop and then dine," said a mall official.
In the evening, space was the scarcest thing in Gariahat. Hawkers called out to shoppers along the footpaths lined with stalls. The sari stores also had a steady footfall throughout the day.
Thanks to a large contingent of cops, traffic at the Gariahat intersection was relatively smooth.
The bullish sentiment was not limited to the retail sector only. The eateries were also riding it.
Lunch on Park Street meant a considerable waiting time. A family from Haridevpur waited for close to an hour outside Mocambo and Bar-B-Q before grabbing a table at Tung Fong. Many families stepped in for dinner after a round of shopping. Ananya Pal, a 31-year-old teacher from Behala, was one of them. Pal had gone to Acropolis Mall in the evening with her husband. After buying clothes and shoes, the two dined at Asia Kitchen.
"Both of us are fully vaccinated. It is nice to be able to do what we did before the pandemic," said Pal.
Standalone retail stores were busy, too, though nothing compared to the stores inside malls. "We have been seeing an uptick. But we haven't yet reached the pre-pandemic rush," said the manager of an apparel store on Shakespeare Sarani.