Yes, you heard fire crackers in the sky the last few nights but by and large, our block markets were not to blame. Initially the High Court order was a blanket ban on Diwali crackers but on Monday the Supreme Court allowed the sale of eco-friendly "green crackers". Most vendors, however, seemed to stay away from both crackers and confusion.
"There is no clarity about the court order or even about green crackers. Would you believe customers are asking for green-coloured crackers? There are some who thought crackers that burst in the sky and emit green lights were allowed by the government," said Babu Saha of Saha Variety Stores in AE Market.
As for the last-minute court order allowing eco-friendly fireworks (dubbed green crackers), he wanted no part in the confusion. "I'm not getting into any controversy and have decided not to sell crackers at all," Saha said. 
Last-minute scramble
Till last week Jayanta Pal was ruing the fact that he wouldn't be allowed to sell crackers and even the green cracker window did not lift his mood.
"The order amounts to naught. How are we supposed to procure green crackers in two days? We need at least 15 days to get sorted," said the man behind Pal Decorators and Caterers in IA Market. "And green crackers come from Chennai, where we have no contacts. Where will we find them at such short notice? Customers are asking repeatedly for crackers but I have nothing to offer them. It's a lost opportunity."
Susanta Pradhan of IA Market's Ma Tara Bhandar is not amused either. "Before we can sell crackers we need to queue up for permission at the offices of the fire brigade, district magistrate, corporation, police commissionerate and local police station. Can all this be done in two days? Besides, green crackers are such a new concept that I have no clue who makes or sells them," said Pradhan, a grocer who would acquire a licence to sell crackers for Diwali in previous years. 
This year he had to make do by selling candles. "But there's no comparison. Diwali is synonymous with firecrackers. People at least want a box of fuljhuris for their kids. It's tradition," Pradhan sighs.
At Dumdum Park too there were no shops selling crackers. "At Burrabazar we haven't seen any wholeseller selling green crackers so we don't know where to get them from," said Swapan Halui, a stall owner selling diyas and lights.
Switching sides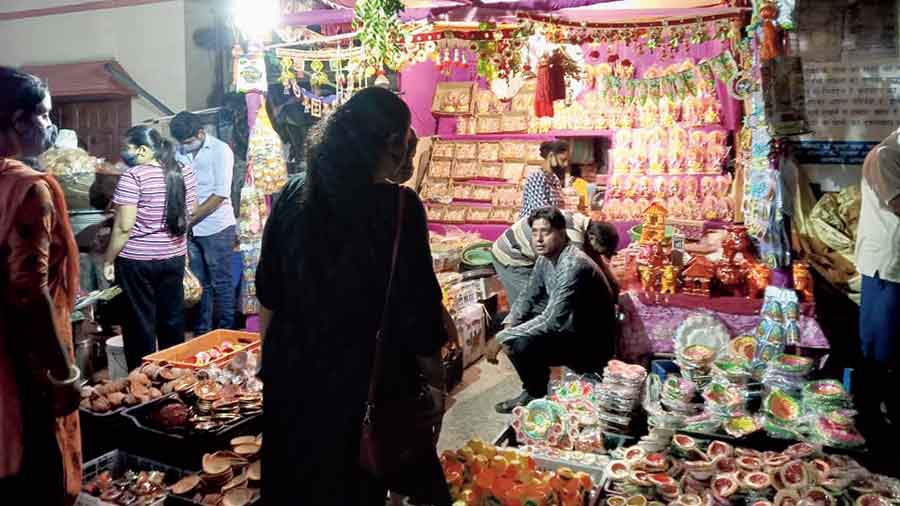 A stall in Bangur Avenue that sold puja items instead of crackers this time.
Showli Chakraborty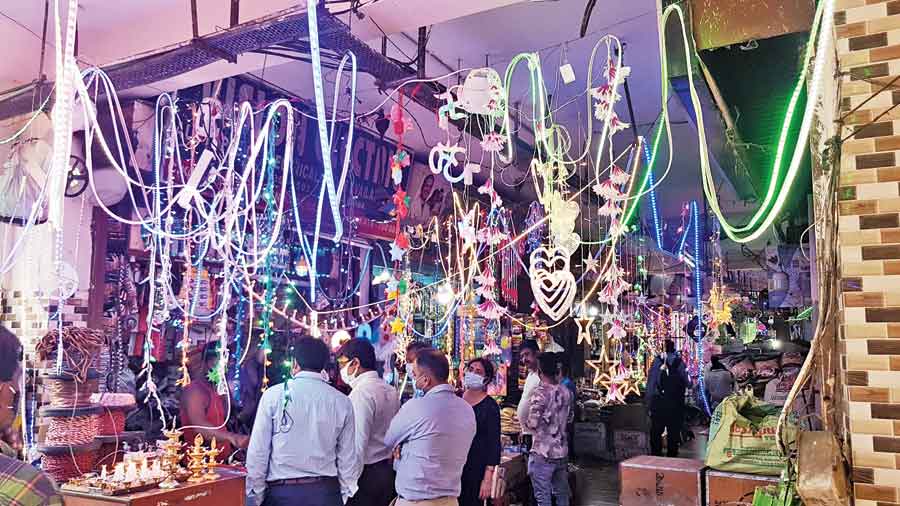 Vision Electric in CK Market offered various kinds of lights.
Brinda Sarkar
The confusion had forced many cracker sellers to switch to selling puja samagri such as miniature Lakshmi idols, wooden tools, kumkum, chandan etc. Lots of such makeshift shops had sprung up in local corporation markets of Lake Town, Bangur Avenue, Dumdum Park and Nagerbazaar.
A vegetable seller at Baguihati market, Mohan Mondal, used to sell crackers in the festive season but not anymore. "For the last couple of years there has been uncertainty in the market and customers are apprehensive about buying them now. In 2020 the market was down and this time ban loomed overhead. I did not pick up any stock this time and only sold idols of Lakshmi, diyas, lights etc. The police was patrolling the markets regularly and informers were all over the place. I have decided not to sell crackers again."
Old timers recall the Baaji Bajaar (that would spring up Golaghata) with 20-30 stalls selling crackers from before Diwali right up to Bhai Phonta in previous years. "Till last year there used to be 10-15 shops selling firecrackers in Bangur Avenue market alone. This time not a single one is selling them, at least not openly," noted Sudesh Singh, who has set up a stall selling lights at Bangur Avenue market.
Burnt fingers
Many vendors did not even wait for the courts to give their verdict. They had decided beforehand not to order firecrackers and burn their fingers.
"I didn't have the courage to order crackers this year," said Shyam Sundar Das of GD Market. Round the year he runs B. Das Photo Frame Centre but every Diwali he would get a licence and sell crackers. Not this year.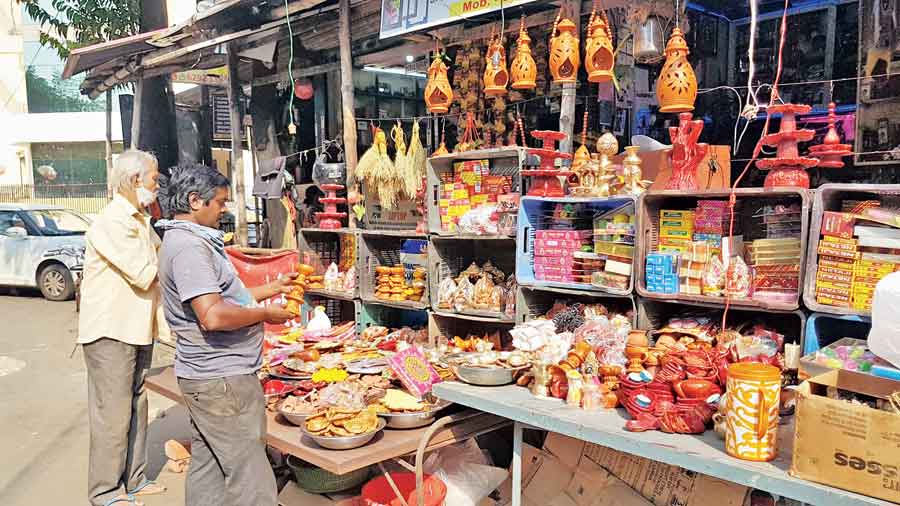 A shop in GD Market that switched to selling diyas instead of fire crackers this year.
Brinda Sarkar
"In 2020, I had ordered crackers but the last minute government order banning them ruined me. I could neither sell them nor keep them safely —half of them have got spoilt by now," said Das, who had anticipated a ban this year too. "In any case you have to place your orders between Vishwakarma and Durga puja or else you've missed the bus."
Amal Bera of IB Market stopped getting crackers as demand has dwindled. "There was a time when people waited to burst fuljhuris, chorkis and rong moshals but now no one even buys cap guns. I sold only two or three guns this puja," Bera said.
But he's not complaining. "I have switched to selling candles and diyas and even though the profit margin is less than with crackers, at least I don't feel guilty about adding to the pollution. Previously I myself would have trouble breathing and my eyes would burn on Diwali nights. I would wish I didn't have to sell them. Applying and paying for cracker licences was another bother. I'm quite happy now," he said.
This year neither did customers enquire about crackers nor did he entertain wholesellers who had sent agents to cut deals. "Despite all bans and orders, crackers still make their way into added areas like Duttabad and Sukantanagar," Bera said.
China effect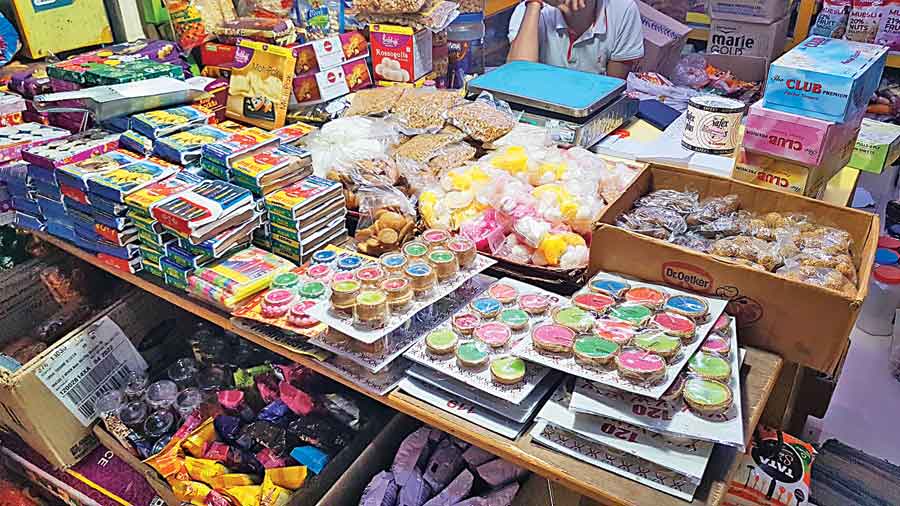 Candles sold in place of crackers in IA Market.
Brinda Sarkar
With the ban on fire crackers, customers too preferred diyas and electric lights. Shikha Mukherjee of BF Block said she was elated with the ban. "I never liked fire crackers and am glad the courts have taken a stand against the pollutants. I am sticking to electric lights this year and even with them, I'm ensuring I don't buy Chinese products," said Mukherjee, whose son had bought the lights online.
Asked if people were spending the money saved for crackers on extra lights, Shekhar Ghosh of Vision Electric in CK Market laughed. "There is no money to begin with. My store may look crowded but people are window-shopping. They browse 10 items, buy two," he said.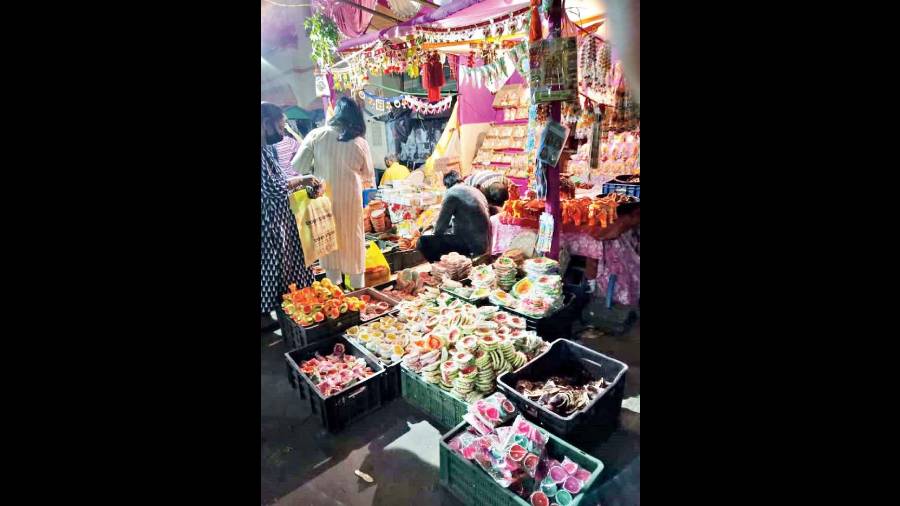 A Bangur Avenue stall sells diyas.
Showli Chakraborty
And despite the rhetoric against Chinese goods, their products remain popular. "Chinese products are alive and kicking. The market would be dead without them," he said. The highest seller this year is strings of tooni bulbs hung from terrace to garden. "Chinese imports of these cost upwards of Rs 20 whereas Indian ones start at Rs 130. Customers don't care if the Chinese ones are of poor quality. They know they'll use and throw the lights after a day or two."
Sandip Paul of electric store Namita Enterprise in IB Market agreed with him. "The quality of Chinese products is such that 60 per cent people need to buy new lights every Diwali. 2020 sales were abysmal but this year they had picked up," he said.
CK Market's Ma Sita Bhandar focused on plain pradeeps this year. "The market isn't rosy enough for people to buy diyas worth Rs 10 or 15. Most customers bought the simplest Rs 2 diyas for "choddo pradeep" rituals. Those performing Kali puja at home bought sets of 108," said the vendor.
Agreed Sanjay Paul of GD Block's Dashakarma Bhandar. "It's difficult to sell the fancy diyas round the year but the simple ones sell off and on for other pujas or functions," said the vendor who got his wares from artisans in Dakshindari. "But anyway, people seem to prefer electric lights to earthen ones these days."
Should crackers be completely banned even in post-Covid times? Write to The Telegraph Salt Lake, 6 Prafulla Sarkar Street, Calcutta 700001 or email to saltlake@abp.in