One can spend the entire day at Hastashilpa Mela and still fail to cover every section. All the more reason to visit it multiple times!
The fair is spread around Eco Park's gate 1 and has brought together about 5,000 artisans from across the state. The pavilions are in fact named after rivers of the districts the artisans hail from.
Organised by the micro, small and medium enterprises and textile department, the fair shall continue till December 20, 1pm to 8.30pm. Here's a glimpse of what's available at the massive fair —
Terracotta planters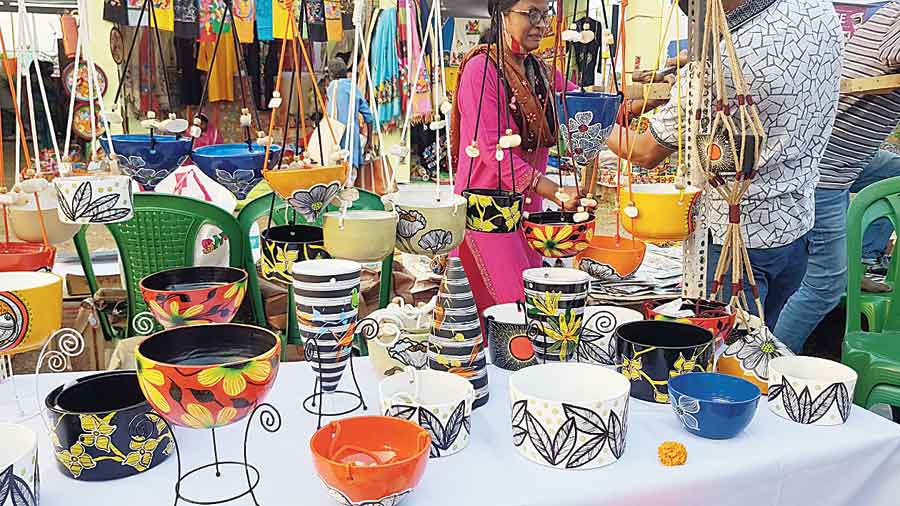 Stall: Near Axis Bank ATM
What: Some of these colourful planters are placed on stands while others have equally colourful ropes and strings to hang them with. "They are washable and have been given melamine polish so they won't fade in the sun," says Partho Saha of Bandel. Price: Rs 300 to 600
Coasters on chairs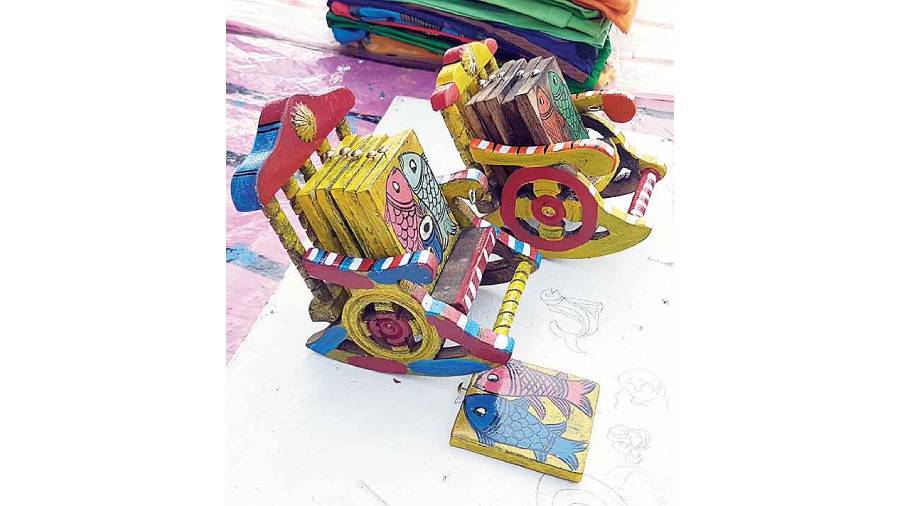 Stall: Next to the stage
What: Nice miniature rocking chairs to hold sets of six wooden coasters. "And of course, we have painted with with patachitra," says Kesina Chitrakar of East Medinipur. "They will brighten up one's dining table."
Price: Rs 450
Bride and groom motif sari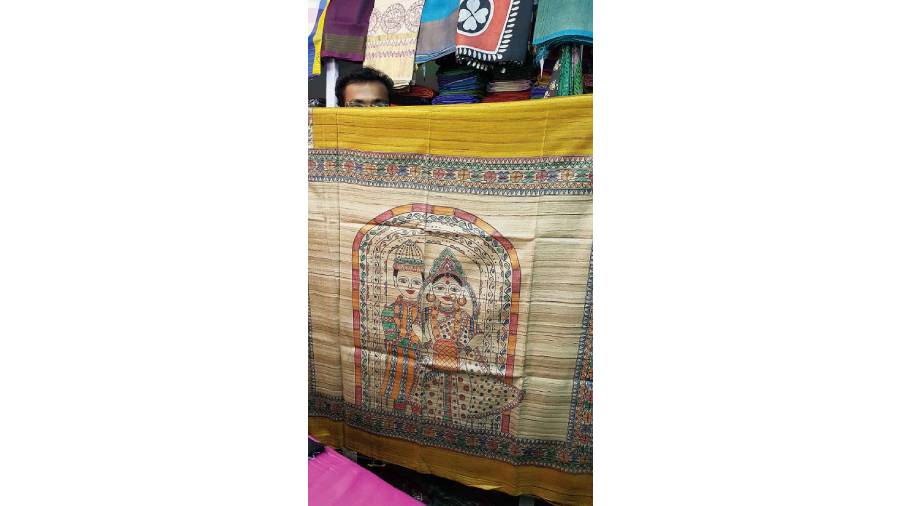 Stall: Bankura Dwarakeswar 5
What: This tussar gicha sari has been given a bor-bou motif on the anchal in Madhubani style. "We sold two of these over the first weekend itself," says artisan Bijoy Garai. "We can also customise the colours of the saris for customers."
Price: Rs 5,500
Spheroid corals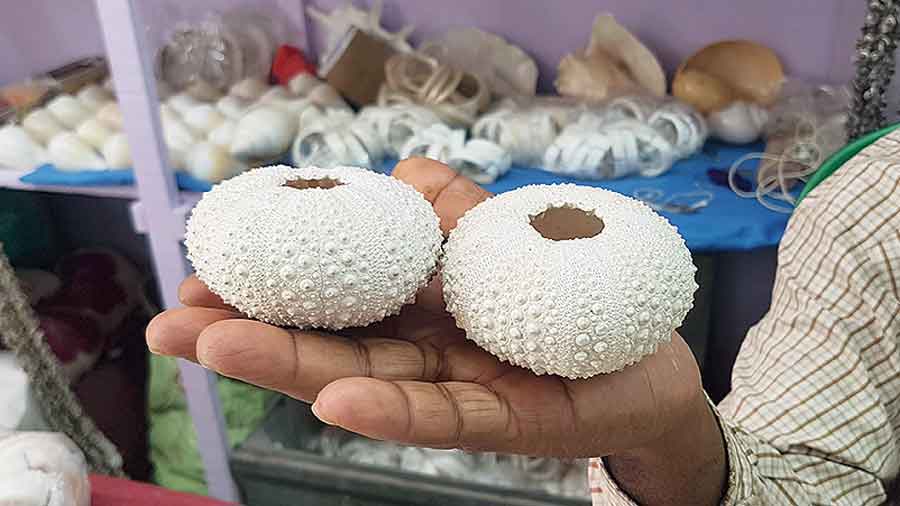 Stall: Nadia Jalangi 8
What: Sampad Pal has brought various kinds of seashells but his spheroid-shaped corals steal the show. "These are so beautiful that people can't believe they're natural. They have rows of perfectly lined dots all around them and a hole on top. Some people are buying these to use as ashtrays but others will keep such beauties in their showcases," Pal says.
Price: Rs 250
Sanitiser holder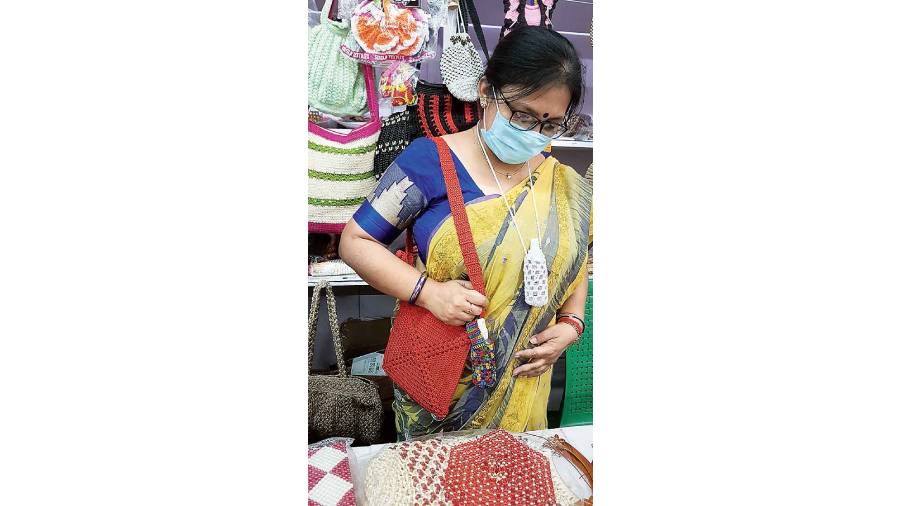 Stall: Howrah 30
What: With the sanitiser having become as important as the mobile phone these days, Arohi Enterprise has made crochet sanitiser holders to hang around one's neck. "We have another velcro variant that attaches itself around one's bag strap," says Sumana Pathak.
Price: Rs 50 for the one hanging model, Rs 60 for the Velcro one
Eiffel Tower replica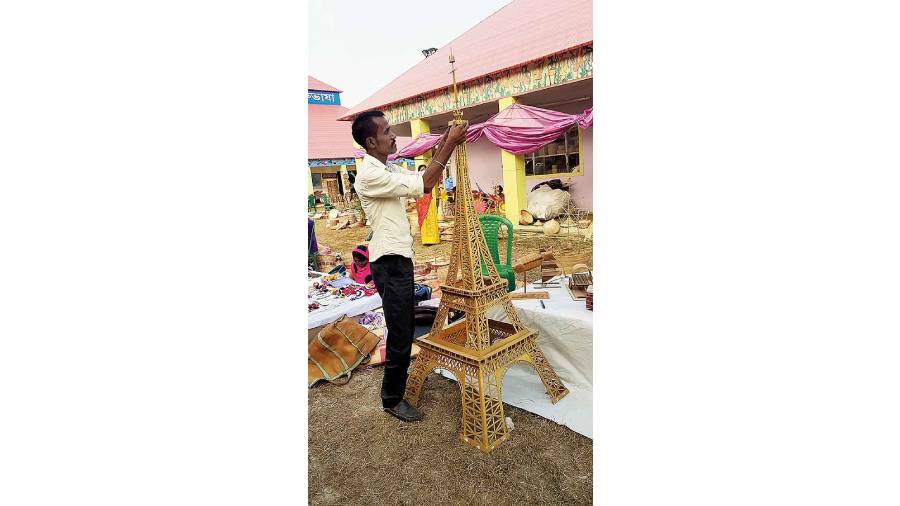 Stall: Opposite stall 38
What: Ajay Pramanik picks famous structures and makes replicas of them, as tall as himself. "I've used sunboard sheets to make a 6ft Eiffel Tower and Shiva temple replica," he says. "They take me about a month to make. These models can be kept both indoors and outdoors and will withstand rain and shine with equal ease."
Price: Rs 8,000
Scrap art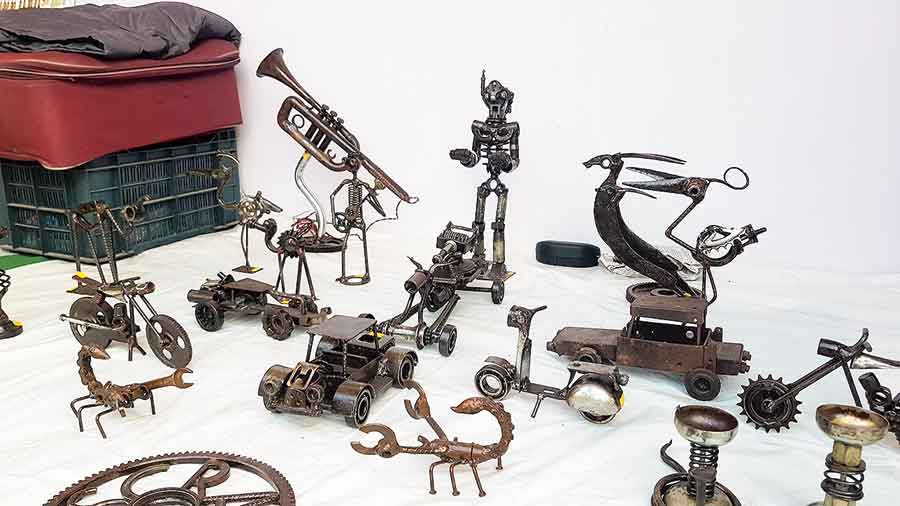 Stall: Outside Birbhum Mayurakshi stall 21
What: What most of us discard is raw material for Tamal Das, who has crafted a crane out of a broken pair of scissors, an owl out of a broken lock and a spider out of a broken cycle bell. "I forage scrap yards and pick up everything from pipes to washers," says the artiste. "I'm happy this art form is gaining popularity in India." Price: Rs 1,700 for the crane, Rs 700 for the owl
Dry flower pendants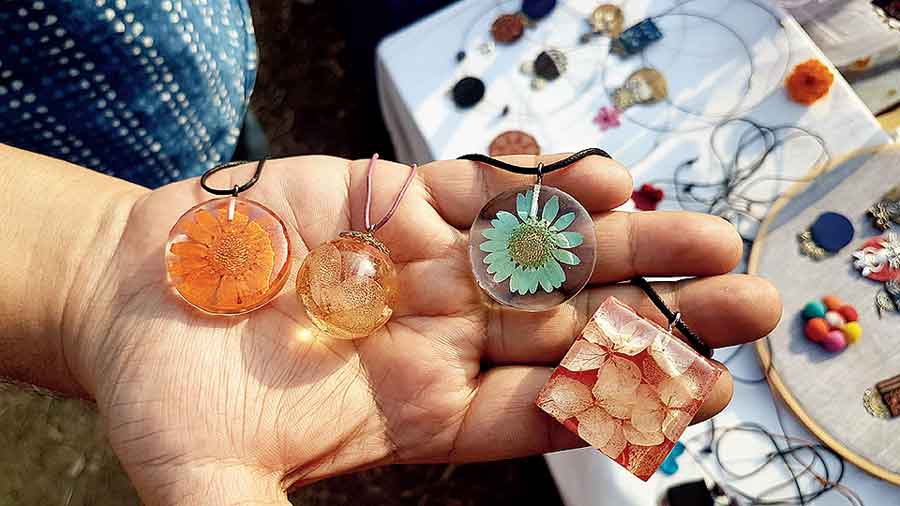 Stall: Opposite stall 14
What: Real flowers have been preserved in resin to form pretty pendants here. "We have used flowers, petals and leaves, sometimes in combinations, to get these effects. And they have been locked in pendants
that are of various shapes too," said a youth selling them on behalf of the group Bee You.
Price: Around Rs 200
Pictures by Brinda Sarkar